If you're spending hours scouring for healthier versions of this takeaway classic, may we present our chef-perfected, nutritionally balanced, healthy fish and chips recipe.
Yes. Believe your eyes.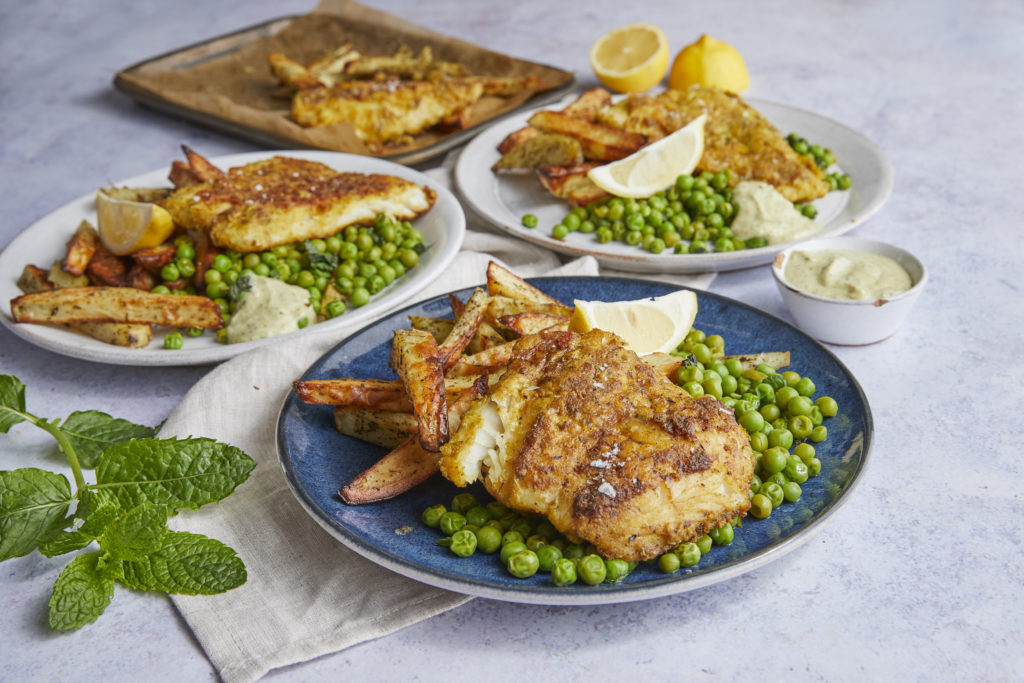 How can you make low calorie fish and chips? 
..and it still taste nice? We hear you. It's all in the freshness of our sustainably caught fish (we use skinless cod) and the batter. We make ours with cornflour and add herbs to bring flavour to the party. 
Add some oven-roasted chips and minted peas and you're all set. Or swap the potato fries for these just-as-tasty celeriac versions . (Tip: if you've got an air-fryer, celeriac chips are a certified healthy fish and chips recipe in themselves).  
A healthy fish and chips recipe – yes, really
When it comes to making homemade fish and chips healthy, one thing's for sure: step away from the deep fat fryer. The combo of plain white flour batter and bubbling fat isn't so heart healthy.
So our low-cal fish and chips can put that chippy favourite back on your plates, safe in the knowledge it's totally healthy.
https://www.mindfulchef.com/healthy-recipes/lightly-battered-fish-chips
More low calorie fish and chip-style recipes 
If scampi-size bites are more your thing, or you just want to riff on the idea of 'something' and chips, we've got some inspirational dishes for you that are loaded with flavour – and your greens – and nutritionally balanced, too. 
https://www.mindfulchef.com/healthy-recipes/cajun-coley-bites-with-chips-peas-tartar-sauce
https://www.mindfulchef.com/healthy-recipes/cajun-monkfish-scampi-chips-peas
https://www.mindfulchef.com/healthy-recipes/crispy-masala-cod-with-tartar-sauce-lemon-and-herb-potatoes-and-peas
---
Yet to try healthy eating made easy? Get £25% off your first four recipe boxes by entering code BLOG25X4 at checkout. Mindful Chef healthy recipe boxes help you to cook delicious nutritious meals, in as little as 15 minutes. Each box contains recipe instructions, pre-portioned ingredients and responsibly sourced, seasonal British produce.