It's the weekend and there's one thing for it: pancakes. This brilliant brunch treat used to be a minefield for some, but not anymore. We'll show you how to make gluten-free pancakes so good, you'll never go back to the white flour versions ever again!
If you're an old friend of Mindful Chef, you know we love a gluten free pancake for dinner, to so keep scrolling for some weeknight favourites and we'll show you how to make gluten free pancakes the whole family will love, whether they're the main event or a side for mopping up all those luscious flavours with.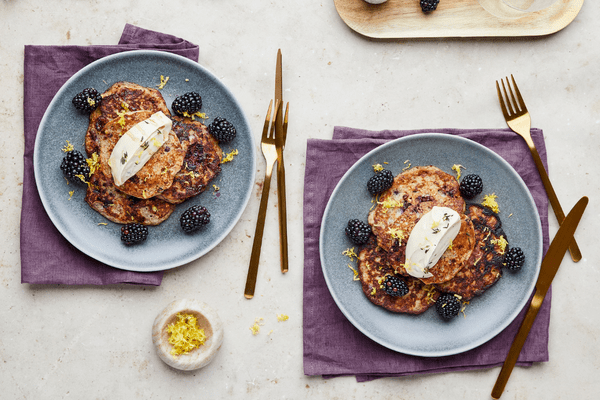 Why is Mindful Chef gluten free?
We get asked this a lot. In years gone by you'd say gluten free out loud and people would think: cardboard. How times have changed for our tastebuds! 
At Mindful Chef we put healthy first, which means there's no refined carbs, because a lot of those empty calories come from
White pasta
White flour
White bread
They lead to energy slumps, crashes and cravings. But when it comes to how to make gluten free pancakes, traditionalists might think: what? It's white flour all the way. But we like to think differently, and swap that particular refined carb for more slow-release energy friendly alternatives. For the best gluten free pancakes, our chefs love:
Buckwheat flour
Chickpea flour.
Want to know more about why we're gluten free (while you're whipping up a new healthy pancake maybe?) it's right here!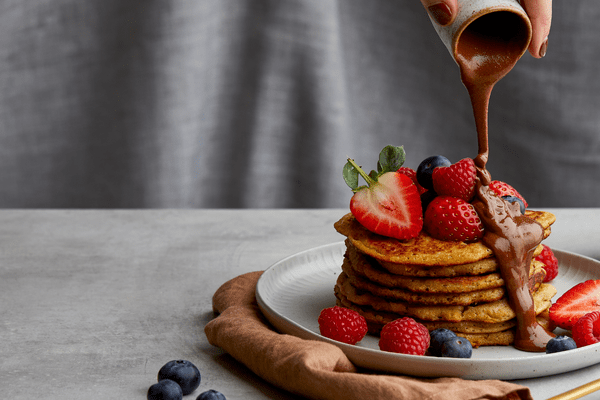 What is gluten?
Gluten is a protein found in many grains including
It acts like a binder within a grain – think of it as the stretch in your pizza. It's fine for loads of people but in some, when it hits the small intestine, it can cause havoc with digestion. 
There's a big difference between those who avoid wheat or gluten through choice, celiacs who suffer from a severe autoimmune response, those with a wheat allergy, and people with intolerances. 
The good news that everything is gluten-free on our menu. Yay!
How to make gluten-free pancakes you'll want for dinner
How do creamy truffle mushroom crepes sound? Or pancakes that deliver a serious flavour from the spicy kimchi you're piling on alongside silky smoked salmon? You could be dipping homemade Vietnamese pancakes into a tangy sauce, or going Japanese with our take on the traditional Okonomiyaki, filled with crunchy cabbage and loaded with sustainably sourced salmon, rich in Omega 3. 
And the grand finale in our how to make gluten-free pancakes blog? Well, we saved the best 'till last: Eggs Royale with smoked salmon and pancakes. It'll transform your brunch (and dinner) game, plus you get a creamy tartar sauce that tastes a million times better than the chippy! 
---
Yet to try healthy eating made easy? Get £25% off your first four recipe boxes by entering code BLOG25X4 at checkout. Mindful Chef healthy recipe boxes help you to cook delicious nutritious meals, in as little as 15 minutes. Each box contains recipe instructions, pre-portioned ingredients and responsibly sourced, seasonal British produce.