Age is just a number: the 5 biggest myths about ageism that must be removed after searches for discrimination support reaches all time high.
The population across the UK has continued to age – and whilst living longer is something to be celebrated – new research has shown that ageism is becoming increasingly rife in communities.
New research from Later Living Marketplace Lottie – coupled with the recent ONS release around the voices from our ageing population – has identified the biggest misconceptions about ageism that urgently need challenging in society.
Over the last 12 months, Lottie's new research has found a surge in people turning to Google for support, after experiencing age discrimination*:
700% increase in online searches for 'discrimination against elderly'
400% increase in online searches for 'discrimination against old people'
300% increase in online searches for 'age discrimination pay'
"Ageism can have a serious impact on people's health and wellbeing, leading to social isolation, anxiety and an increased risk of experiencing discriminatory treatment," shares Will Donnelly, Care Expert and Co-Founder of Lottie.
"Shockingly, Lottie's new research has found a 700% increase over the last 12 months on Google for searches around 'discrimination against elderly'.
Previous research has found negative stereotypes associated with older people: including loneliness, dependent, poor health, and socially isolated. These stereotypes are nothing but harmful – and leave the older generations at risk of discrimination – which is becoming an increasingly bigger problem in society.
With people living longer, making society a positive, safe, and accessible space – especially with the crises we're all facing right now with the cost-of-living – is more important than ever before.
Raising awareness of the biggest myths about the older population is a great step in removing these from society – and sharing the incredible stories, shared experiences, and contributions to society that the older generations have every day is essential", shares Will Donnelly.
Similarly, the latest ONS research about our ageing population has echoed Lottie's latest research – sharing that older people don't all neatly fit into stereotypes and convenient boxes – and later life is diverse and complex.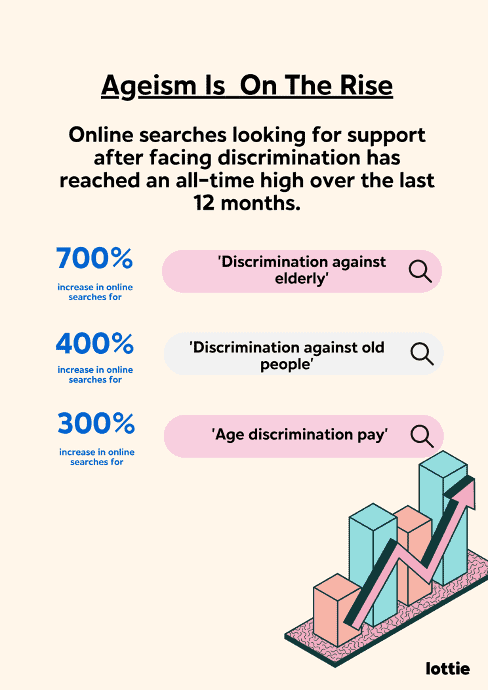 The Five Biggest Ageism Myths to Tackle, According to Later Living Expert Will Donnelly:
1. Older people aren't suited to the workplace
There are several ageist myths at work that can lead to discrimination, including misconceptions about how productive, healthy, and technological-focused older workers are in the workplace. In reality, there are a ton of benefits for an older workforce, including experience, skill, and training for the younger generations.
'Unretirement' is quickly becoming a global phenomenon: the number of older workers in the workforce is steadily increasing – with many of those who previously retired from work returning to the workplace.
Online searches over the last 12 months from older people searching for post-retirement work have surged, including a 200% increase for 'part time jobs for retired professionals' and 100% increase for 'jobs for retired persons'.
2. You can't learn anything new when you're old
Over the last 12 months, more people than ever before are turning to Google to check if they're 'too old' for new skills, including a 300% increase in online searches on Google for 'am I too old to learn guitar' and a 50% increase in online searches on Google for 'am I too old to change careers'.
Our brains have an astonishing ability to learn and master many new skills – and it is unfortunately societal pressure that tends to hold anyone back that's interested in learning something new. There are a huge variety of courses across the UK for everyone to try, including classes on languages, cookery, jewellery making and family history.
No matter how old you are, if you attend any new classes or enjoy a particular hobby, make sure everyone feels welcome.
3. Different generations can't be friends
More people than ever before are becoming aware of the benefits of socialising with different generations – with a 33% surge in online searches for 'intergenerational relationships' over the last 12 months.
Here are some wonderful stories of friendships through the ages – and the positive impact it has for all generations.
Angela (54) has a strong friendship with Derek (76) and shares how their intergenerational friendship has positively impacted her wellbeing:
"I met my friend Derek in 2010 at our local parkrun. We meet every Saturday and enjoy a cake and catch up afterwards. We have a 22-year age difference – Derek is 76 and I'm 54.
We share a love of running, especially parkrun as it is so inclusive. Derek is an amazing runner and ran the London 2022 marathon. We share interests, have fun, and talk about running mainly.
I was honoured to be invited to Derek's 70th birthday party. We have a great friendship, he inspires me, he is young at heart and always cheerful."
Erin (27) and Glenn (77) formed a friendship over their shared love of music and share how their friendship has blossomed over the years:
"Glenn and I met when I was working in a bike shop that was adjacent to his apartment in Valencia. We then spoke about music and his love for 60s rock and roll over the counter in the bike shop. Glenn told me that Bob Dylan was coming to town to play live in Valencia famous bullring in the centre of town and asked if I'd like to go with him. Spontaneity is key to the interesting events in our life so "why not!", I said. I was 23 when we met, and Glenn was 73.
I've learnt a lot of things through chatting to Glenn. How life is really what you make of it and you're never too old for an adventure. I think Intergenerational relationships give you a real insight into life and what's actually important. The things that appear so huge right now will merely be a "remember that time" in a few years. Obviously, everything is relevant to your stage in life, but being friends with an elderly person, you learn to value the things that last in your life like good friends, loving relationships, and great memories."
4. Retirees need to take it easy
One of the biggest misconceptions as you age is that you need to take it easy – and avoid exercising, or anything too strenuous.
The opposite is actually true, and you run the risk of health issues as you get older if you don't prioritise leading a healthy lifestyle through regular exercise, eating a balanced diet, and prioritising your wellbeing.
Over the last 12 months, there has been a 100% increase in online searches for 'retirement activities near me', 'winter hobbies for retirees' and 'retired couple activities' – showing a huge increase in the older generations prioritising their health and wellbeing in unique and fun ways.
5. You'll feel lonely and isolated when you're older
As people age, some may find themselves feeling isolated and alone. This isn't a 'normal' part of ageing and as a society, we must create an accessible, safe and inclusive community to improve socialisation among generations.
Fortunately, we've seen a positive surge in searches from people finding new social communities – both online and local – to try; including a 180% increase (over the last 12 months) for 'women's social groups near me', a 100% increase for 'online community forums' and a 50% increase for 'social groups for 30 year olds near me'.
---
Data Sources:
*Internal analysis from Google Keyword Planner over the last 12 months – full data set is available on request.