We sat down with our very own ambassador Ben Fogle to talk about why quality matters when it comes to the food we eat. Plus we found out more about his recent trip to Stourgarden (the expert growers behind your delicious LEAF marque-accredited onions) with MC founders Myles and Giles on an exciting regenerative farming project.
When it comes to food, what's important to you and your family?
We love cooking together. It's a time when we can all get involved, so cooking from scratch with fresh ingredients is really important to us as a family. 
We're also conscious of food miles and try to buy locally as much as possible. As well as having a lower carbon footprint because there are less miles (and time) between farm to plate, I think you get fresher, better quality food. It also means we can eat more seasonally – if we focus on the produce that's in season at different times in the UK, we get to support great British suppliers all year round.
Why do you think it's important to care where our food comes from?
"You are what you eat" – it's an old saying, but I certainly believe it's true. I try to think about the bigger picture – food is not just fuel for me, it's health, it's family, it's so many things.
What does "responsible sourcing" mean to you?
When it comes to the food we eat, we should be focussing on where it comes from, how it's produced, and the impact that has on the environment. Companies have a responsibility to ensure they are sourcing responsibly and ethically, but we have a choice too. 
That's where Mindful Chef has really helped me and my family. We know that every ingredient has always been responsibility sourced, and uses seasonal and ethically farmed ingredients from only the best suppliers.
There's a lot being done in the sustainability space. Where is it going next?
Sustainability has been at the top of the agenda for some time, and now more than ever consumers are calling for businesses to prove that they are taking steps to reduce their impact on the environment.
But I think we have got to the point where businesses need to go beyond just reducing their impact, and actually give more back to society and the environment than they take out.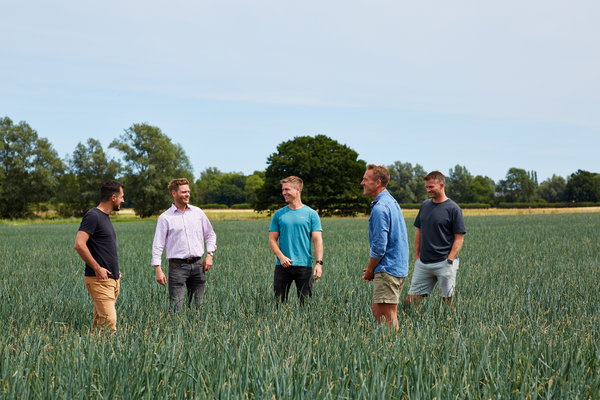 You recently joined MC founders Myles & Giles on a trip to our supplier, Stourgarden, where we're working on a regenerative farming project. How was it?
I learnt so much about regenerative farming and the benefits it brings to both people and the planet. It's a way of farming that works in harmony with nature, rather than against it. 
It's so great to see a company like Mindful Chef supporting their suppliers to adopt regenerative practices. Going that step further to restore natural habitats, enhance biodiversity, increase soil quality, reduce CO2 emissions and produce healthier crops, which in turn means more nutrients in our food. Healthy eating starts with the way food is produced.
Why do you think regeneration projects are important for future generations?
The way food is produced is a major driver of climate change and a leading cause of biodiversity loss in the UK. But agricultural land holds the key to one of the best climate solutions; the soil. By working with farmers we can start putting measures in place now to ensure we protect (and restore!) the land for future generations.
---
Yet to try healthy eating made easy? Get £10 off your first two recipe boxes by entering code BLOG20 at checkout. Mindful Chef healthy recipe boxes provide you with the tools to cook delicious nutritious meals, in under 30 minutes. Each box contains recipe instructions, pre-portioned ingredients and fresh produce sourced from award-winning British farms.