In the UK, we throw away 96.6 billion pieces of plastic a year, only 12% of this is actually recycled. The rest? It is shipped overseas to live in landfill where it will break down over hundreds of years into microplastics which pollute our waterways and soil. With all of us trying to live a more eco-friendly life, it's time to rethink some everyday items we use that are made from plastic.
We've partnered with Seep, experts in plastic free home care essentials, to help you identify hidden plastics in your kitchen.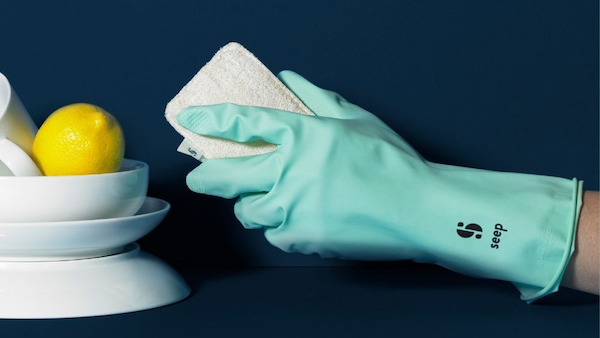 1. Non-stick pans
Most non-stick pans use a plastic coating to prevent food from sticking, this is what gives these pans that smooth, waxy finish. Yes, it is super handy, but did you know if you overheat your non-stick pan it can start to break down and release the toxic plastic chemicals into your food.
Opt for quality steel or cast-iron pans, these are plastic-free (you can even find ones made from recycled metals). These pans will also last way longer than your regular non-stick pan.
2. Dish sponge
You'd be surprised at the amount of people who think their washing up sponge is made of natural materials. In reality they're made from non-recyclable, virgin plastic. 600 million plastic sponges are thrown into landfill sites every year in the UK alone. These sponges can stick around for 450 years in landfill, breaking down into microplastics.
Switch to a home compostable loofah scourer from Seep, it is one of the simplest swaps you can make in your kitchen. Plus, they last longer and look better, without sacrificing on performance. Get 20% off your first pack at theseepcompany.com with the code MINDFULCHEF20 to start reducing plastic use in your home.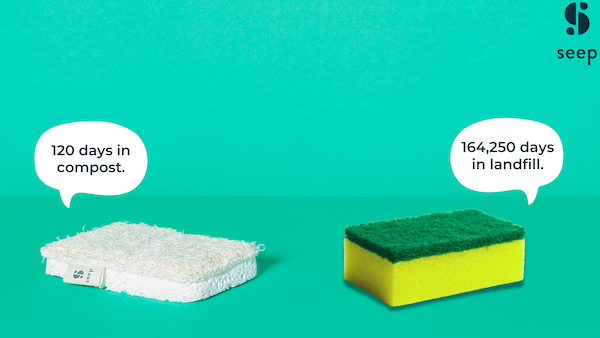 3. Tea bags
The UK uses 61 billion tea bags a year, and almost all of them contain plastic. Your regular tea bags are sealed using heat and polyethylene plastic, which won't break down in your compost bin.
The simplest swap to reduce plastic use is switching to loose-leaf tea, not to mention it makes a better-quality cup. If that sounds like a little bit of a faff to you, make sure to look for plant based bags which are biodegradable and unbleached instead.
4. Cling film
Cling film contributes to the larger plastic pollution crisis because it's difficult to recycle, and it's made from potentially harmful chemicals. The majority ends up in landfill where it takes hundreds of years to degrade.
Try out organic beeswax wrap as an alternative food wrap, which also has antibacterial properties. It's washable, reusable, compostable and durable. Or, use silicone/ reusable bowl covers.
5. Seasoning
Microplastics were found in sea salt several years ago, but more recent research by Greenpeace found that out of 39 table salt brands tested, 36 of them contained microplastics. This means you could be eating plastic on a daily basis!
Try Himalayan salt instead, which comes from ancient, unpolluted sea beds.
6. Bulk buy
This won't just save you money but also help the environment. Buying in bulk eliminates the need for unnecessary packaging and single use plastic, it can then be stored in glass kilner jars at home. Remember to take your reusable shopping bags with you!
Want more plastic free swaps for your kitchen?
At Seep we believe everyone should be able to carry out household chores without hurting our planet. That's why we've created a plastic free range of home care products, including sponges, gloves, cloths and bin liners, that are gentle on people and the planet. Discover our range.
---
Yet to try healthy eating made easy? Get £10 off your first two healthy recipe boxes by entering code BLOG20 at checkout. Mindful Chef healthy recipe boxes provide you with the tools to cook delicious nutritious meals, in under 30 minutes. Each box contains recipe instructions, pre-portioned ingredients and fresh produce sourced from award-winning British farms.