A crunchy biscuit layer topped with a simple caramel filling, all dipped in lush dark chocolate – these vegan no-bake caramel bars are my healthier take on a Twix bar!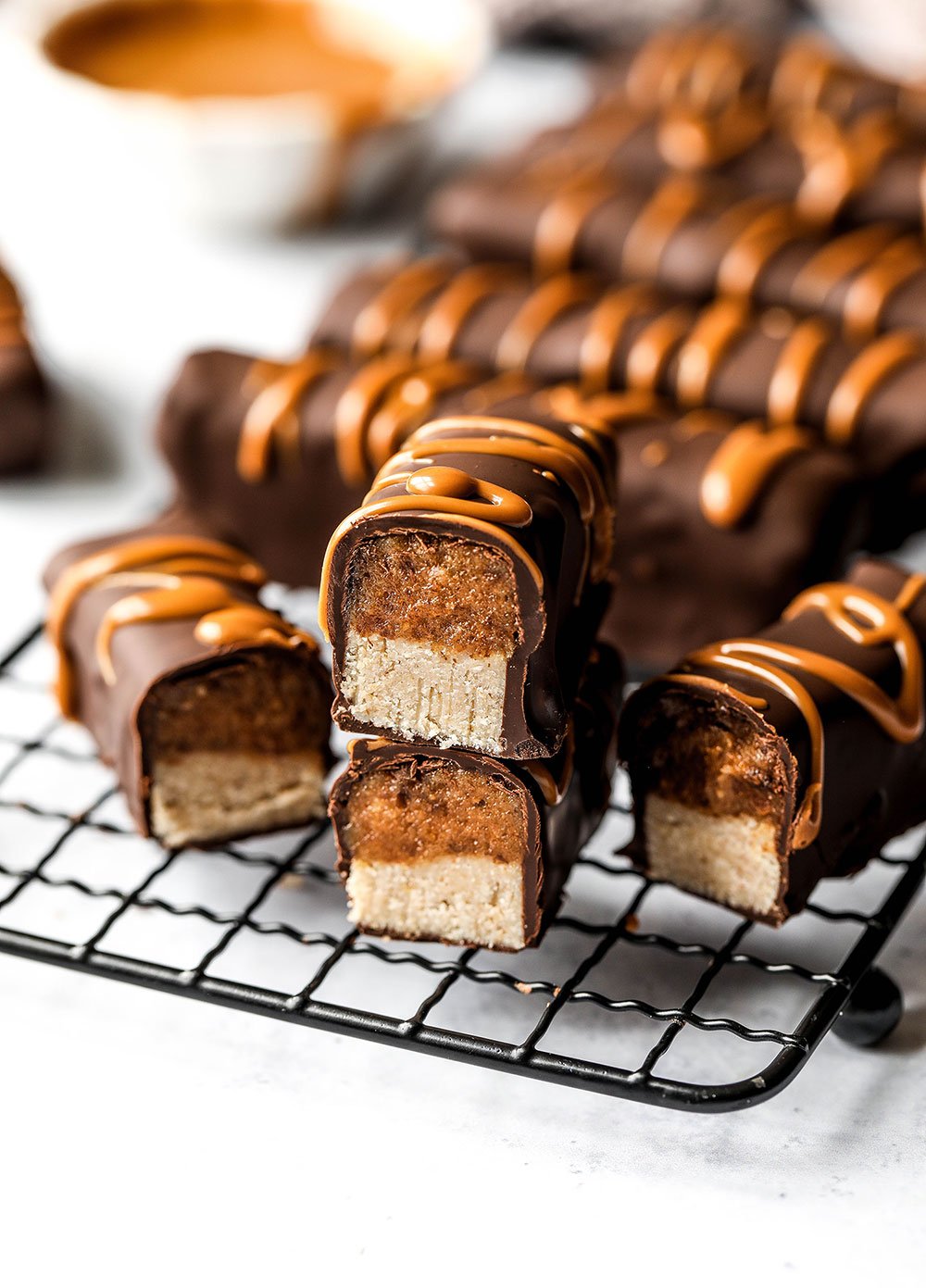 Hands up if you love Twix bars 🙋🏻‍♀️ I used to eat them almost everyday during my uni days. You could say I was obsessed! Since I started making my own healthier desserts at home, I decided to try to recreate a classic favourite so that everyone can enjoy them. My version is vegan and gluten-free, so a great options for those who can't eat dairy or gluten. 
The more I started to experiment with recipes, the more I found my flavour preferences changed. It's like my taste buds were maturing the more I introduced them to complex and interesting new flavours and textures. I now find Twix bars way too sweet and a bit lacking. I may be a bit biased, but I now prefer my version so much more!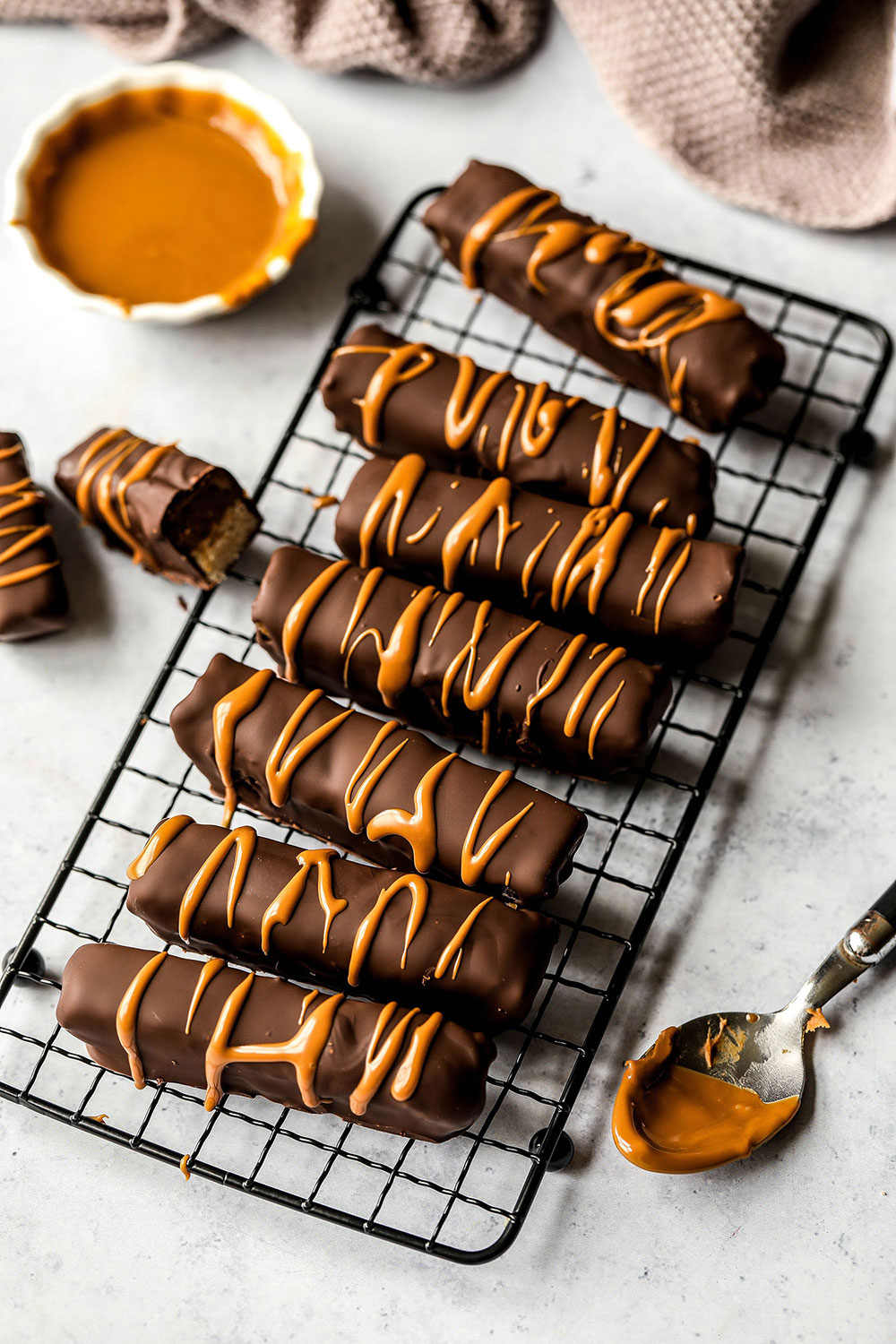 The base is made up of oats and ground almonds instead of plain flour, and I used coconut oil and maple syrup to help bind everything together as well as add a bit of sweetness. The only chocolate I now use it dark chocolate – I find the intense bitter taste balances out the sweetness of desserts so well. The bitter hints also adds an interesting depth to the flavour too.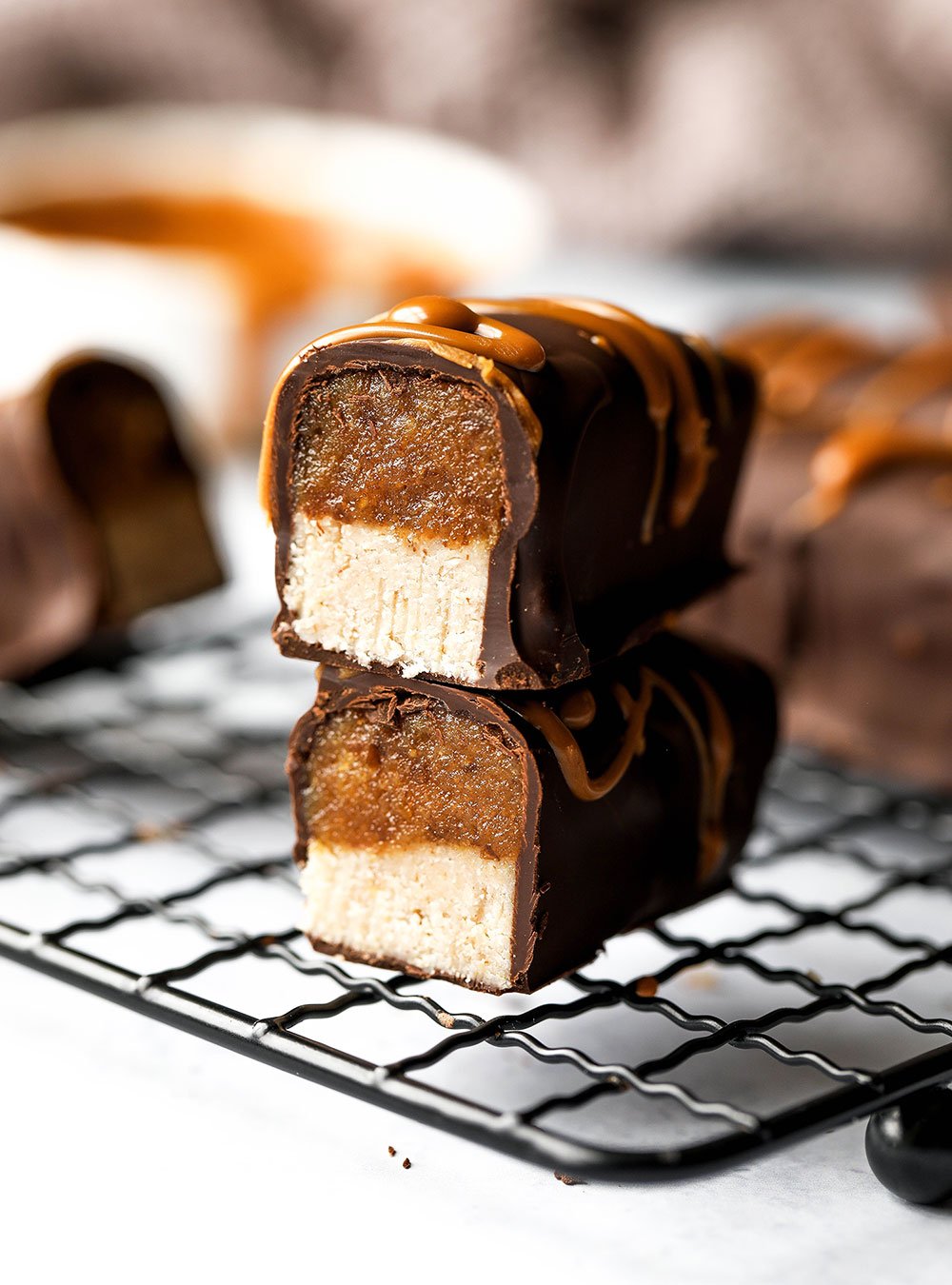 For the caramel filling, I used a simple combination of dates and tahini – a combination I use in so many of my recipes. If you're new to the concept of making a caramel using dates (or date syrup) with tahini, you need to try it asap! I know it's not technically a 'caramel', but it's a much healthier version that tastes just as good. Add a pinch of salt to make it extra lush. I was inspired by my upbringing in Iraq – dipping fresh bread in what we call 'dibis wa rashi' which literally translates to date syrup and tahini. It really was like eating a dessert for breakfast and I used to love it! I still combine those two ingredients quite a lot in my recipes because they just go so damn well together! It's like those two flavours were made for each other. 
So whenever I'm inspired to make anything with caramel, my mind goes straight to date syrup and tahini. And that's exactly what happened when I had the idea to create these vegan no-bake caramel bars.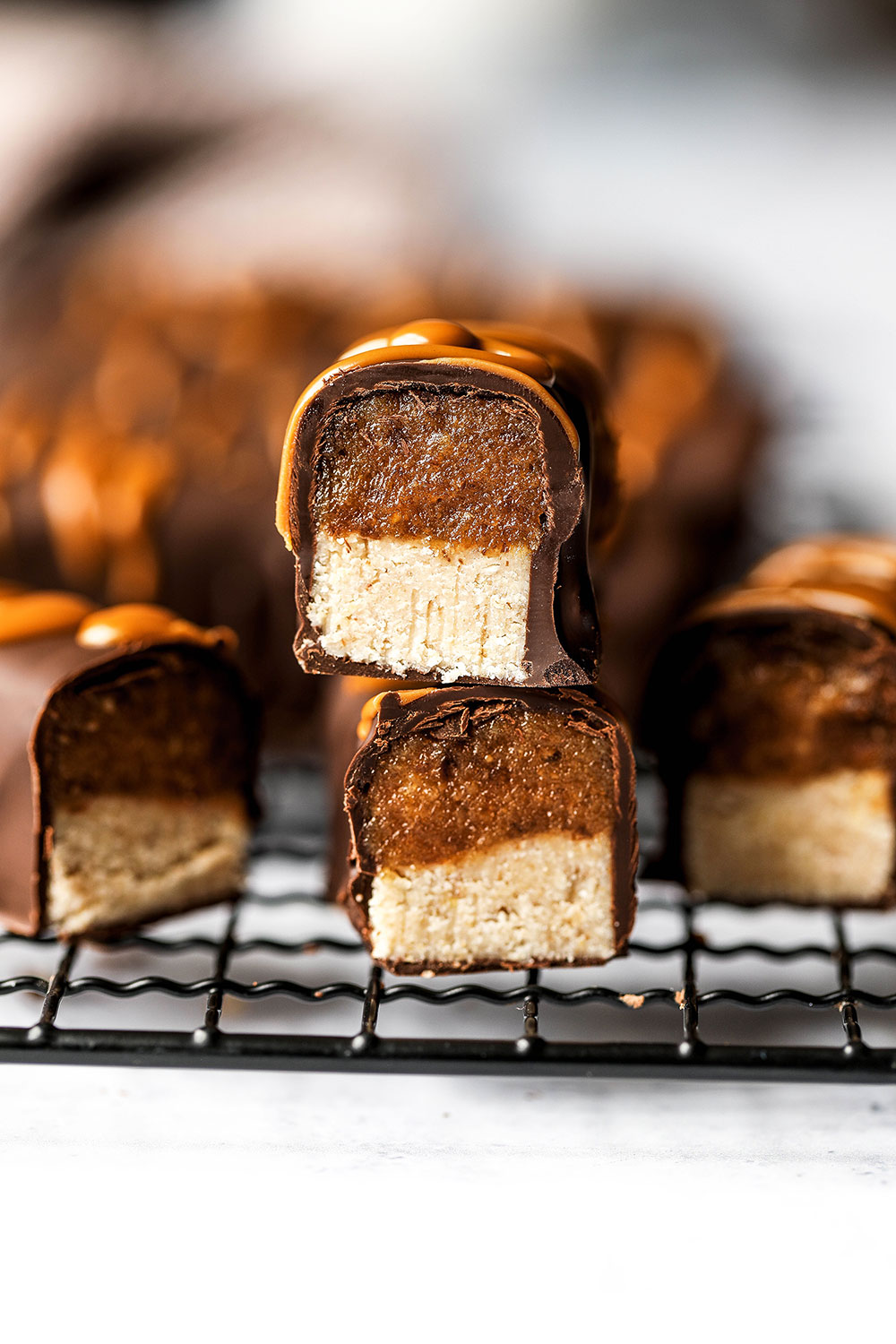 Why you need try these
vegan no-bake caramel bars

:
They're easy to make
Made using healthier ingredients
Vegan
Gluten-free
Dairy-free 
And they taste divine!
Let me know if you try them and what you think in the comments! 😀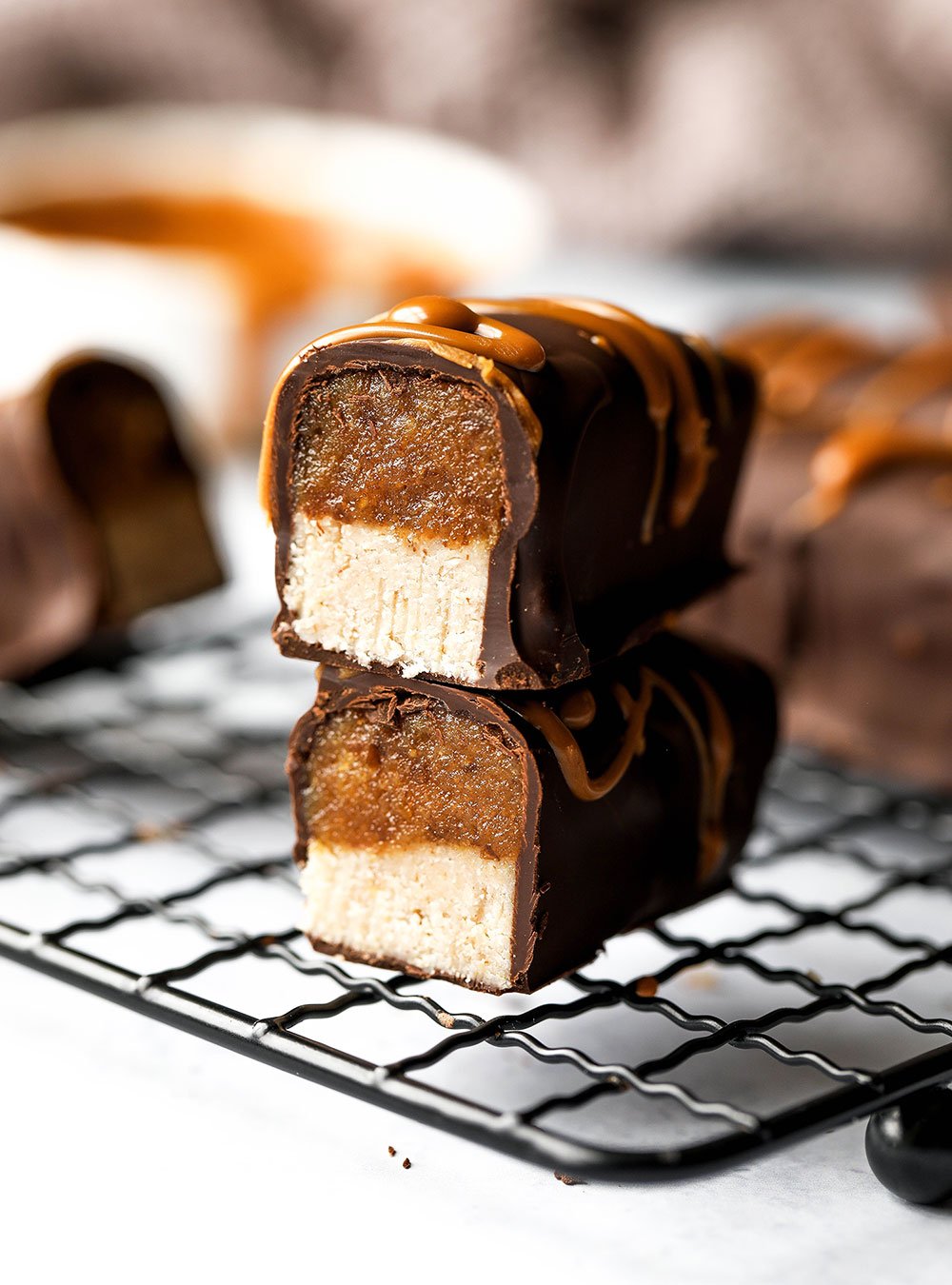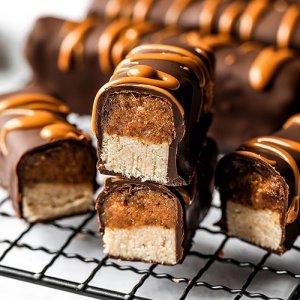 Vegan No-bake Caramel Bars
A crunchy biscuit layer topped with a simple caramel filling, all dipped in lush dark chocolate – these vegan no-bake caramel bars are my healthier take on a Twix bar! 
Ingredients 
For the base
70g

ground oats*

50g

ground almonds

1/4

tsp

salt

1

tbsp

maple syrup

3.5

tbsp

coconut oil

melted
For the caramel filling
140g

soft dates**

4

tbsp

tahini***

1-2

tbsp

milk of choice****

Pinch of salt
For the chocolate coating
150g

dark chocolate

melted
Instructions 
In a bowl, mix together the oat flour, ground almonds and salt, then pour in the maple syrup and melted coconut oil. Mix to combine.

Press the mixture in a loaf tin lined with baking paper – I used a 22×12 cm loaf tin. Transfer to the freezer while you make the caramel.

Add all the caramel ingredients into a food processor and blend until smooth. Spread the caramel over the biscuit layer and freeze again for 1-2 hours.

Slice into 10 bars, then dip each into the melted chocolate. Gently place on a chopping board lined with baking paper and chill in the fridge for a few minutes until the chocolate is set. 

Store in an air-tight container in the fridge for up to 5 days.
Notes

* Plain rolled oats blended into a find flour in a high-speed blender. Use gluten-free oats to make the recipe gluten-free.
** I find soft dates like Medjool dates work best as they're easier to blend. 
*** You can also use nut butters.
**** The amount of milk will depend on how soft your dates are. Start off with 1 tbsp, then add more if needed until you have a smooth paste. 
Nutrition

Calories: 268kcalCarbohydrates: 26gProtein: 4gFat: 18gSaturated Fat: 9gPolyunsaturated Fat: 2gMonounsaturated Fat: 5gTrans Fat: 0.01gCholesterol: 0.5mgSodium: 68mgPotassium: 295mgFiber: 4gSugar: 14gVitamin A: 31IUVitamin C: 0.3mgCalcium: 48mgIron: 3mg