Million new mums miss out on free access to NHS dentistry: The British Dental Association has said Liz Truss's new administration must urgently move on pledges to reform NHS dentistry, as analysis of official data reveals close to a million new mums have missed out on free dental care due to the pandemic.
Patients are entitled to free NHS dental care if they are pregnant when they start treatment, and for 12 months after the baby is born, but uptake for both groups has crashed during the pandemic.
In the 5 years prior to the pandemic, an average of over 840,000 maternity claims were made per year. This crashed to 245,967 in 2020/21 and to 490,298 in 2021/22, leaving an estimated 944,039 maternity appointments lost since lockdown.
Hormonal changes during pregnancy can make gums more vulnerable to plaque, leading to inflammation and bleeding. Changes to dietary habits and morning sickness can also damage teeth. Research also suggests that fever or infections from dental problems can also cause serious adverse effects for both mother and child.
Regular oral health care for expectant mothers helps reduce the incidence of tooth decay in childhood. Tooth decay is currently the number one reason for child hospital admissions among young children. The BDA stress that free access to NHS dentistry during pregnancy can prompt irregular attenders to make their first appointment in some years, enabling delivery of effective preventive advice of benefit to both mother and child, especially to those from more deprived or minority ethnic backgrounds.
Recent research by the BBC has shown 91% of practices in England are unable to take on new adult patients on the NHS, 79% were unable to take on new child patients.
The BDA is calling for urgent, meaningful, reform that can ensure new mothers and their children have ongoing access to dental care. Liz Truss has pledged action on dentistry in her first 90 days in office, however, it remains unclear whether the Treasury will provide needed funds to underpin needed reform.
The contract underpinning NHS dentistry in England has fuelled a recruitment and retention crisis in the service. The target-based system funds care for barely half the population and was recently dubbed as 'not fit for purpose' by the House of Commons Health and Social Care Committee.
The government has saved an estimated £46m by being unable to provide these free appointments. At present there are no indications of the scale of government plans to fluoridate water following the passage of the Health and Care Bill, and pledges to consult on expanding supervised brushing in nurseries and primary schools have yet to be taken forward.
The British Dental Association's Chief Scientific Advisor Prof Justin Durham said:
"Pregnant women and new mums are offered free dental care because the risks are plain and the benefits clear.
"Sadly, through the pandemic close to a million women have missed out on taking advantage of free dental care. "Missing out on free regular dental care can have a substantial impact on both the mother and child, and the most vulnerable in society are likely to lose out the most.
"We need to see real urgency on reform of NHS dentistry so there is better access for all.
"Any money saved should be re-invested in tried and tested programmes to improve both maternal and child oral health."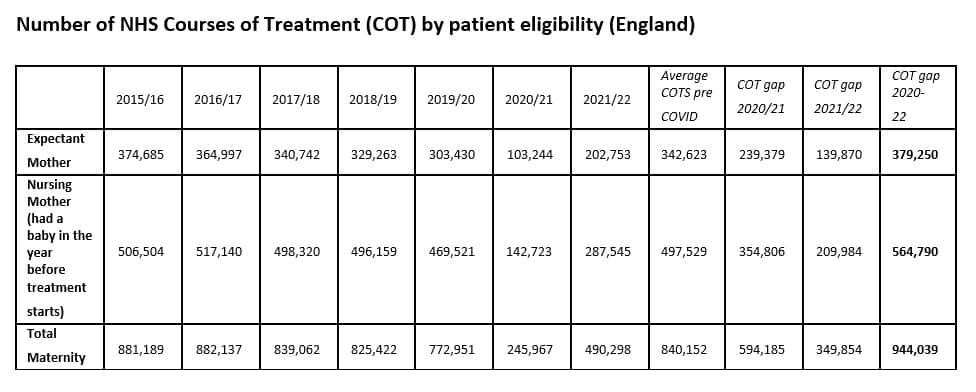 Source: NHS dental statistics.