Overcoming hurdles to train doctors in Palestine: In collaboration with Juzoor for Health and Social Development and the Palestine Medical Council, we trained 34 surgeons in Ramallah, Palestine, in July. Despite logistical challenges, our faculty delivered a course that met the urgent needs of Palestinian doctors.
At the David Nott Foundation, we have a strong connection with Palestine and the dedicated healthcare workers serving their communities in acutely challenging circumstances. We first delivered our HEST course in Ramallah in March 2017 and, as part of our commitment to sustainability, also trained a dozen Palestinian surgeons on our UK course. It was a joy to return to Ramallah, seeing several familiar faces among very welcome new ones.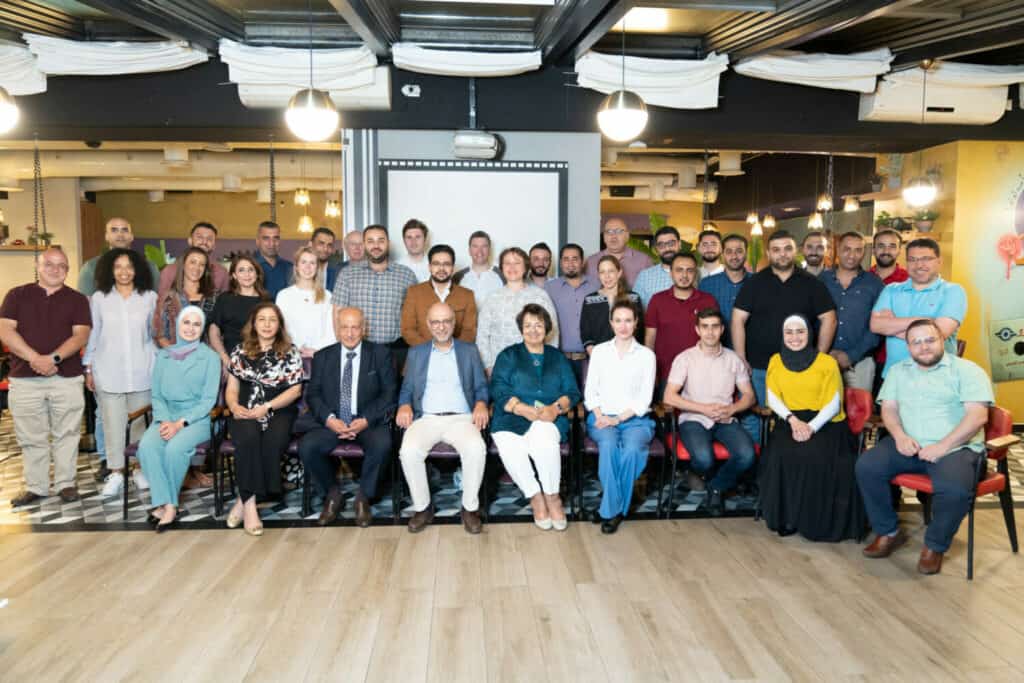 Daily challenges
Providing healthcare in Palestine is complicated by the realities of displacement and occupation. Since 2002, the construction of a separation wall cutting into Palestinian territory has severely inhibited freedom of movement across the West Bank.
The wall is a barrier to Palestinians seeking to exercise their fundamental human rights, including their right to healthcare. The movement of ambulances, healthcare workers and resources is impeded by military checkpoints and arbitrary closures.
During our latest mission in Ramallah, our Co-Founder and Chief Executive Elly Nott visited the Augusta Victoria and Al-Makassed Hospitals in East Jerusalem and heard about the challenges they face in providing care. Travel from the West Bank and Gaza to these hospitals requires a permit. Applications – and therefore treatment – is often delayed or denied.
"I love Ramallah. But we don't have control of our borders, we are living in a big prison. Our people should be exposed to the world. We are very happy and thankful to the David Nott Foundation, to come and see what we are doing, to understand our situation and see it in their eyes."
Adapt and overcome
We were honoured to train 34 surgeons working in a number of Palestinian cities and towns, such as Ramallah, Jenin, Hebron and Jericho. Due to delays caused by the shipping company and customs, much of the course had to be taught with a fraction of our usual cutting-edge teaching equipment. However, the energy and enthusiasm of our faculty, led by Course Director Dr Rebekka Troller, ensured it was an engaging and successful course.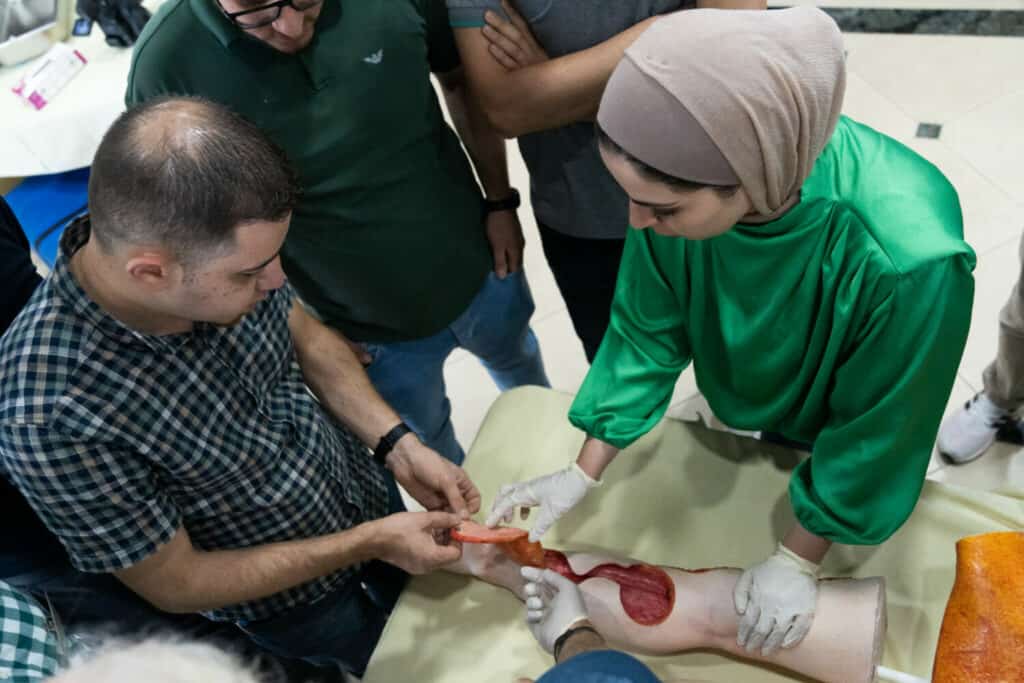 Our team, Juzoor, and the Palestine Medical Council worked together to recreate practical parts of the training. Until our simulation model arrived, we used soft silicone hearts, prosthetic blood vessels, and sponges to mimic lung repairs. Animal organs were also donated to allow attendees to practice kidney repairs.
Dr Morgan McMonagle, consultant trauma and vascular surgeon, and member of our teaching faculty, said:
"It's always challenging holding a training course, even in the UK. When you train overseas, the hurdles are both different and magnified, but we rose to the challenge in Palestine.
Hospitals in conflict zones are often faced with reduced resources. Like any good doctor in an austere environment, we adapted to what was in front of us and were still able to deliver an excellent course for our attendees."
An ongoing partnership
Addressing the doctors, Elly Nott, our Co-Founder and Chief Executive, said: "The goal of our training is the same wherever we go. To empower local surgeons and share our knowledge with them, in the hope that it will save more lives.
We see this course as the start of an ongoing journey with Juzoor and Palestine – training which we hope will strengthen doctors' surgical education."
The Palestinian surgeons we trained, and our partner Juzoor, will be remembered for their warmth, generosity and optimism.