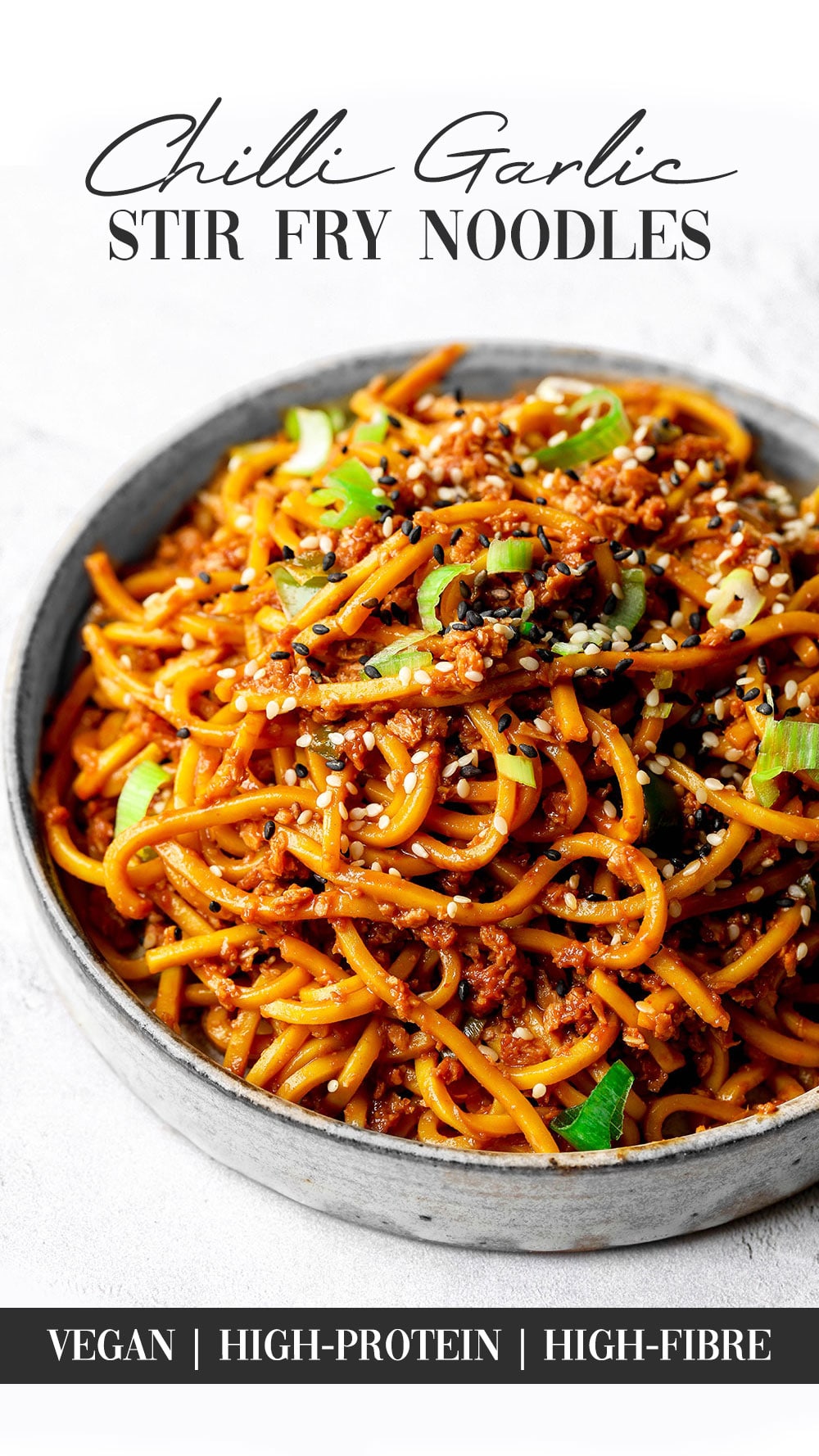 *This post is sponsored by East End Foods* 
A quick and easy meal idea for busy days. This vegan chilli garlic stir fry noodles is packed with plant-based protein, fibre and vegetables.
I always have the basic ingredients for a good stir fry in my cupboard for those days when I need something speedy for dinner. Things like noodles, soy sauce, rice vinegar and sriracha are life savers. All you need to do it throw everything in a wok and you have a delicious and satisfying meal ready in just 20 minutes!
 What you need for this vegan chilli garlic stir fry noodles
Noodles – Any noodles will work here, it completely depends on your preference. I like to use protein noodles as an easy way to bump up my protein intake. They're especially handy when making vegan meals. They're available in most supermarkets, but if you're strictly vegan, you need to check the ingredients as some contain egg.
Soy sauce – another staple in my cupboard. I love using dark soy sauce as it adds a beautiful and intense colour, but again any will work. You can also adjust to taste depending on how salty you like your food.
Sugar – a little bit of sugar is essential in some savoury recipes to balance the flavours. It's especially important to level out bitter, salty and sour flavours. A little goes a long way!
Rice vinegar – this adds acidity to balance out the sweet and salty flavours. You can also use lemon or lime juice instead.
Peanut butter – it adds a lovely creaminess. It also adds a hint of peanut flavour that's not too overpowering. You can use almond or cashew butter instead or leave it out completely to make the recipe nut-free.
Sriracha – I use this in so many of my savoury recipes. It's such an easy way to enhance the flavours and works great in things like soups and stir fries. You can use chopped up red chillies instead if you don't have any.
Plant-based mince meat – this is optional, but I always add some sort of protein to my meals to make them more balanced, filling and satisfying. Baked or fried tofu cubes will also work here.
Garlic – essential for all cooking! I can't make a meal without it.
Spring onions – adds the most delicious flavour and crunch.
Chilli flakes – depending on how chilli you like your food, you can add an extra sprinkle of chilli flakes on top for that extra kick of heat.
Garnish – I love using garnish for extra flavour, but also to make the end dish look more aesthetically pleasing. I love using fresh coriander and sesame seeds, but you can add whatever you like. Crunchy fried onions also work well here.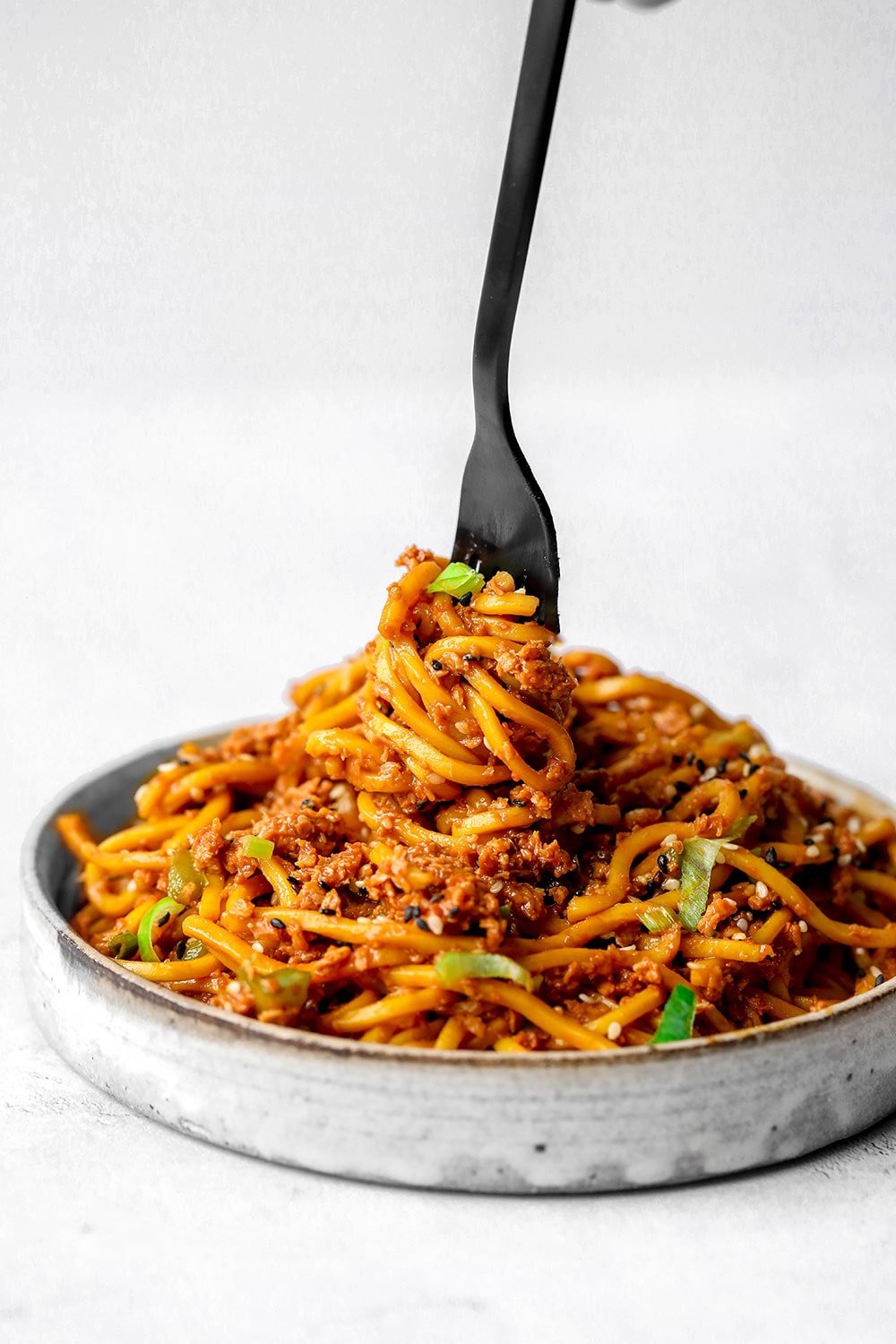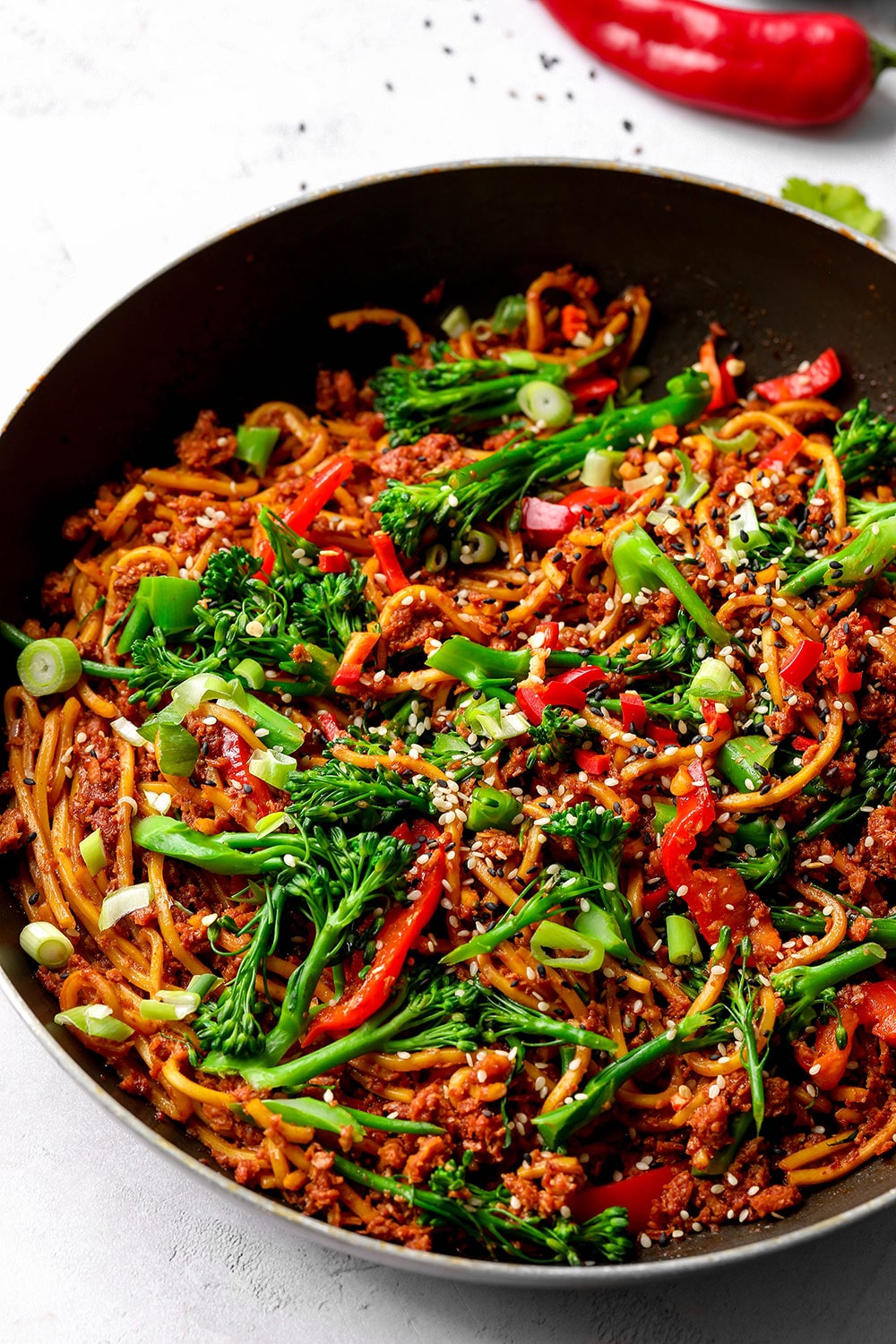 When I was younger, I thought it was so odd whenever I saw my mum add sugar to savoury dishes like stews and curries. In my mind sugar was only used in desserts. It was only when I started cooking and experimenting in the kitchen that I realised just how important sugar is in some dishes to help level out the flavours. A little goes a long way and it makes such a huge difference.
Adding a little bit of sugar helps mellow out the saltiness of the soy sauce and sourness of the rice vinegar and helps merge all the flavours together beautifully. I'm using East End Cane Demerara sugar – it's so versatile and can be used in sweet and savoury recipes alike. It's an unrefined sugar made from the finest ingredients and has a unique aroma and taste. Even better is that it's sourced sustainably from the sun blessed and beautiful cane terroirs of Mauritius.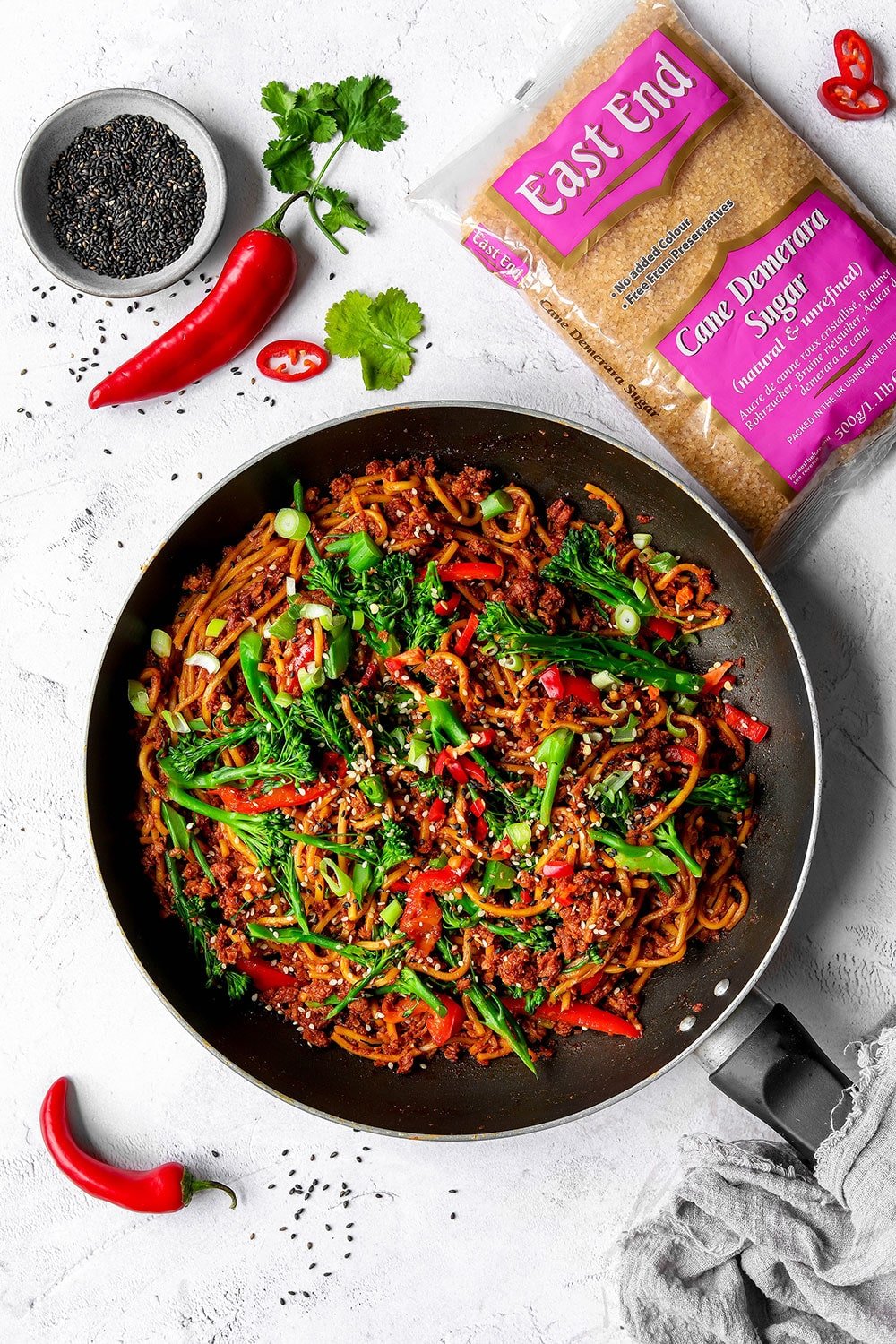 If you're unfamiliar with East End Foods products, they have a huge range of products from herbs and spices, to nuts and beans, to ghee and sauces and so much more! I've been using their spices for years because I feel the quality of their products so much better compared to others I find in my local supermarkets. You can also buy big bags of their spices, which is handy and means you get more for your money – always a bonus.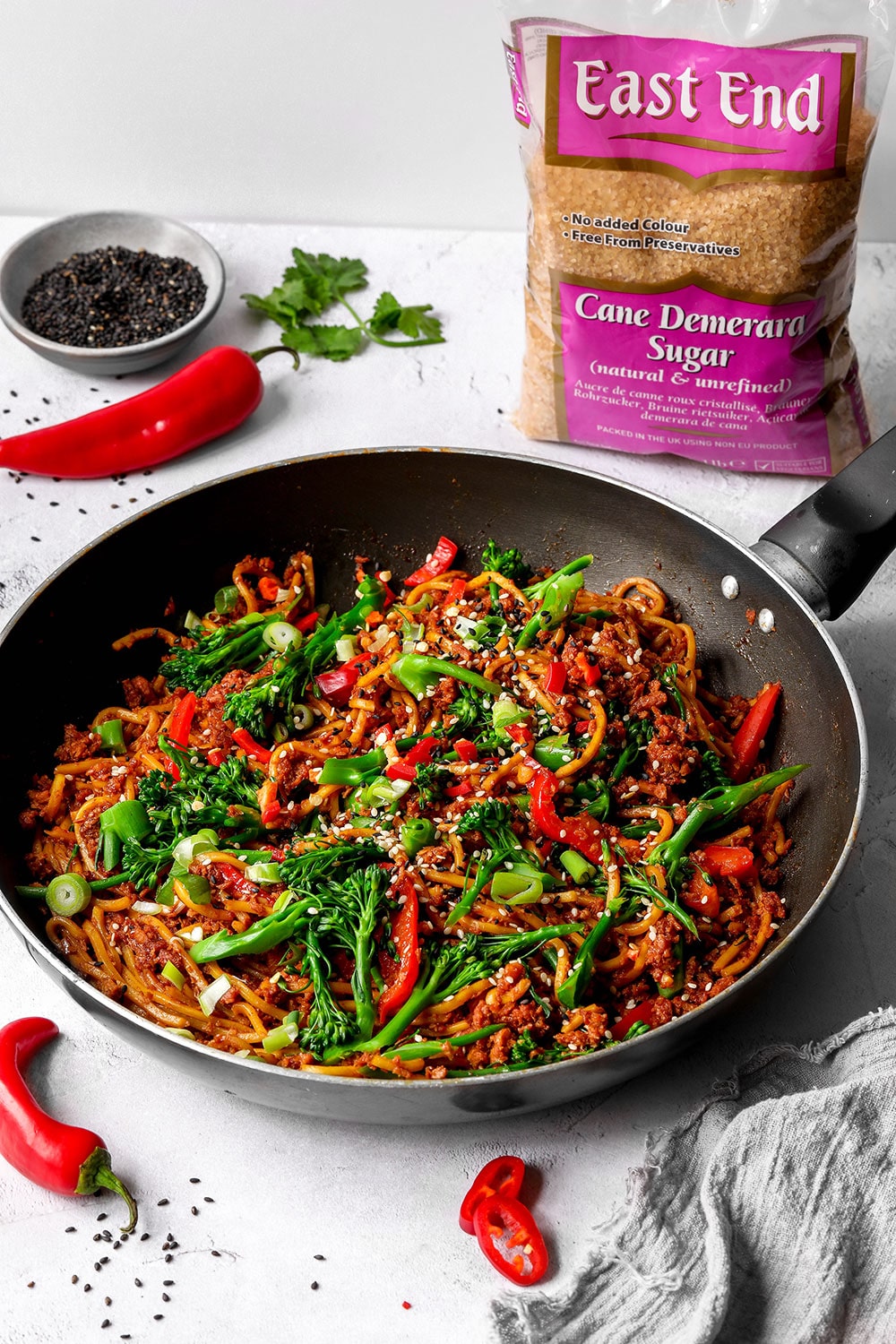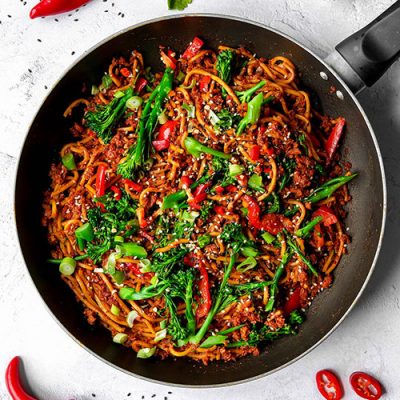 Vegan Chilli Garlic Stir Fry Noodles
A quick and easy meal idea for busy days. This vegan chilli garlic stir fry noodles is packed with plant-based protein, fibre and vegetables.
Ingredients 
For the sauce
1

tbsp

East End Cane Demerara sugar

3

tbsp

dark soy sauce

2

tbsp

rice vinegar

1

tbsp

smooth peanut butter*

1

tbsp

Sriracha

120ml

hot water
For the noodles
1

tbsp

sesame oil

3

spring onions

chopped

1

tbsp

chopped ginger

3

garlic cloves

crushed

1

red pepper

sliced

200g

plant-based mince

300g

straight to wok noodles**

200g

Tenderstem broccoli
For the garnish
Sesame seeds

Fresh coriander

Chilli flakes
Instructions 
Heat 1 tbsp sesame oil in a large pan or wok. Add the spring onions, garlic, ginger and red peppers. Cook on medium heat for 5minutes.

Add the plant-based mince and cook for another 5 minutes.

Mix the sauce ingredients in a jar, then pour into the pan. Add the noodles and mix until everything is evenly coated. Continue cooking for another 3-5 minutes until the noodles are heated through.

Take off the heat and add the Tenderstem broccoli. Serve immediately with a sprinkle of sesame seeds, chopped spring onions and fresh coriander.
Notes
* You can use tahini instead to make the recipe nut-free. Or you can omit completely. 
** Any straight to wok noodles will work, but I prefer using Udon or protein noodles. 
Nutrition
Calories: 555kcalCarbohydrates: 86gProtein: 31gFat: 12gSaturated Fat: 2gPolyunsaturated Fat: 3gMonounsaturated Fat: 3gSodium: 2556mgPotassium: 180mgFiber: 10gSugar: 17gVitamin A: 1446IUVitamin C: 89mgCalcium: 87mgIron: 2mg