Every year, 48500 people in the UK are diagnosed with lung cancer. That's 130 people every day. Making this statistic worse is the low 10-year survival rate of individuals diagnosed with lung cancer. Unlike other cancers like breast cancer and prostate cancer, lung cancer has one of the lowest survival rates at a mere 10%.
What if I told you we could decrease the mortality of lung cancer with one simple test?
To decrease these numbers, we need to acknowledge one of the underlying reasons for the high mortality rate of lung cancer worldwide: the diagnosis of lung cancer in late stages. Fewer than 1 in 6 lung cancers are diagnosed at Stage 1 and more than half are diagnosed at Stage 4 in the UK. Patients often experience no symptoms until the lung cancer has progressed to a more advanced stage when survival and treatment outcomes are poorer. Even for individuals who exhibit symptoms, these are often non-specific to lung cancer: coughing, chest pain, fatigue, weight loss, and breathlessness.
Since symptoms of lung cancer do not arise until later stages of disease progression, we need to screen high-risk individuals for lung cancer regularly to increase the likelihood of diagnosing tumours, if present, at earlier stages. In the US, where there is an established lung cancer screening programme, low dose computed tomography (LDCT) is used.  LDCT involves an X-ray machine taking multiple detailed images of the patient's lungs with the help of a small dose of radiation.  The picture below shows a typical LDCT procedure.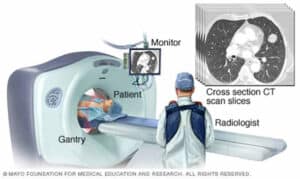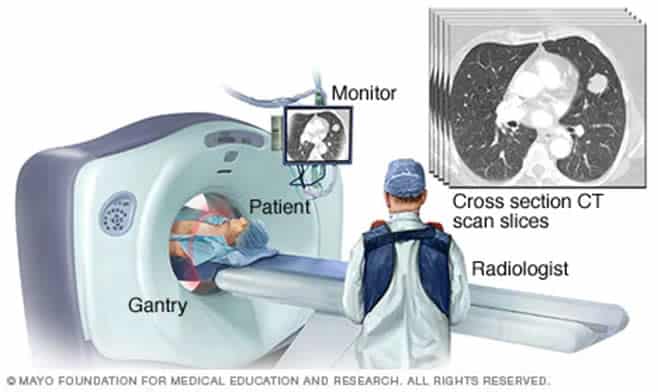 Image taken from Mayo Clinic 
Unlike the US, the UK does not currently have a national lung cancer screening programme. However, there is increased importance placed on lung cancer screening in the UK as shown by lung cancer screening campaigns and the establishment of the Targeted Lung Health Check Programme (TLHC). The TLHC has lung cancer screening centres established in 23 places with the highest lung cancer mortality rate in the UK. It is estimated that 6000 lung cancer patients will be diagnosed earlier than they normally would be from this service. This service is currently available to individuals aged 55 to 74 who are current or former smokers. Medical history is taken from invited patients, where high-risk patients are identified. These patients are then asked to take a LDCT scan.
Despite the drastic improvements in effort in the UK to increase lung cancer screening, there is insufficient information on how a patient can opt to have a LDCT unless they are identified by healthcare professionals under the TLHC programme. In addition, there is an insufficient awareness regarding the existence of the TLHC programme that is targeted at individuals with a high risk of developing lung cancer due to their smoking history and their age. Further initiatives can be taken to increase the reach of the TLHC programme. Firstly, clear guidelines can be outlined on the NHS website regarding lung cancer screening for individuals who do not meet the strict eligibility criteria but wish to undergo lung cancer screening. Secondly, to increase outreach, active campaigning efforts for lung cancer screening could be established. This can involve rolling out nation-wide campaign videos in collaboration with the NHS, or convincing political leaders or influencers in the UK to convey the importance of early lung cancer screening. Lastly, to increase uptake of lung cancer screening, electronic health records can be used to identify high-risk individuals who can then form the target group of further outreach efforts.
The American Lung Cancer Screening Initiative (ALCSI) is a non-profit organisation of over 200 doctors and students who are working to raise awareness of lung cancer and lung screening. We initially focused on doing so within the US, and now aim to reach more people at risk from lung cancer from across the world. Our organisation has worked with US Senators Tina Smith (D-Minn) and Marco Rubio (R-FIa.) to draft S.Res.462, which recognises November 2021 as National Lung Cancer Awareness Month and expresses support for the early detection and treatment of lung cancer. On November 30th, the US Senate passed S.Res.462 by unanimous consent, marking the second time the US Senate has ever recognised the importance of lung cancer screening. With the aim of having a global impact, team members at ALCSI have given over 200 presentations throughout the US, India, Mexico, Brazil, and UK; passed proclamations for November Lung Cancer Awareness Month in every single US state; are organising in-person lung cancer awareness campaigns in several communities; collaborating with doctors and hospitals to increase lung cancer screening ease of access for high-risk patients; started college chapters to engage students in outreach, advocacy, and legislative efforts; and are partnering with other organisations to raise awareness about lung cancer screening.
If you would like to learn more about lung cancer and lung cancer screening, please visit our website at www.alcsi.org. Please email us at [email protected] if you have any questions.
Authors:
Sruthi Ranganathan is a medical student at the University of Cambridge, UK and a member of the American Lung Cancer Screening Initiative (ALCSI). She has contributed to raising awareness for lung cancer screening by reaching out to organizations, universities and schools in the UK and Singapore, and is also part of the ALCSI podcast team.  Outside of outreach work, Sruthi is passionate about cancer in general and has taken part in cancer research projects.
Alexandra Potter is a researcher at the Massachusetts General Hospital in Boston, MA. Her primary research focus is in the field of thoracic oncology, with a specific focus on lung cancer screening, and she performs clinical research. Ms. Potter has been the lead author on high-impact papers published in the British Medical Journal, JAMA Oncology, and Lancet Respiratory Medicine. She is also focused on raising awareness of lung cancer screening. She is the co-founder and President of the American Lung Cancer Screening Initiative, a 501(c)(3) non-profit, which has worked with communities across all 50 US states to teach people about the importance of lung cancer screening. She has also worked with US senators to co-draft resolutions, S.Res.780 and S.Res.426, recognizing November 2020 and 2021 as National Lung Cancer Awareness Month and expressing support for the early detection of lung cancer.
Priyanka Senthil  is an undergraduate at Rice University, majoring in Bioscience. She works in Dr. Chi-Fu Jeffrey Yang's lung cancer research lab and is very passionate about both lung cancer research and raising awareness about the importance of lung cancer screening for high-risk individuals. She is the program director for the American Lung Cancer Screening Initiative (ALCSI) and the president of the ALCSI chapter at Rice University. She leads ALCSI's podcast series with lung cancer survivors and experts and has given two TEDx talks on lung cancer and lung cancer screening through TEDxRiceU and TEDxBU. Her current focuses include working on lung cancer research in Dr. Yang's lab and working to help more high-risk individuals get screened for lung cancer.