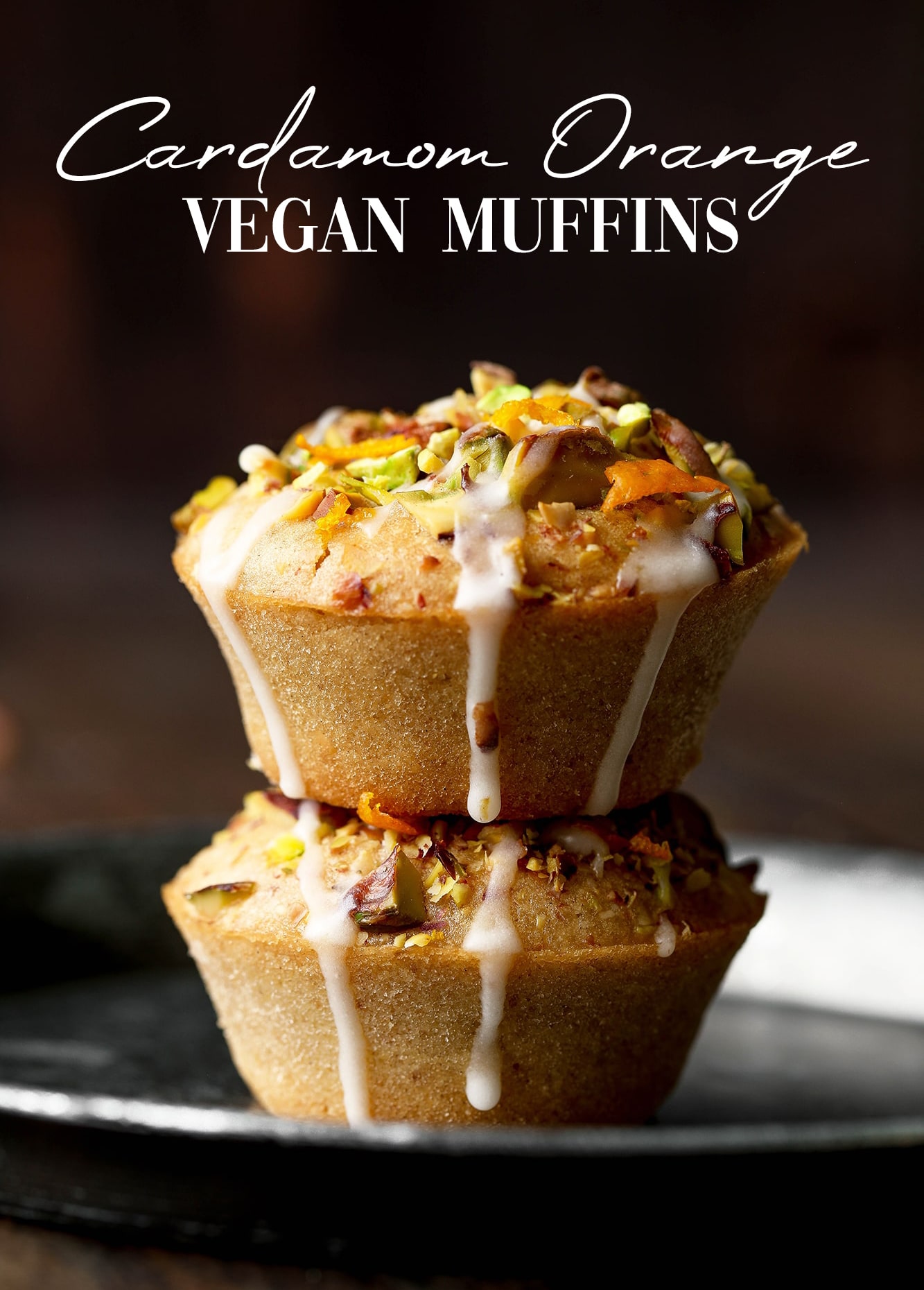 Light and fluffy muffins that are packed with yummy flavours – these vegan cardamom orange muffins make a lovely light treat to go with your cuppa!
Desserts are my favourite kind of recipes to make. I've always had a major sweet tooth. I think it's mainly down to the fact that growing up in a war torn country meant we didn't have the luxury of enjoying treats. So I think now my body wants me to make up for it! The only problem is I have IBS, eczema and anxiety issues, which means yet again I don't have the luxury of eating whatever I want without it having some sort of negative impact on my mind and body.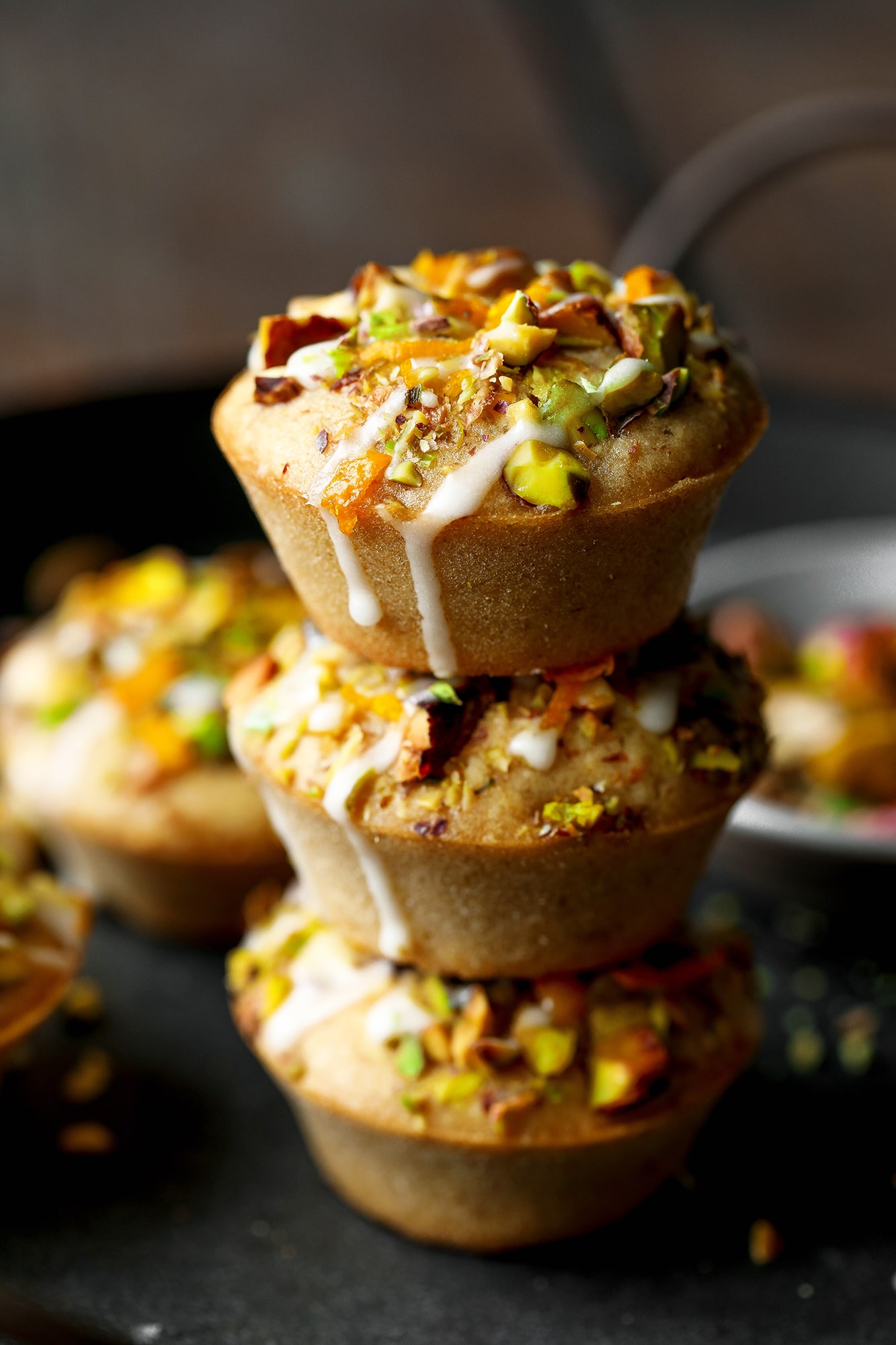 When people find out what I do for a living and see that desserts are my USP, they always say things like "but desserts can never be healthy" or "how can you make a dessert healthy?". First of all health is such a complex topic and food is never as black and white as to say one is categorically healthy and one is unhealthy.
Secondly, I wouldn't claim that if you eat one of my desserts you would heal any health issues you have. I make healthier desserts that are better for you than most you would buy from the shops, that's all. I've always thought if you're making a dessert at home, why not make a few substitutes here and there that will benefit your body in some way. I don't like compromising on taste/texture, so yeah, sometimes I have to use sugar and fats. However, overall my aim is to help you create something that's better for you, but that you would still enjoy.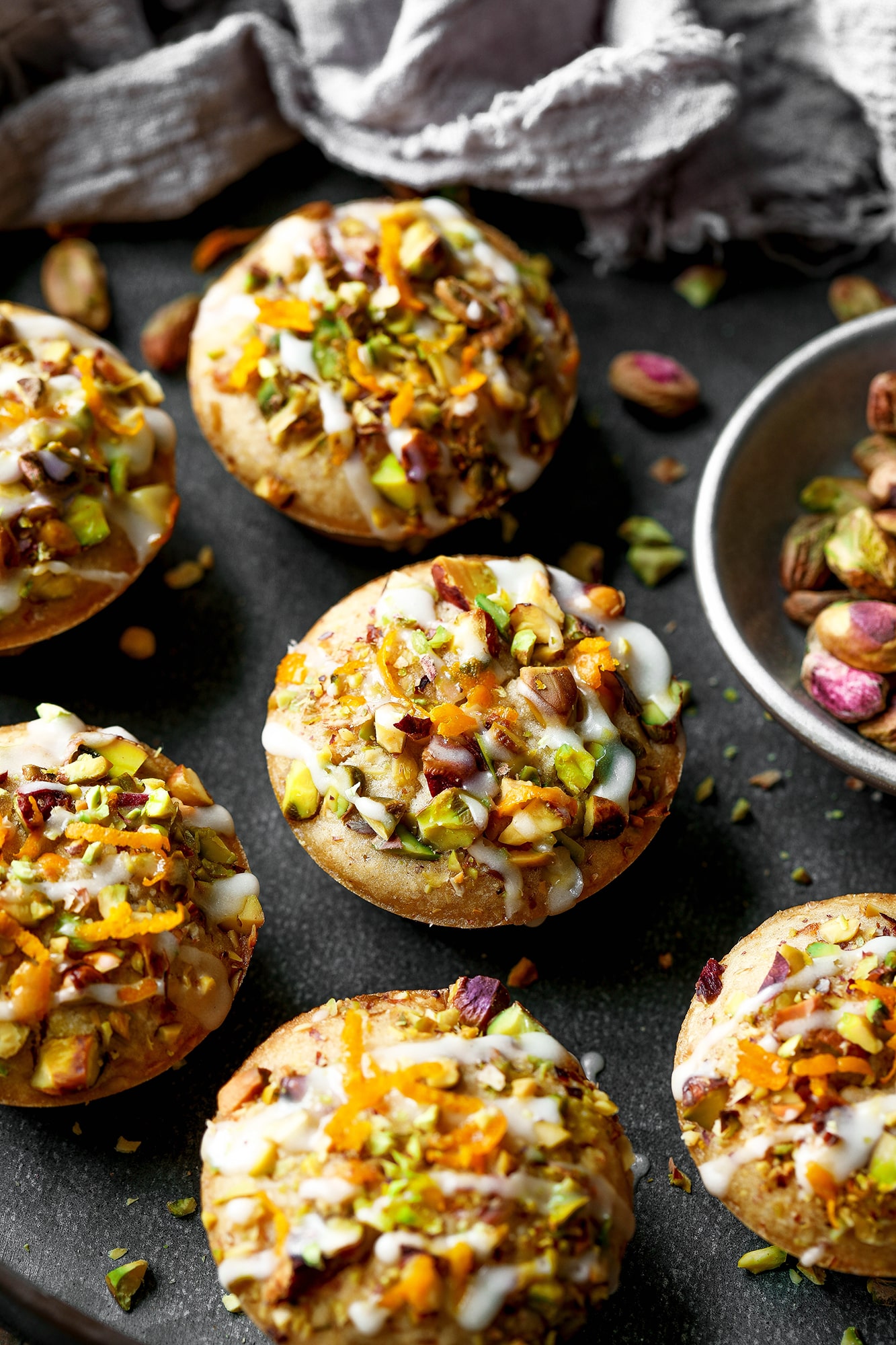 Also, allergies are on the rise and unfortunately many people can't eat things like dairy, gluten, eggs, soy and nuts, so I like to make recipes that cater for those people who are looking for the classic treats that they love, but made without the ingredients they can't eat!
These vegan cardamom orange muffins are a great example of a healthier treat – made with wholemeal spelt flour and ground almonds instead of plain flour. It's also dairy-free and egg-free to cater for vegan and those with allergies to eggs and dairy. I also used coconut yoghurt to lower the fat content, again making them slightly healthier and lighter. There is sugar in there, but you can easily substitute it for a sugar-free sweetener if you want a sugar-free treat.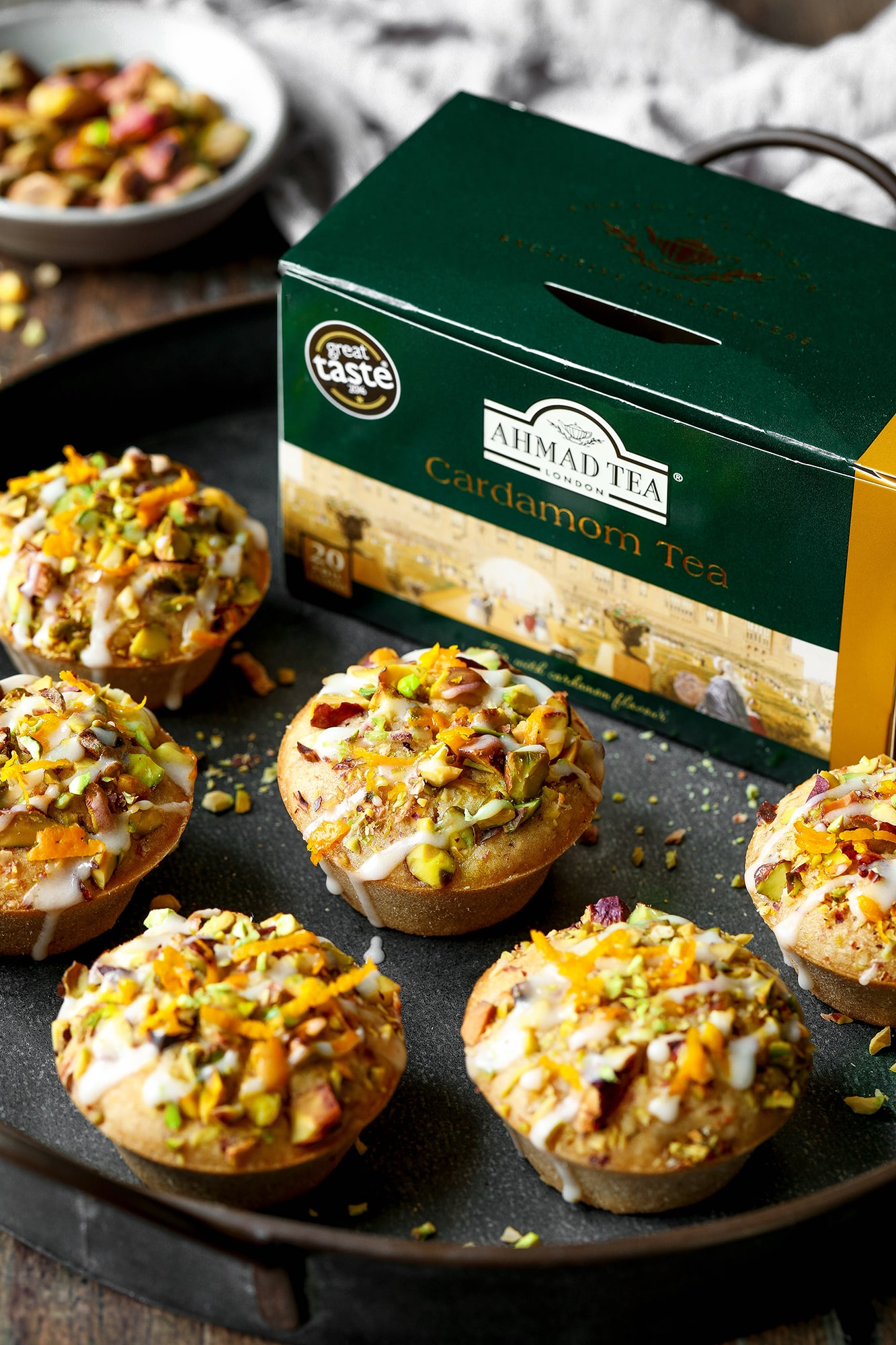 I love using brewed tea in recipes, it's such an easy way to add tons of flavour. I always have Ahmad Tea cardamom tea bags (my absolute favourite!) in my cupboard, so I thought it would be fun to incorporate it into a recipe. I also think cardamom and orange go so well together, a flavour combo that was inspired from my Middle Eastern upbringing. Topped with chopped pistachios for extra nuttiness and a lovely crunch.
These vegan cardamom orange muffins are the perfect accompaniment to your afternoon cup of tea. They also make a lovely light post-dinner dessert.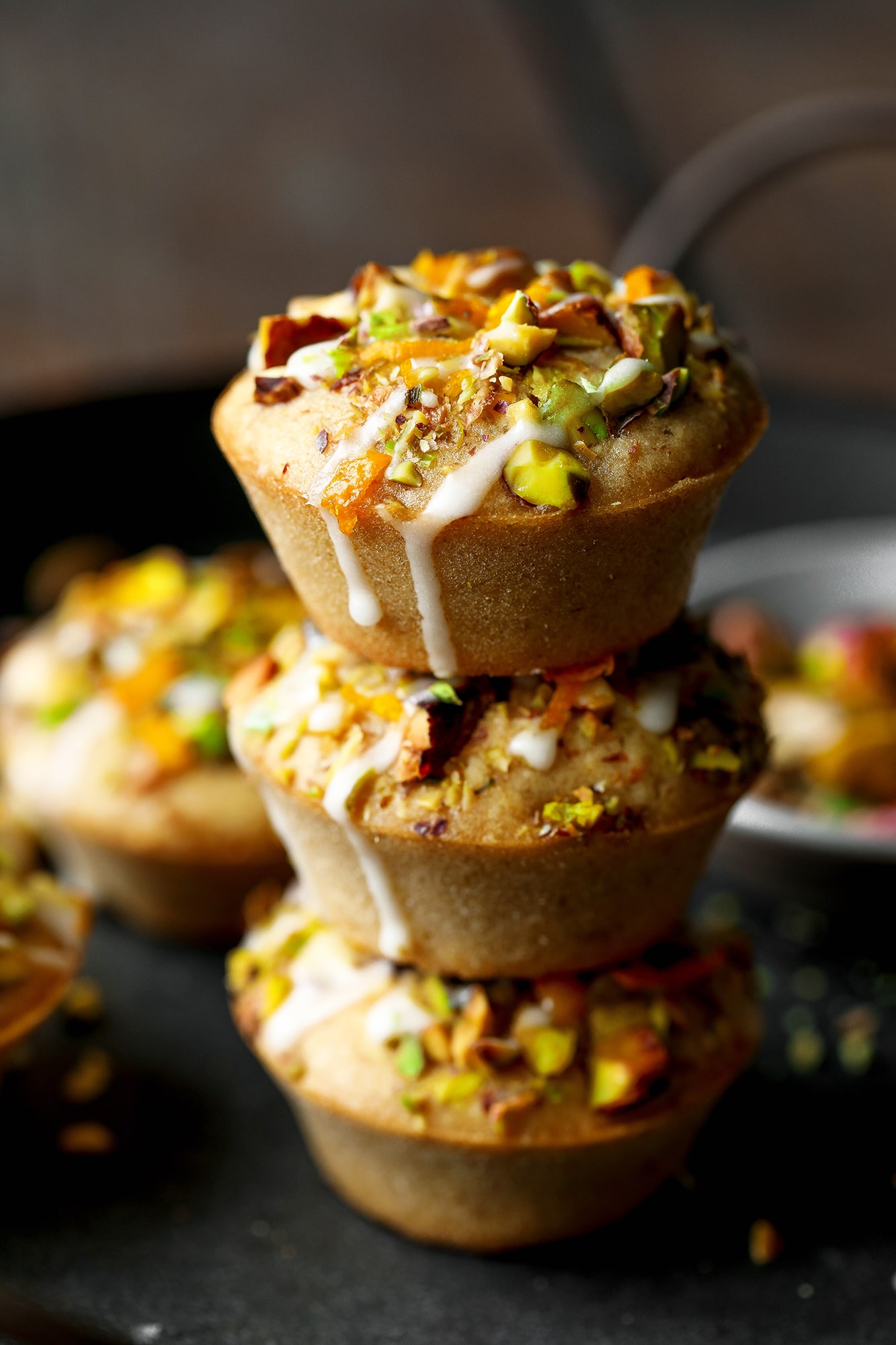 Vegan Cardamom Orange Muffins
Makes – 12
Ingredients
125g (1 cup) wholemeal spelt flour
100g (1 cup) ground almonds
100g (1/2 cup) sugar (brown, white or coconut)
2 tsp baking powder
1/4 tsp salt
1 tbsp ground flaxseed mixed with 3 tbsp water
Zest of 1 orange
5 Ahmad Tea Cardamom tea bags
200ml boiling water
60ml (1/4 cup) coconut oil, melted
70g (1/4 cup) dairy-free yoghurt
Topping
Chopped pistachios
Method
Preheat oven to 180C/160C fan/350F.
Add 200ml boiling water to a glass measuring jug, then add in the tea bags. Leave to steep for 5 minutes, then remove the bags and allow the tea to cool down to room temperature.
In a small bowl, mix together the ground flaxseed and 3 tbsp of water and leave to set for 20 minutes.
Mix the flour, ground almonds, sugar, baking powder and salt in a large bowl, then pour in the cooled tea, melted coconut oil, yoghurt and add the orange zest. Mix until you have a smooth batter.
Divide between 12 muffin cases and top with chopped pistachios.
Bake for 35-40 minutes, leave to cool completely and enjoy!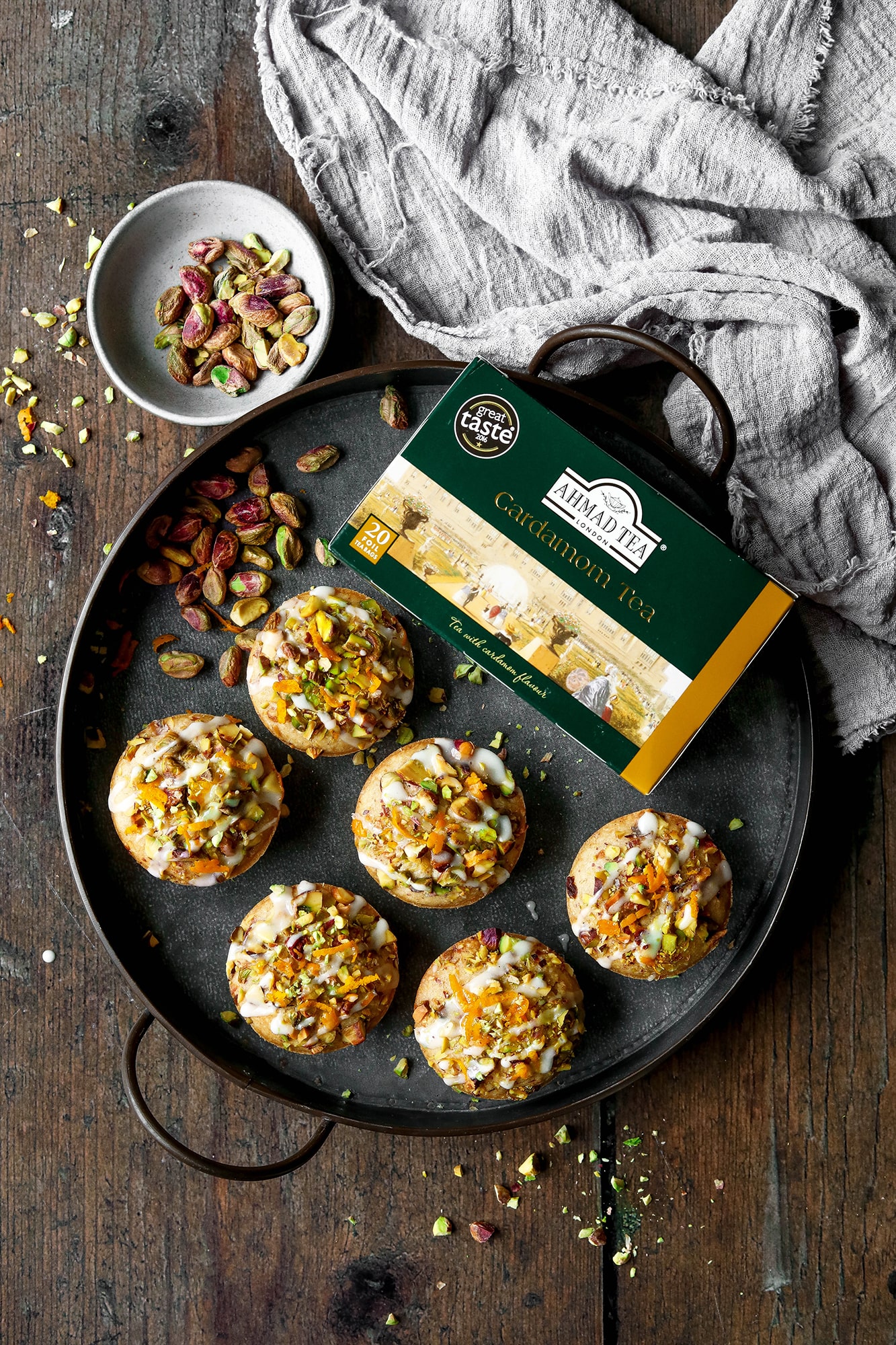 Share This Post