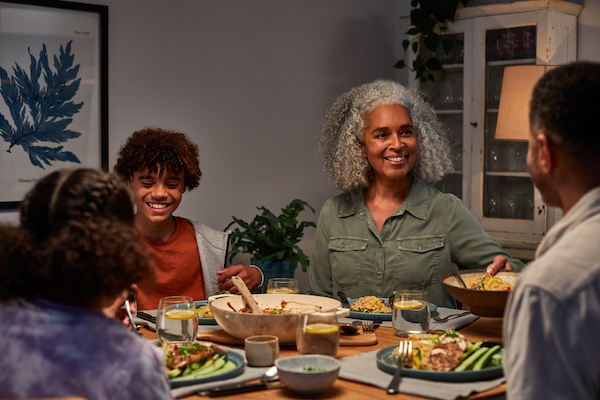 4.9 million people in the UK already have diabetes. 13 million people are at risk of developing it. But did you know that combined lifestyle interventions including diet, physical activity and losing weight can reduce the risk of Type 2 diabetes by 50%?
We've joined forces with the brilliant Diabetes UK. To co-create a range of bespoke recipes designed to support people living with diabetes.
To celebrate our partnership, we asked Dietitian Clare to tell us more about diabetes. Here, she takes us through what it is, how it affects us, and how a healthy, balanced diet can help. Along with some exercise of course.
So, if you're new to a diagnosis, an old hand at balancing your nutrition, or you're just dipping a toe into more conscious consumption of salt, sugar, and carbs, look out for Mindful Chef x Diabetes UK-approved recipes on your menu.
Part I. What is Diabetes?
The World Health Organisation (WHO) defines diabetes as 'a chronic, metabolic disease characterised by elevated levels of blood glucose (blood sugar), which leads to serious damage to the heart, blood vessels, eyes, kidneys and nerves over time'.
"Diabetes is a long term, complex condition that has many forms. The 2 most common forms are Type 1 and Type 2."
Type 1:
The body doesn't make any, or very little, insulin. 
When we break down carbohydrates from food into glucose and absorb it into our bloodstream, there is no insulin to move it into our cells. 
This means glucose levels in the bloodstream continue to increase.
It most commonly develops in children, teenagers and young adults and affects around 8% of people in the UK.
"Genetics are believed to be a significant risk factor in the development of type 1 diabetes, with evidence suggesting diet, Vit D exposure and poor gut health may further increase risk"
Type 2:
Occurs when either the insulin you're producing isn't working properly and your cells are less sensitive to it
Or when the cells in your pancreas aren't making enough insulin
This causes blood glucose levels to rise.
Around 90% of people living with diabetes have Type 2.
"Genetics, age, ethnicity, high blood pressure, diet and weight are all risk factors for the development of type 2 diabetes."

Part II. Diabetes and Carbohydrates
A healthy balanced diet helps maintain blood glucose levels. So let's talk: 
Fibre
Carbs 
Glycemic Index.
"While there is no such thing as a diabetes diet, optimising fibre intake and choosing slow release, low glycaemic index carbohydrates can be helpful to someone meal planning with diabetes."
What is the Glycemic Index (GI)?
All forms of starchy carbohydrates increase blood glucose levels. However some carbs have a significant and rapid impact on blood glucose levels, so this scoring system from 1- 100 can help.
Low GI foods score from 1-55 and are digested and absorbed more slowly. Medium GI foods score from 56-69. 
Examples of medium and low GI foods
Granary, multigrain and rye bread, most fruit and  vegetables, beans and pulses, new potatoes with skin, sweet potatoes, wholegrains such as oats, bulgar wheat, quinoa, brown and basmati rice.
Why choose these types of food? 
Choosing low GI, high fibre foods can be helpful as they release energy more slowly and cause a more gentle rise in blood glucose levels. 
High GI foods score from 70-100. These foods cause very quick and sharp rises in blood glucose levels.
High GI foods
White rice, sugary beverages, white bread, processed sugary breakfast cereals, white potatoes, sugar and sugary foods
Did you know? 
Higher fibre low GI options are more sustaining and filling, which helps to regulate appetite, minimise snacking and cravings! We should be including a minimum of 30g of fibre a day. 
Part III. Diabetes and your 5 a day
What does a healthy, balanced diet for someone with diabetes look like? And what foods should we enjoy – or avoid?
"Eating in a healthy, balanced way is important for people with diabetes, not only because it helps to manage their blood glucose levels over the short term, but also because it can help to avoid long term complications such as cardiovascular disease and cancer."
Clare's top tips:
5-a-day
Eat a minimum of 5 portions of fruit and vegetables a day. More if you can!
Why?
Fruit and vegetables are high in fibre and a rich source of vitamins, minerals and antioxidants!
Healthy fats please
Include more healthy mono and polyunsaturated fats and minimise saturated and trans fats 
Find them in
Olive oil, peanut oil, sesame oil, rapeseed oil, sunflower oil, nuts, seeds and oily fish.
 Sweet enough
Avoid foods and beverages high in sugar when managing blood glucose levels. 
Don't add sugar to foods and beverages 
Watch your 'free sugars'
Use natural high fibre sources of sweetness like a piece of whole fruit!
Long chain Omega 3 fats
Include at least 1-2 portions of oily fish a week from fresh anchovies, carp, herring, mackerel, pilchards, salmon and trout, or sea vegetables like nori, spirulina, and chlorella.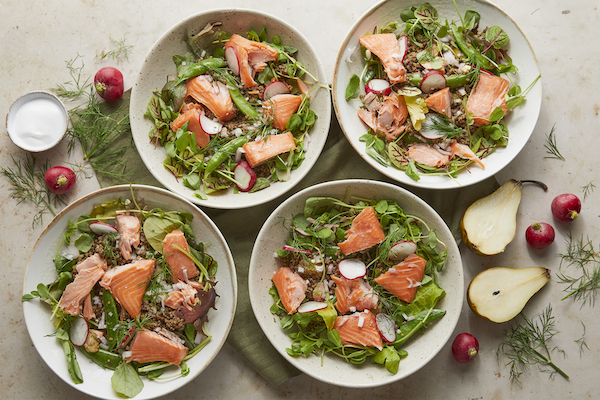 Watch the salt!
Check food labels and salt content. Be conscious of adding salt when cooking or at the table and limit high salt foods.
Know your limits: 6g of salt a day for adults!
Surprisingly salty culprits
Cheese, gravy granules, olives, prawns, stock cubes, and yeast extract (to name but a few!)
Red (meat) alert
Red meat and processed meats have been related to increased risk of cardiovascular disease and a number of cancers. 
Naughty list
Beef, lamb, bacon, sausage, ham, cured meats (salami or chorizo).
Alcohol and diabetes
Alcohol is high in energy and may stimulate appetite. For people with diabetes, especially those taking insulin or mediations, alcohol can increase risk of hypoglycaemia. 
Part IV. Diabetes and Exercise
"Physical activity is very beneficial for people with diabetes. Finding a variety of activities that you can enjoy regularly can be brilliant to help manage blood glucose levels. Not only that, exercise helps you feel great, too!"
The good news about exercise:
Increases insulin sensitivity – can help minimise or reduce medication.
Improves long term blood glucose control – research has shown in some cases this can lead to diabetes going into remission!
Improves blood pressure and blood cholesterol levels. 
Helps manage stress, improve sleep, and manage weight.
"Thanks Clare! We'll always be on a mission to make healthy eating easy. Which is why you can now enjoy fresh, feel-good recipes every week, approved by Diabetes UK. Designed to support people living with or at risk of diabetes – we've made it easy to see the carbs, calories, protein and fat, so you know what works for you. We hope you enjoy them!"
Myles and Giles
Mindful Chef Founders
---
Yet to try healthy eating made easy? Get £10 off your first two healthy recipe boxes by entering code BLOG20 at checkout. Mindful Chef healthy recipe boxes provide you with the tools to cook delicious nutritious meals, in under 30 minutes. Each box contains recipe instructions, pre-portioned ingredients and fresh produce sourced from award-winning British farms.