A chocolate sandwich cookie filled with a simple 2 ingredients protein filling . These protein chocolate sandwich cookies are a great treat for when you're craving something sweet, but want a healthier option.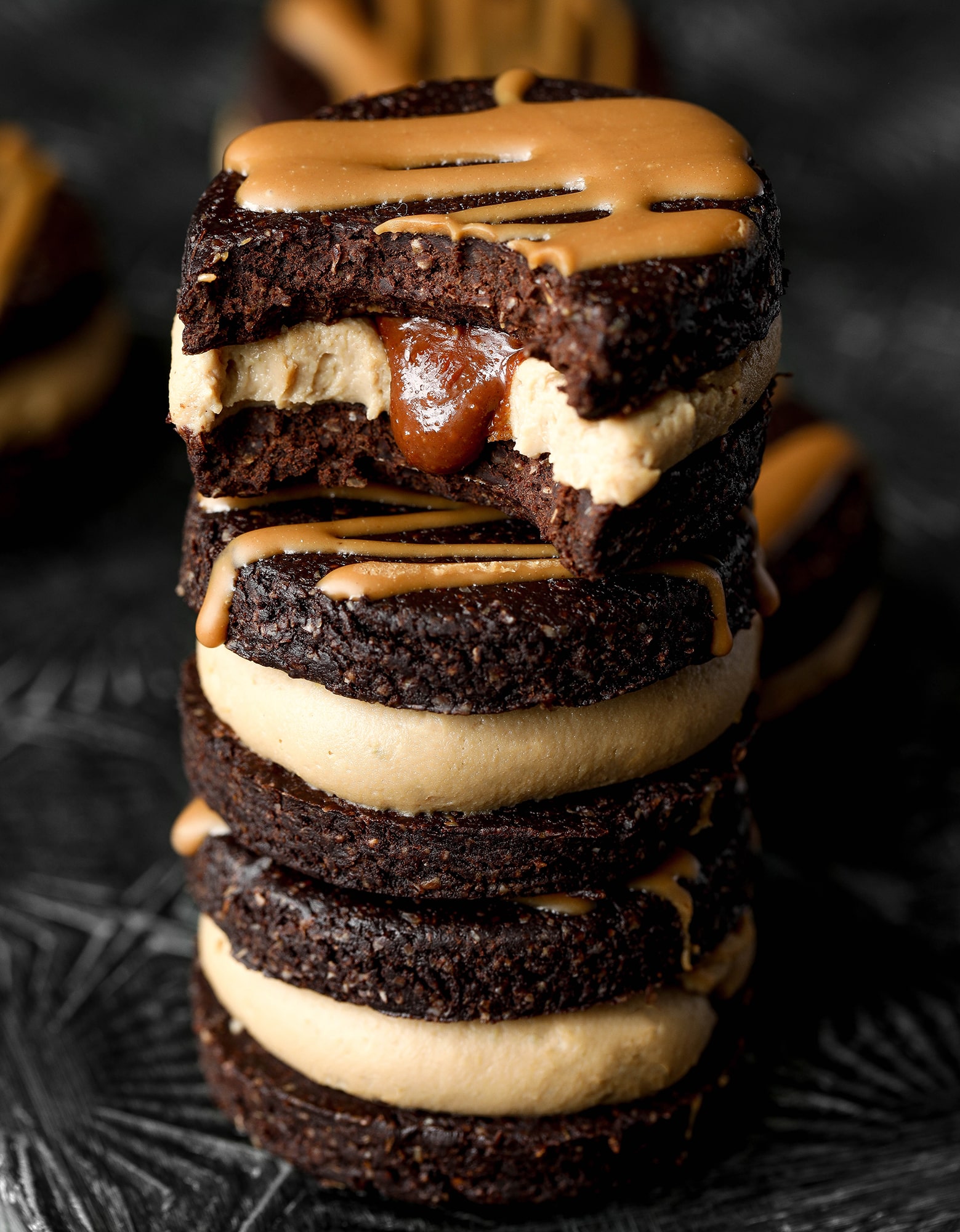 I love making healthier treats. I do believe you can treat yourself, but still nourish your body at the same. If you're going to eat something tasty, why not make it good for you too?
I'm a huge advocate of using protein powders. They're such an easy and fun way to add extra protein into your diet. Many of us have busy lifestyles that make meal planning a bit tricky. Some days I don't have time to plan and shop for ingredients to make a healthy balanced meal. It can be even more tricky if you're vegan or your diet is mainly plant-based like mine is. It takes even more planning and prep to make sure I'm getting in everything I need, and protein is one of them.
You can simply add a scoop of protein powder to your morning smoothie or porridge bowl, or just enjoy it as a shake on the side of a meal. You can also use it in recipes, sweet or savoury, although I prefer using flavoured proteins to make sweet treats and snacks.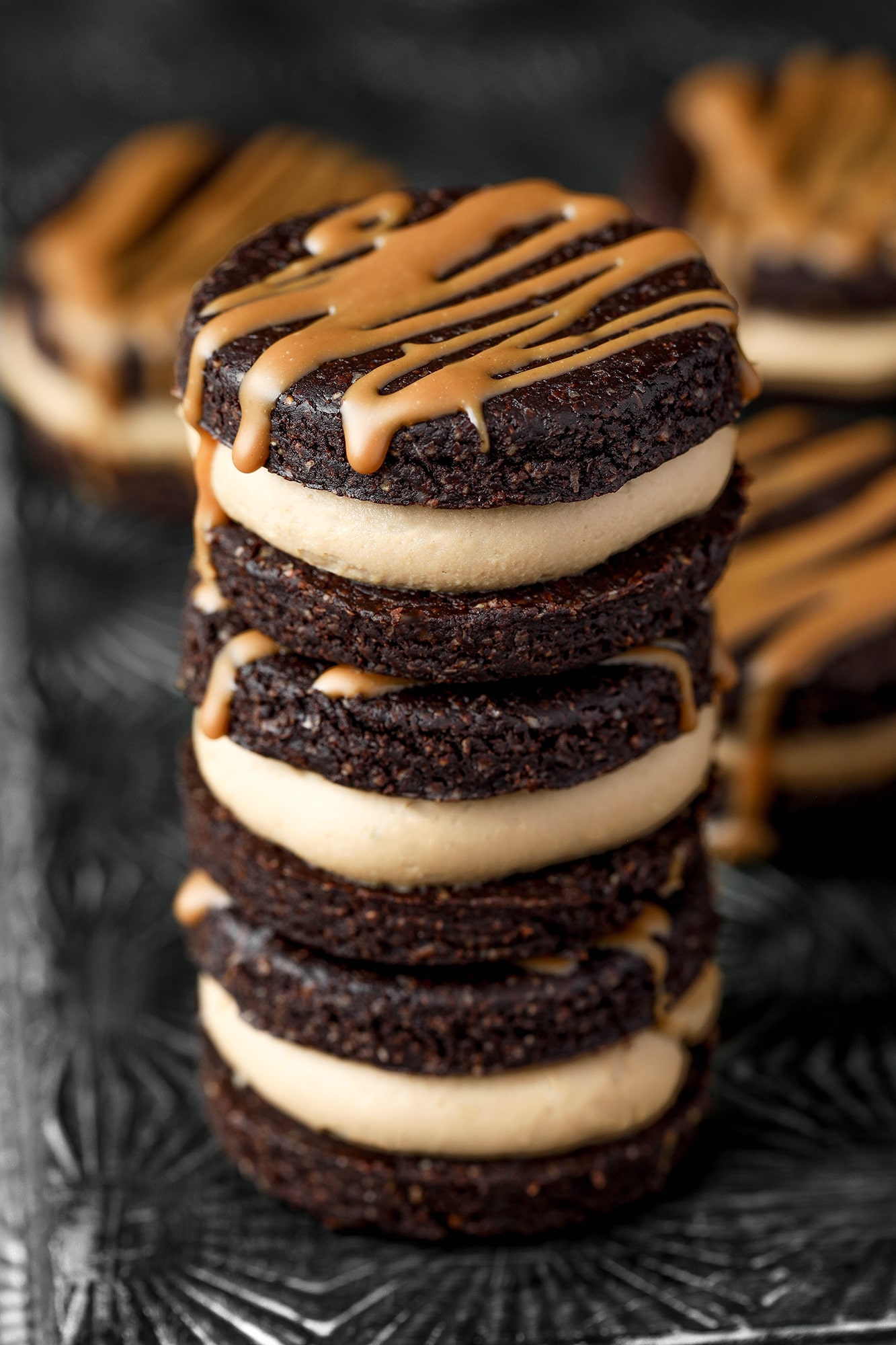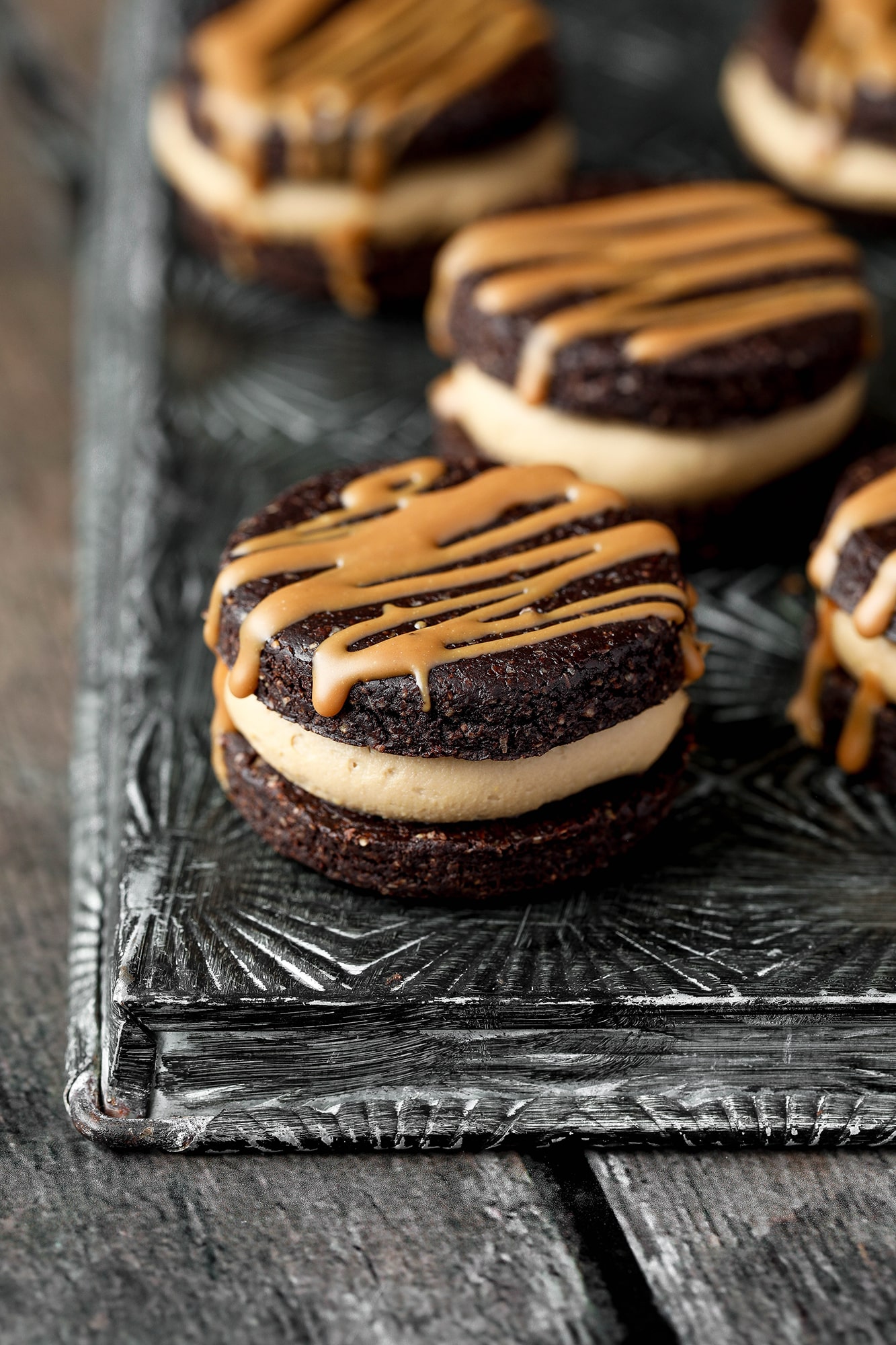 The best vegan protein powder I've tried so far (and I've tried a lot!) is Bulk's new Vegan Gourmet Protein powder. They come in 3 flavours – strawberry, chocolate and caramel. I love adding the strawberry powder to a bowl of coconut yoghurt with some blueberries and a handful of seeds/nuts. It's the perfect mid-morning snack, balanced with protein, healthy fats, carbs and antioxidants.
The chocolate and caramel protein powders are great to use in recipes, especially no-bake recipes like these sandwich cookies. I simply mixed some of the powder with dairy-free yoghurt to make a smooth and creamy filling!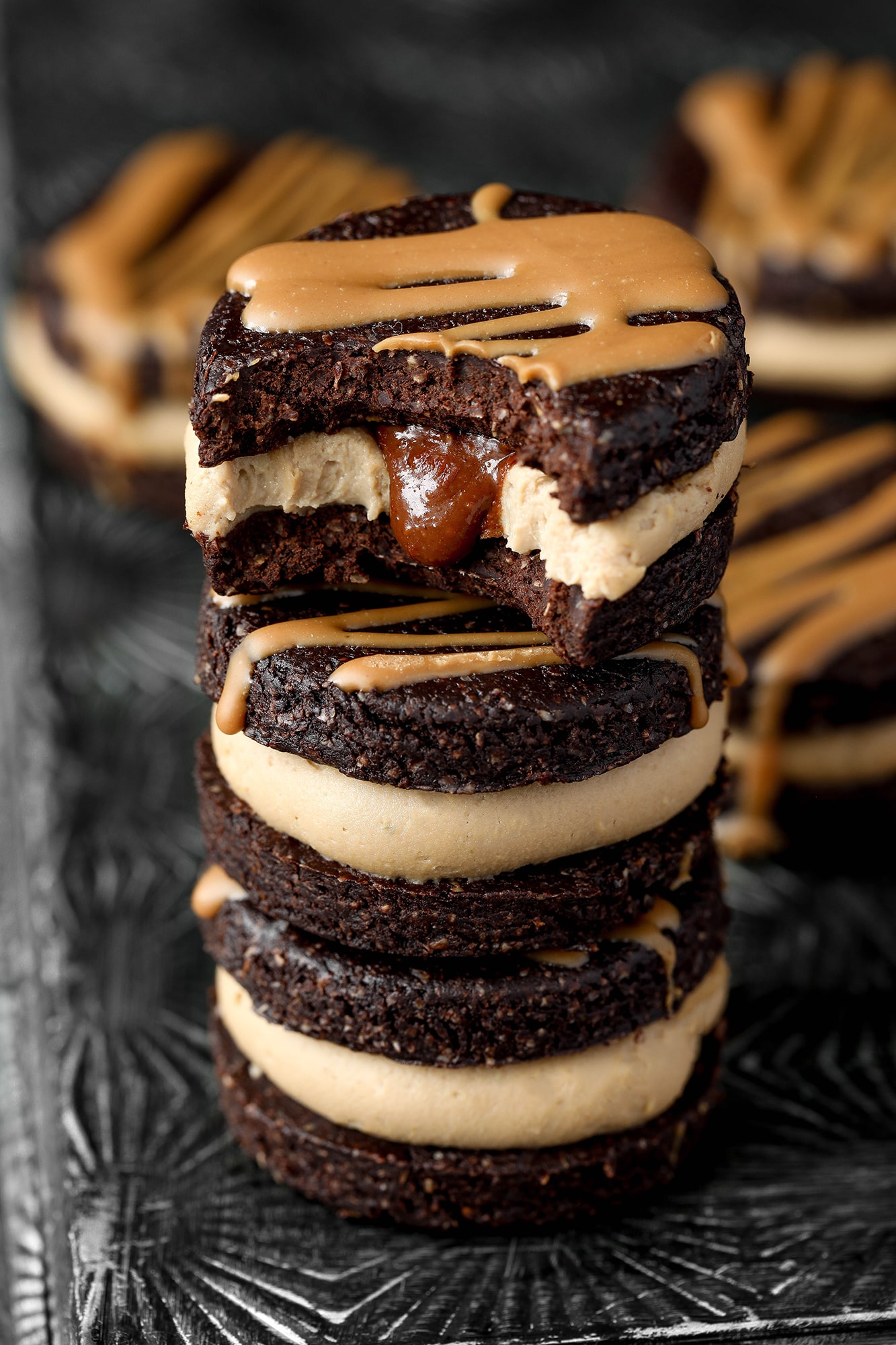 Protein Chocolate Caramel Sandwich Cookies
Makes: 8-10 cookie sandwiches
Ingredients
For the cookies
115g (1 cup) oat flour/ground oats*
50g (1/2 cup) cocoa powder
60ml (1/4 cup) maple syrup
2.5 tbsp melted coconut oil
1/4 tsp salt
For the filling
150g (1/2 cup) dairy-free yoghurt
55g (1/3 cup + 1 tbsp) Bulk caramel gourmet vegan protein
Chocolate peanut butter (I used Bulk chocolate brownie peanut butter)**
Method
Mix the cookie ingredients together in a bowl into a dough.
Roll between 2 sheets of baking paper and cut out cookies using a round cookie cutter. Place in the fridge while you make the filling.
Mix the filling ingredients in a bowl, then transfer into a piping bag***
Pipe the filling onto the bottom of one cookie in a circular motion, leaving a small gap in the middle. Fill the gap with a small dollop of the chocolate peanut butter, then top with another to make a sandwich.
Store in an air-tight container in the fridge for up to 3 days.
Notes:
* You can make your own oat flour by blending plain oats into a fine flour in the food processor. Use gluten-free oats to make the recipe gluten-free.
** You can use any nut/seed butter or you can omit this step
*** If you don't want to use a piping bag, you can use a spoon to spread the filling onto the cookies. Although they won't look as neat.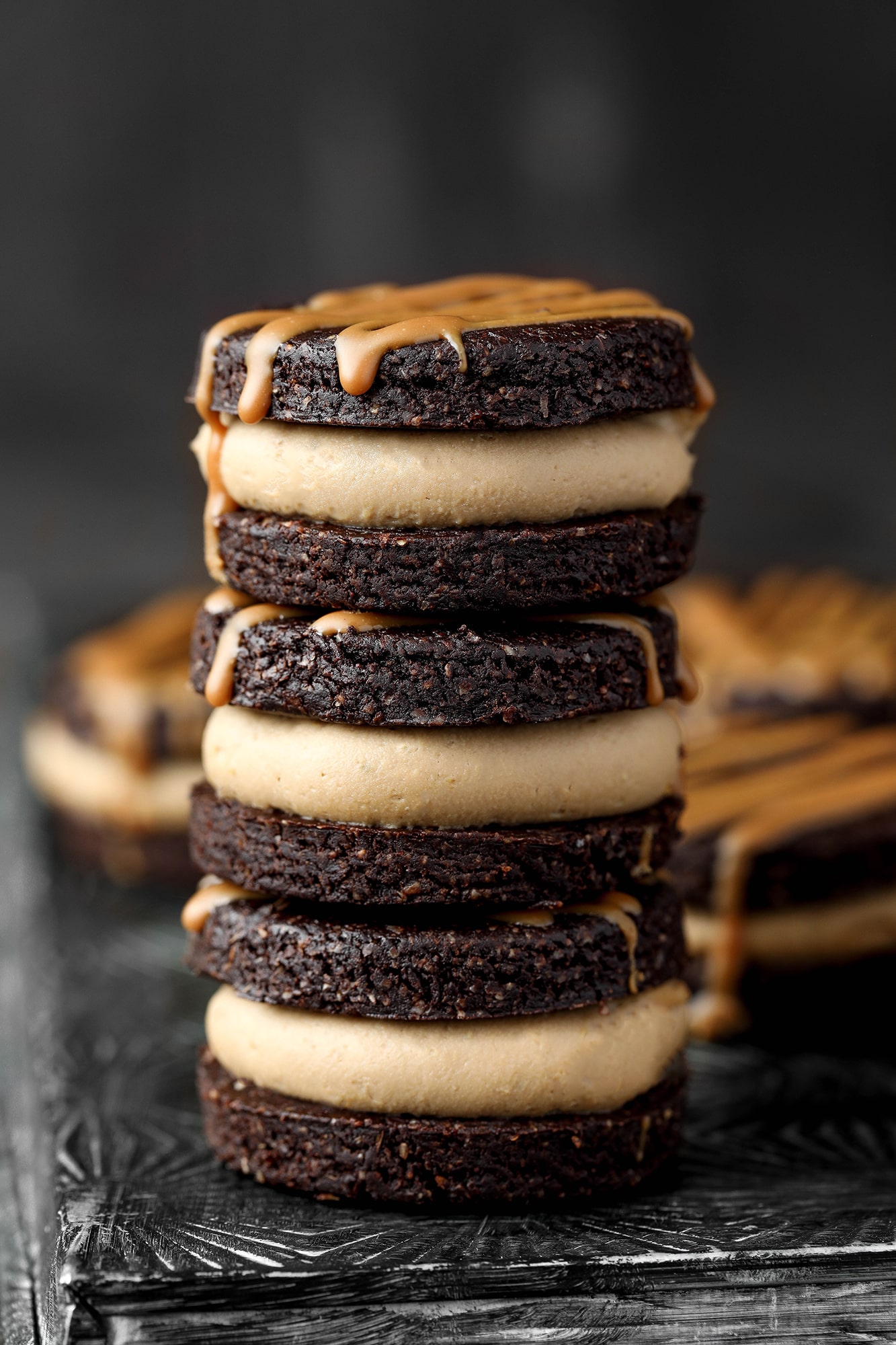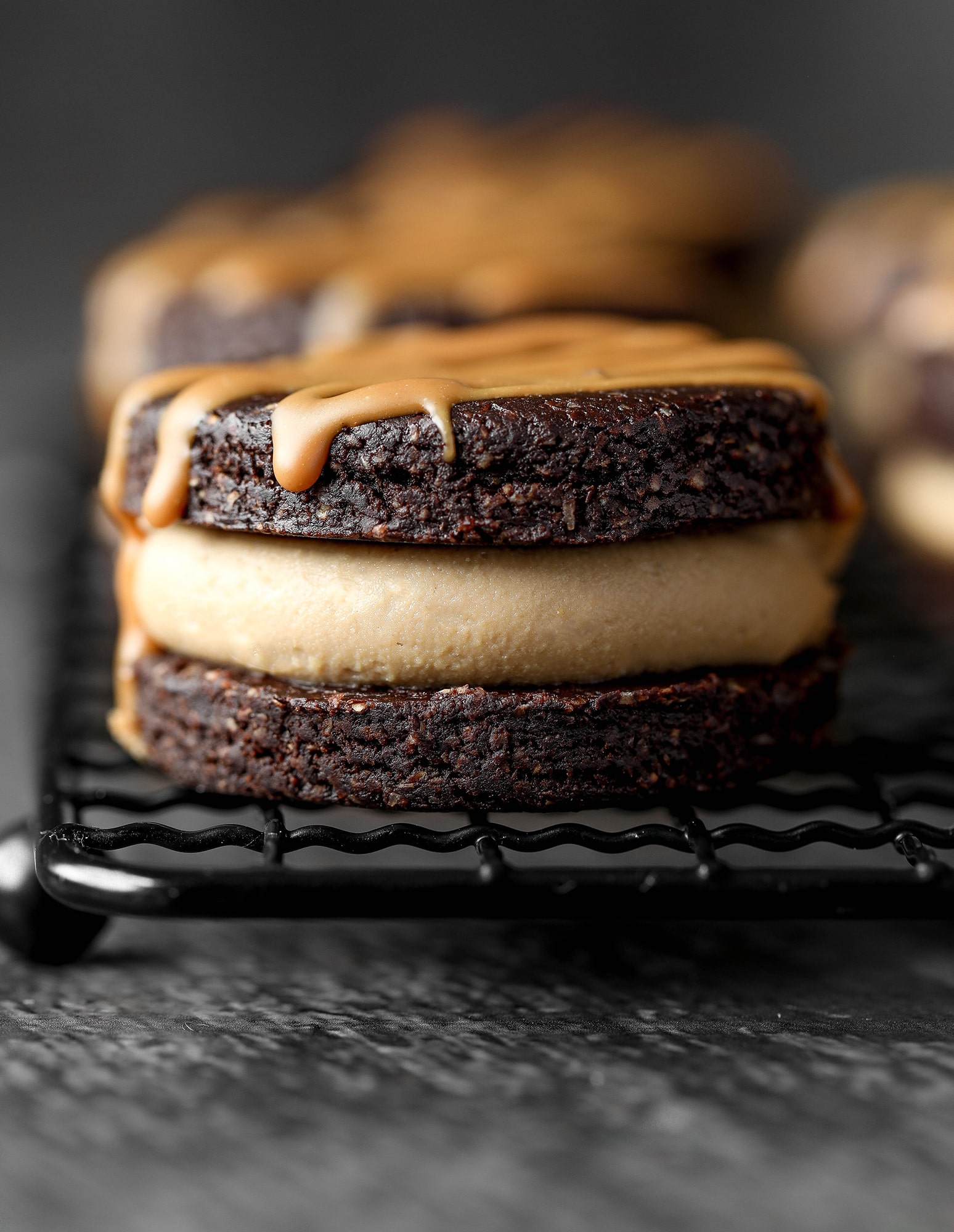 Share This Post