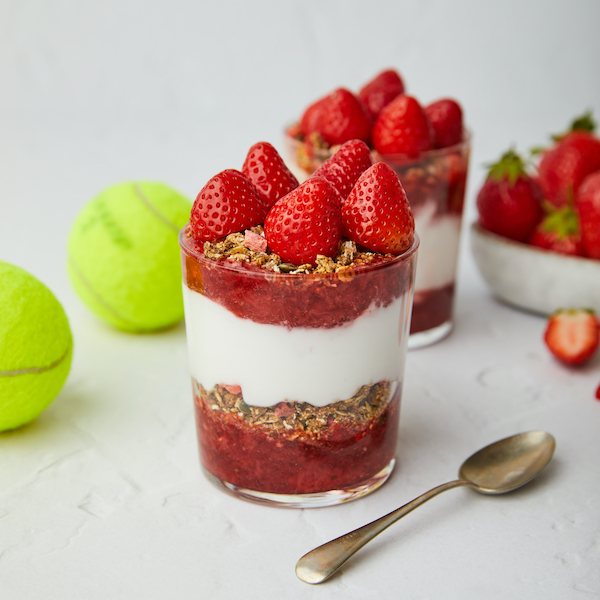 Game. Set. Match made in heaven. Whip up this indulgently delicious breakfast using juicy strawberries, creamy coconut yoghurt and our crunchy Berry Granola.
Find the recipe below, and order the Berry Granola by clicking a delivery date in your account.
For the compote
500g strawberries
4 tbsp maple syrup
1 sprig rosemary
To serve
Method
Hull the strawberries. Remove the rosemary leaves from their stalks and finely chop.
Heat a medium saucepan on a medium heat and add the strawberries, maple syrup and rosemary.
Cook, stirring regularly, for 14-16 mins, until the berries break down and thicken.
Transfer to a bowl and chill in the fridge until cold. 
In glasses or jar, layer the strawberry compote, granola and yoghurt. Top with another layer of compote and granola, then garnish with mixed berries.
Enjoy!
---
Yet to try healthy eating made easy? Get £10 off your first two healthy recipe boxes by entering code BLOG20 at checkout. Mindful Chef healthy recipe boxes provide you with the tools to cook delicious nutritious meals, in under 30 minutes. Each box contains recipe instructions, pre-portioned ingredients and fresh produce sourced from award-winning British farms.