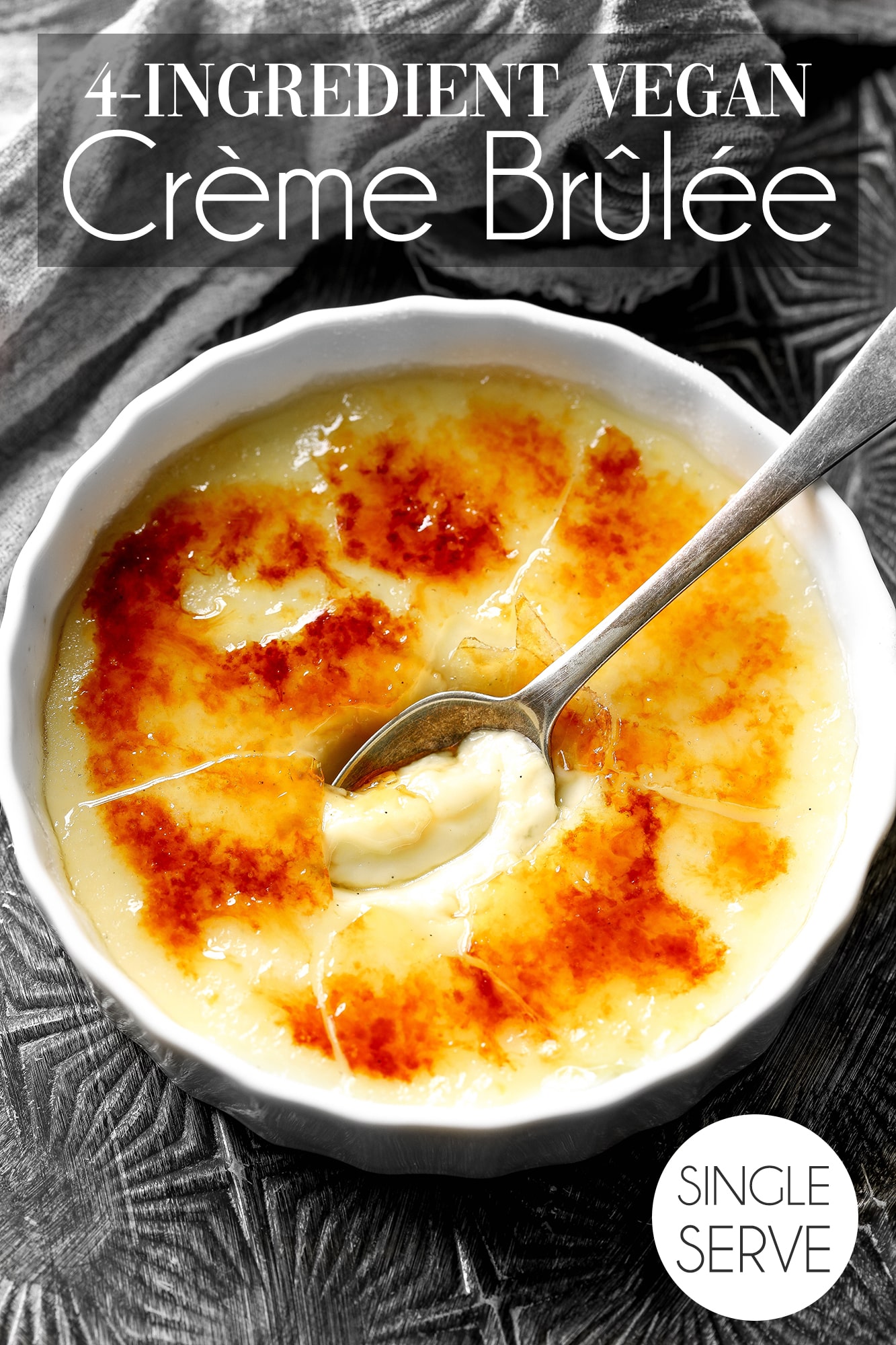 A quick and easy dessert for one, this 4-ingredient vegan crème brûlée is the perfect post-dinner light treat!
I'm all for single serve desserts. I live with my partner and he doesn't have much of a sweet tooth, so whenever I make sweet treats (which I do a lot!), I find that I'm the only person eating them. It doesn't help that I can't have big meals/portions of anything because it triggers my IBS and I don't like wasting food. That's where single serve desserts come in!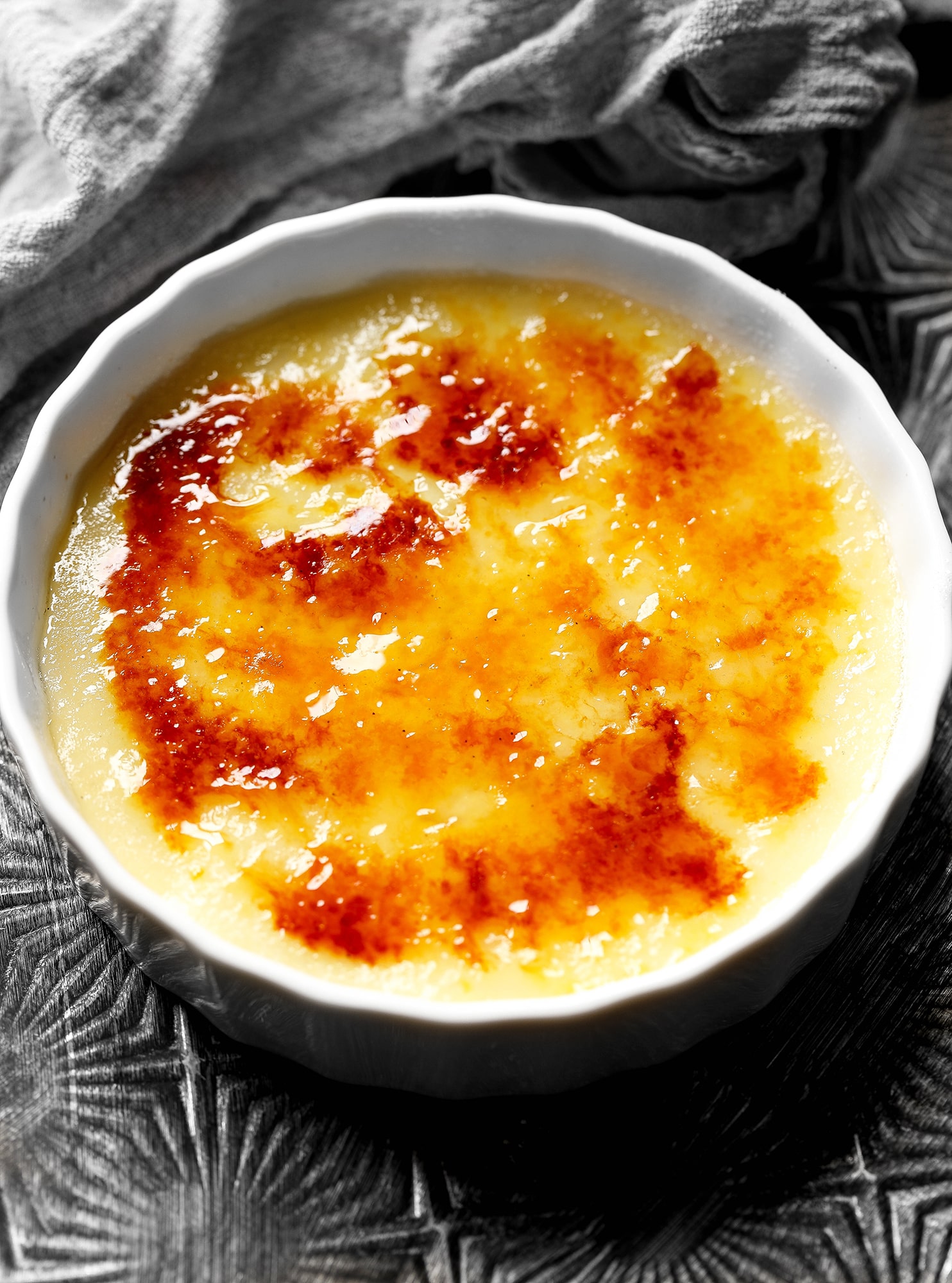 Crème Brûlée is such a decadent dessert – typically made with double cream, full fat milk, egg yolks and lots of sugar! My version is dairy-free (I like to use coconut milk or oat cream), egg-free (I use cornflour instead of eggs) and with less sugar (the sweetness can be adjusted according to preference).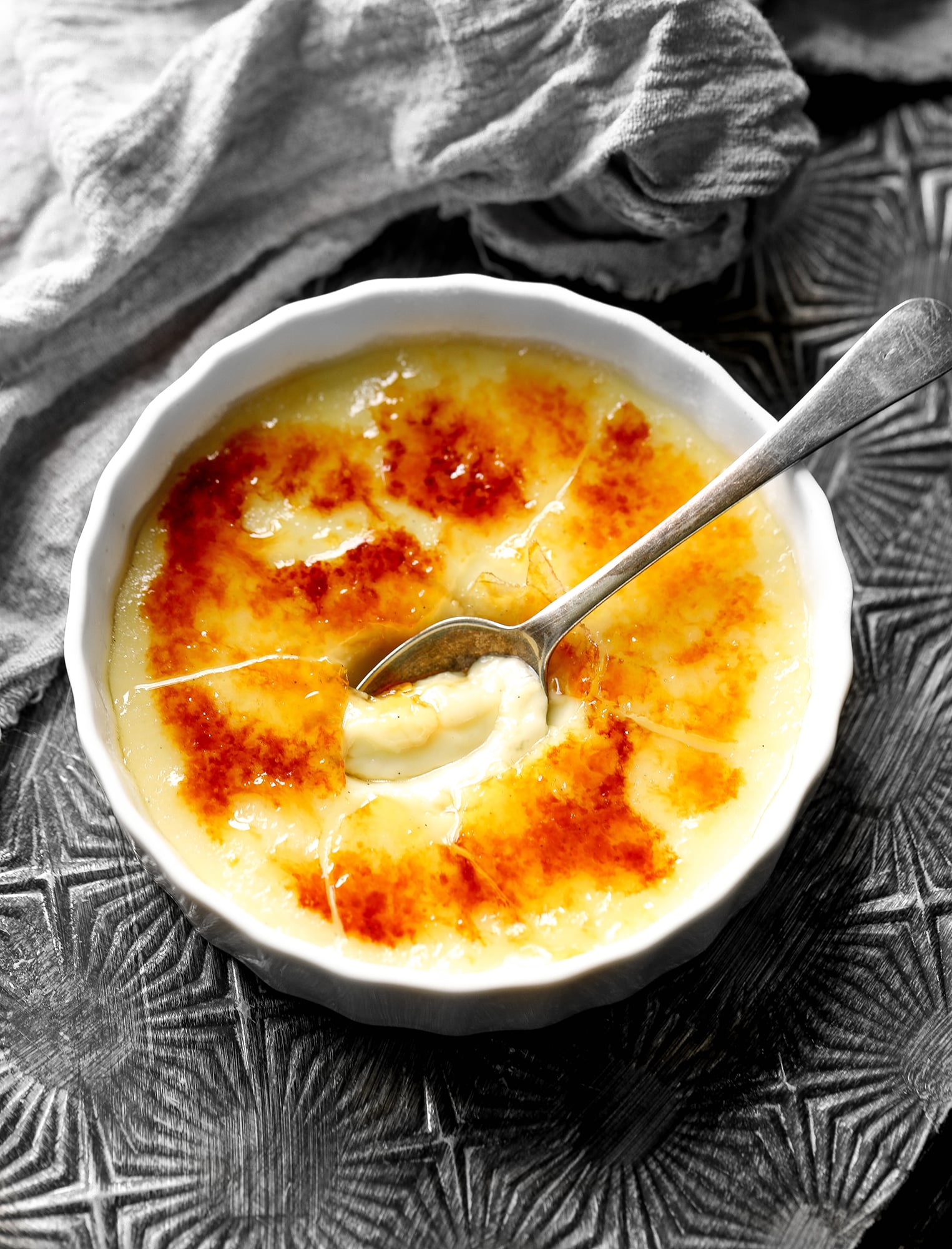 If like me you're a fan of single serve desserts, you also need to check out my
These desserts came in handy, particularly during lockdown when we weren't allowed to see friends and family, so I had less people to share my treats with. They're also perfect for when you want a treat, but don't want to overeat or be tempted by leftovers.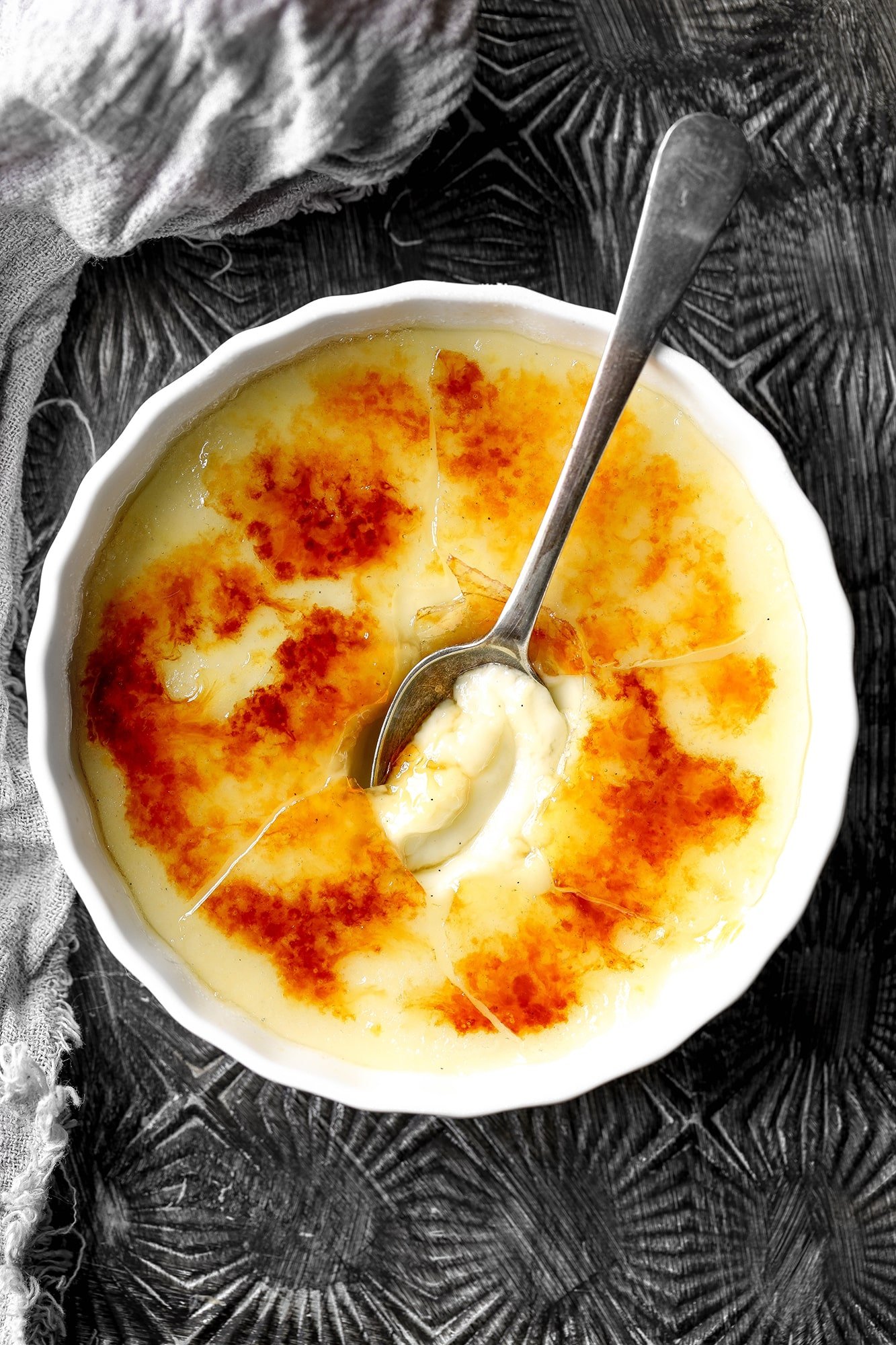 Even though this is a single serve recipe, you can easily double, triple or quadruple it if you're making for you and your partner or if you're having guests over.
I think the caramelised sugar layer on top is optional. I honestly think the creamy 'custard' part tastes absolutely delicious without it. The sugar does of course add a beautiful crunch, but if you're looking to make this recipe healthier and with even less sugar, you can get away without the caramelised topping. I also find that if you don't have a blow torch that it's quite tricky to get the sugar to harden properly under the grill, but that's still an option if you don't want to invest in a torch.
You can also play around with the flavouring. I've already made a chocolate crème brûlée and you can also make a lemon version by replacing some of the coconut milk with fresh lemon juice. I also love adding cardamom to make a more exotic, Middle Eastern version.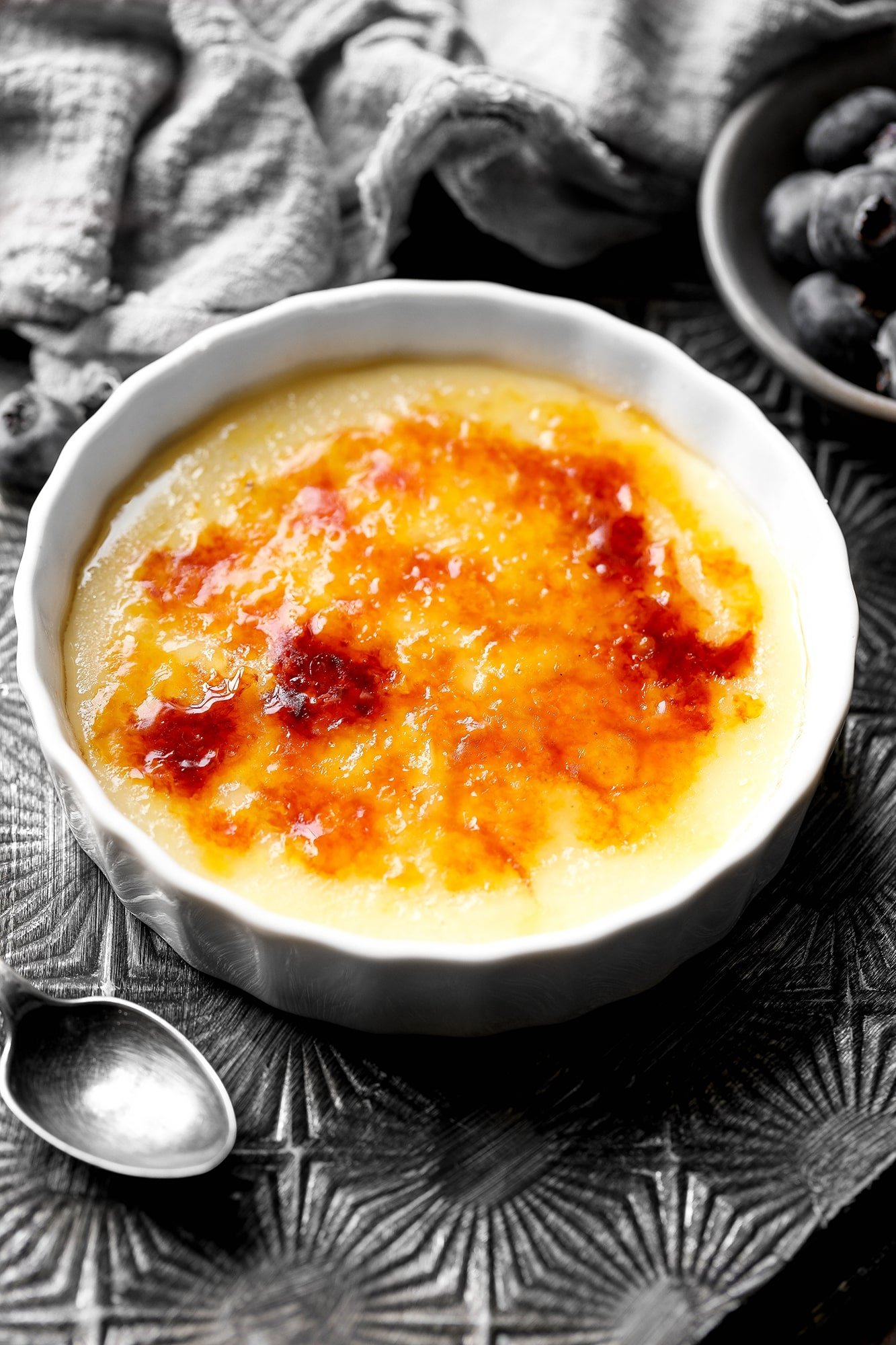 As well as being vegan, this 4-ingredient vegan crème brûlée is also:
Gluten-free
Nut-free
Soy-free
Dairy-free
Lower sugar
Quick & easy
And so yummy!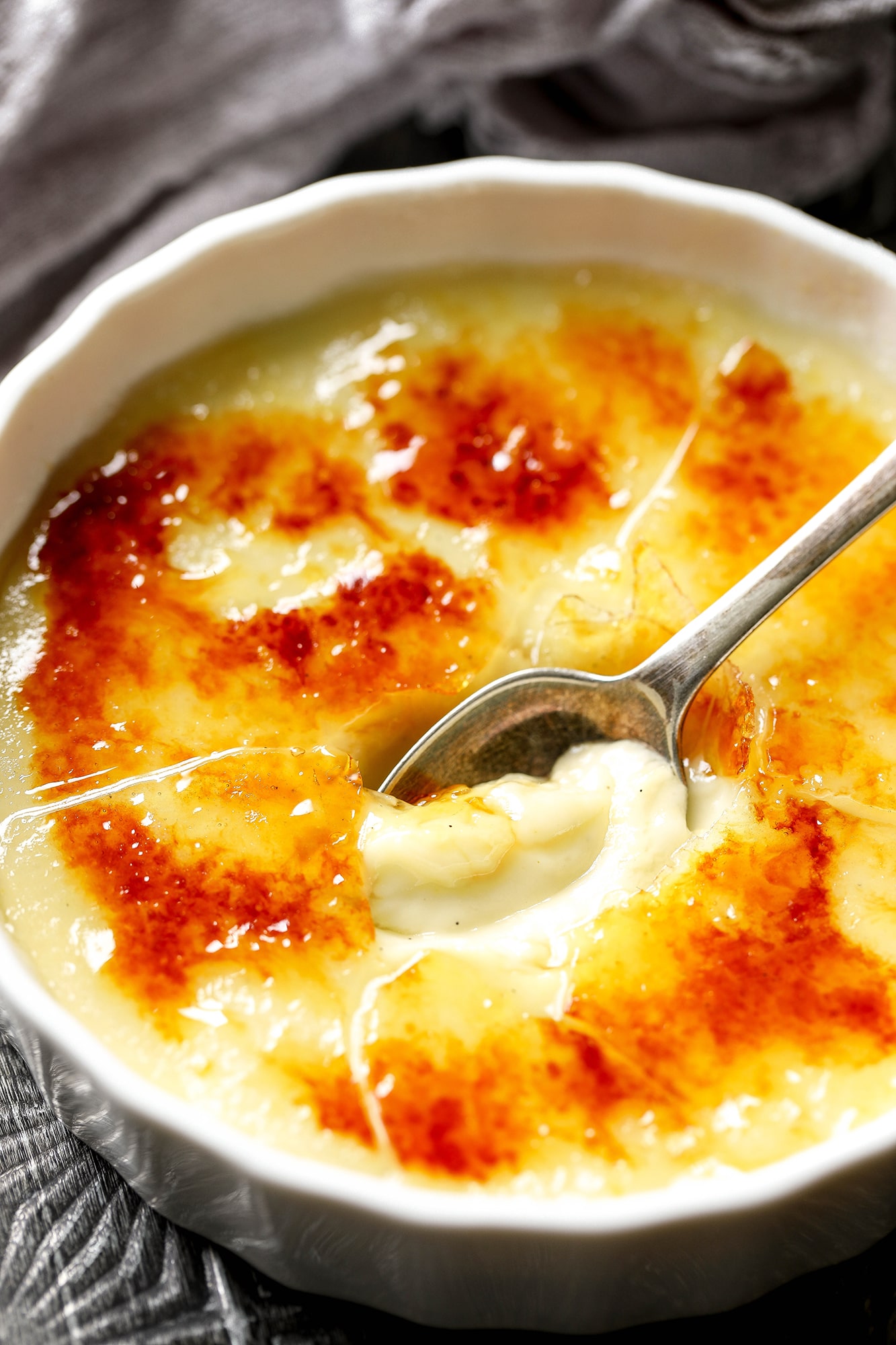 4-Ingredient Vegan Crème Brûlée (Single Serve)
Serves – 1
Ingredients
120ml (1/2 cup) full fat coconut milk*
2 tsp cornflour (or arrowroot starch)
1/2 tbsp sugar (brown, white or coconut)
1/2 tsp vanilla paste (or vanilla extract)
1 tsp sugar for the topping
Method
Add the coconut milk to a small saucepan, then mix in the cornflour.
Add the sugar and vanilla and cook over a medium heat until the mixture starts to bubble and thickens a little.
Pour into a ramekin and leave to cool before transferring into the fridge to chill for 1-2 hours.
When ready to serve, sprinkle 1 tsp of sugar on top and use a blow torch to caramelise the sugar.
Enjoy!
Notes
* You can use oat cream or soy cream instead. You can also use oat/almond milk, but you may need to add an extra tsp of cornflour otherwise it will be too runny.
** If you don't have a blow torch, you can caramelise the sugar under a very hot grill for a few minutes. The results won't be as good, but it will still be just as tasty!
*** Serve straight away, if you leave it too long the sugar starts to melt and you'll loose the crunchy topping.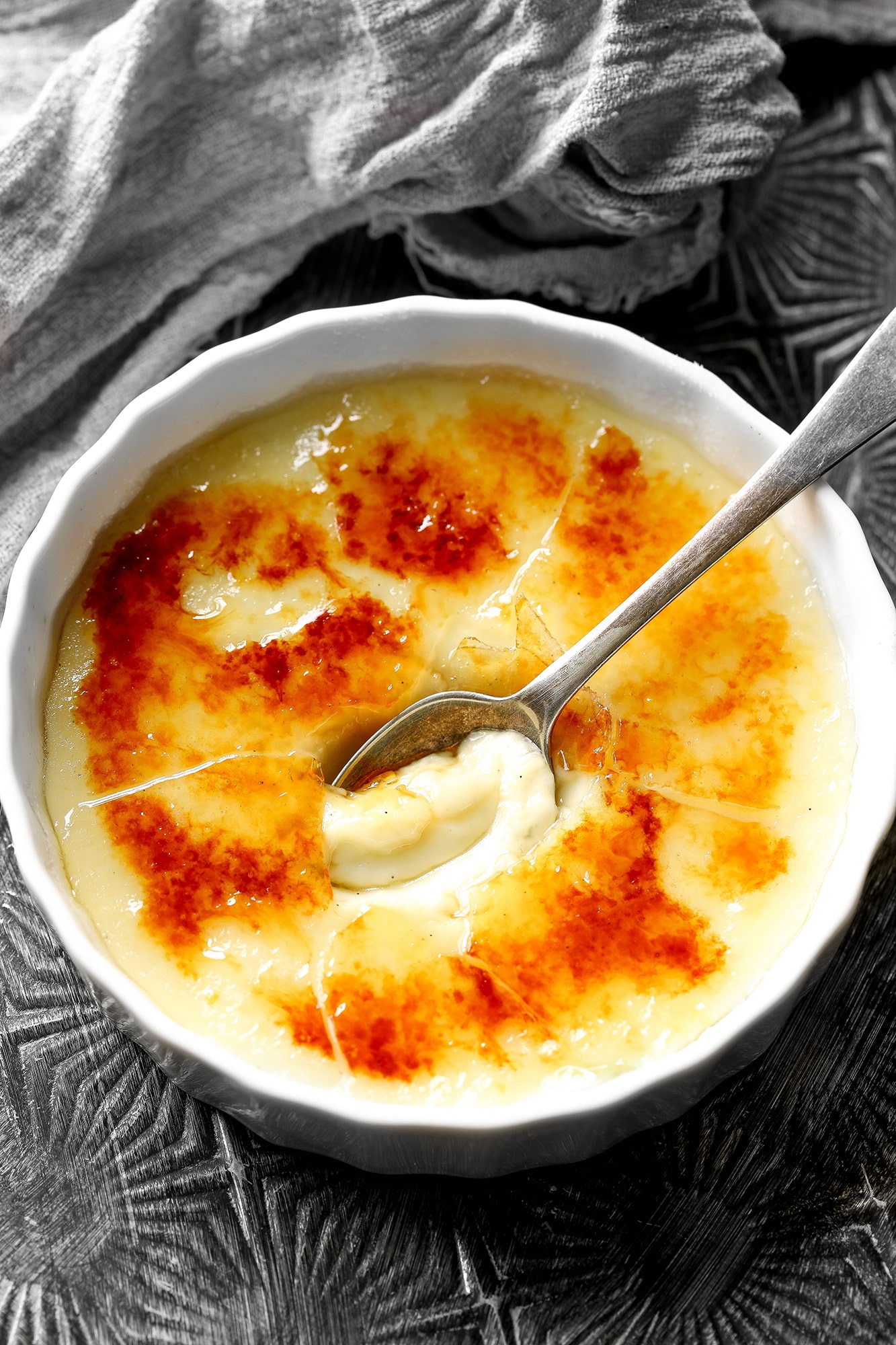 Share This Post