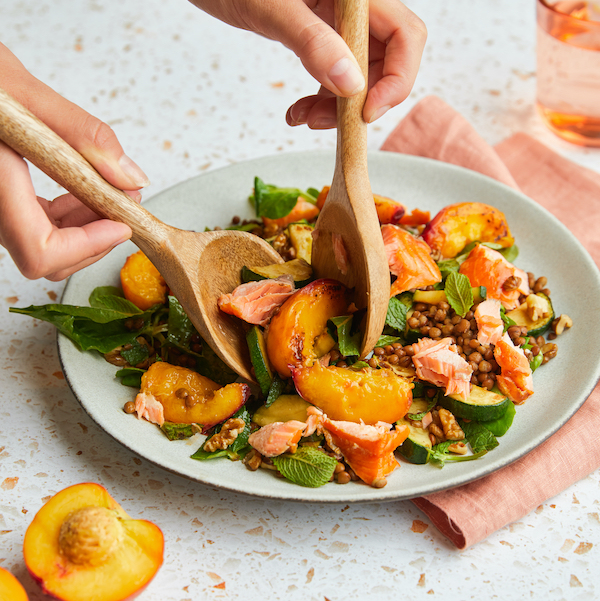 The naturally sweet flavours of fruit really shine when you pop them into a salad. Trust us, it's a delicious combo.
Over the coming months you'll be plating up colourful summer salads with top quality seasonal ingredients, so we asked Chef James to give some top tips on how to add in-season fruits to your salad, as well as his go-to recipes, to get you started.
Nectarine
Great with… Rocket, baby gem lettuce, salmon, avocado, fig and mint.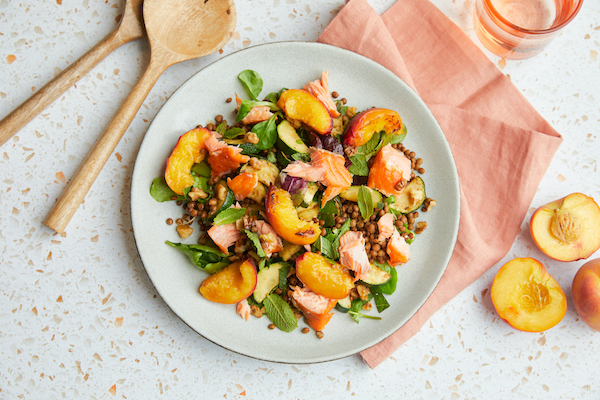 Hot-Smoked Salmon, Nectarine & Lentil Salad
Hot-smoked salmon plus ripe nectarines? Trust us – it's a tasty combo. Especially when served with earthy green lentils, crunchy walnuts and a moreish ready-to-drizzle dressing made from fig and balsamic vinegar.
Cook time: 15 mins Allergens: Fish, Mustard, Nuts, Sulphites
Ingredients
150g courgette
1 tbsp fig and balsamic dressing (Mustard, Sulphites)
1 handful of fresh mint (use half)
1 nectarine
2 hot-smoked salmon fillets (skin on) (Fish)
10g walnuts (Nuts)
40g green lentils
60g petite leaf mix
Cooking Instructions
Boil a kettle. Heat a medium saucepan filled with salted boiling water on a high heat. Add the lentils and boil for 12-15 mins, until cooked, then drain. Return to the saucepan and mix in half the dressing.
Destone the nectarine and slice into 6 wedges. Slice the courgette into 1/2cm-thick half-moons. Remove the mint leaves from their stalks and finely chop.
Heat a large frying pan with 1 tbsp oil on a medium-high heat. Cook the courgette with a pinch of sea salt for 3 mins, until golden. Add the nectarine and cook for 2 mins, until golden brown. Remove the skin from the salmon, then flake the fish in large pieces into the pan. Cook for 2 mins on a medium heat to warm through. Remove from the heat, then gently stir through the mint and drained lentils. Season with sea salt and black pepper.
Dress the mixed salad with the remaining dressing. Serve the salad topped with the salmon and lentils. Scatter over the walnuts.
Apple
Great with… Fennel, pork, chicory, kale, lentils, walnuts, pecans and honey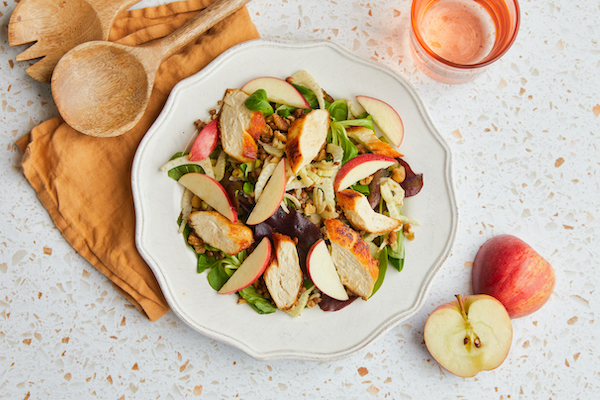 Chicken with Apple & Fennel Salad
Herby fennel, crunchy apple, nutty walnut – our quick and easy free-range British chicken salad features a classic combo. We add earthy lentils to make it filling, and fold through fragrant dill and sweet honey-mustard dressing.
Cook time: 10 mins. Allergens: Mustard, Nuts
Ingredients
1 apple
2 free-range chicken breasts
1 handful of fresh dill
1 fennel head
30g honey and wholegrain mustard dressing (Mustard)
1 lemon
240g lentils in water (drained)
40g mixed salad leaves
20g walnuts (Nuts)
Cooking Instructions
Place the chicken between 2 pieces of parchment paper and use a rolling pin to flatten it into an even thickness. Halve each chicken breast into smaller pieces.
Heat a medium, nonstick frying pan with 1/2 tbsp oil on medium heat. Add the chicken and cook for 4-5 mins on each side, or until cooked through. Check your chicken is cooked through by cutting a large piece in half; the flesh should be white and the juices running clear. Remove and allow to rest before slicing.
Drain and rinse the lentils. Halve the lemon. Reheat the pan to medium heat and add the lentils. Cook for 2-3 mins, then squeeze in the juice of half a lemon (to taste) and season with sea salt and pepper. Place the lentils into a mixing bowl and set aside.
Trim and thinly slice the fennel and apple. Finely chop the dill. Add all to the mixing bowl along with the mustard dressing and most of the walnuts. Squeeze in the juice of half a lemon (to taste) and season with sea salt and black pepper.
Thinly slice the chicken. Serve the mixed salad topped with the lentil salad and chicken. Scatter over remaining walnuts.
Mango
Great with… Chilli, coriander, prawns, lime, red onion, noodles and sesame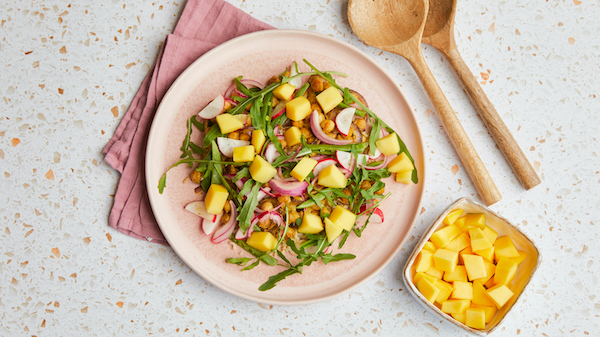 Creamy Coronation Chickpeas, Mango & Rocket
This British classic has had a Mindful Chef makeover – we swap chicken for chickpeas, and use fresh mango, creamy coconut yoghurt and a scattering of peppery rocket. Brown rice makes for a filling base.
Cook time: 30 mins. Allergens: Mustard
Ingredients
2 tbsp apple cider vinegar
240g chickpeas (drained)
1 tbsp curry powder (Mustard)
1 mango
1 red onion
60g radishes
80g brown rice
40g rocket
80g sugar snap peas
80g coconut yoghurt
Cooking Instructions
Boil a kettle. Heat a large saucepan filled with salted boiling water on a high heat. Add the rice and boil for 25-30 mins, until cooked, then drain.
Finely slice the onion. Halve the sugar snaps lengthways. Thinly slice the radishes. Peel the mango, destone and cut into 1cm cubes.
Make the quick pickled onions; place a third of the onion into a small bowl with most of the vinegar (save some for the chickpeas) and a pinch of sea salt. Leave to pickle.
Heat a large frying pan with 1/2 tbsp oil on a medium heat. Add the remaining onion and cook for 7 mins, until softened. Drain and rinse the chickpeas, then add to the pan with the curry powder. Cook for 3 mins. Then stir in the yoghurt, remaining vinegar, and 2 tbsp cold water. Simmer for 5 mins, (add more water, if necessary). Season with sea salt and black pepper.
Return the drained rice to the saucepan and stir in the sugar snaps, radishes and rocket.
Serve the rice topped with the coronation chickpeas, mango and pickled onions.
Look out for all the delicious summer salad recipes on your menu at mindfulchef.com
---
Yet to try healthy eating made easy? Get £10 off your first two recipe boxes by entering code BLOG20 at checkout. Mindful Chef healthy recipe boxes provide you with the tools to cook delicious nutritious meals, in under 30 minutes. Each box contains recipe instructions, pre-portioned ingredients and fresh produce sourced from award-winning British farms.