"A defibrillator saved my life" – Three times Ryder Cup Captain, Bernard Gallacher OBE is calling for defibrillators to become as common as smoke alarms after he was saved by one when he suffered a sudden cardiac arrest. Renowned professional golfer and sudden cardiac arrest survivor, Bernard explains "You can be fit, you can go to the gym, you can run, you can play golf, you can play sports, and yet you can still have a sudden cardiac arrest, without warning".
A recent survey undertaken by Arrhythmia Alliance found that more than a third of people do not know if their sports club has an AED.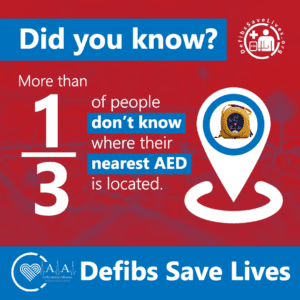 in 5 people don't know how to perform CPR.
1 in 3 people don't know where their nearest AED is located.
Although most of those who responded know what an AED is, more than 50% said they don't know how to use one.
To increase awareness and understanding Ambassador to Arrhythmia Alliance, Bernard Gallacher, has shared his story together with wife Lesley, explaining what happened to him and how he is lucky to have survived when 100,000 people in the UK die each year because of a sudden cardiac arrest.
In 2013, the three-time Ryder Cup Captain, collapsed, suffering a sudden cardiac arrest as he was about to give an after-dinner speech. If it wasn't for the quick actions of a member of the audience and the prompt use of an Automated External Defibrillator (AED) – Bernard would not be here today to tell his story.
Bernard and Lesley, explain what happened on that terrible day, highlight the importance of having an AED nearby and the peace of mind that his Implantable Cardiac Device (ICD) has provided.
Talking about what happened, the quick actions of others and the life-saving equipment available, "You know he had everything, he had the best chance ever." Reports Lesley "Not everybody can be saved, but everybody deserves the chance to be saved."
Bernard wanted to make others aware and to help save lives, so he became an Ambassador with Arrhythmia Alliance to campaign for the importance of easy access to defibrillators in both the community, golf clubs and at sporting facilities. He believes AEDs should be as common as smoke alarms, they should be available to all and so many more lives would be saved each year.
To watch the interviews, visit: heartrhythmalliance.org/aa/uk/defibs-save-lives/bernards-story
For more information about defibrillators, visit: www.defibssavelives.org
---
Arrhythmia AllianceArrhythmia Alliance is a national charity raising awareness and support to all those affected by heart rhythm disorders and sudden cardiac arrest.
View the campaign videos:heartrhythmalliance.org/aa/uk/defibs-save-lives/bernards-story
View summary findings from Arrhythmia Alliance's March 2022 survey:heartrhythmalliance.org/aa/uk/programs/defibs-save-lives/public-awareness-survey
Defibs Save Lives:For more information, to locate your nearest AED or to find out more about how to make your community heartsafe, please contact [email protected]