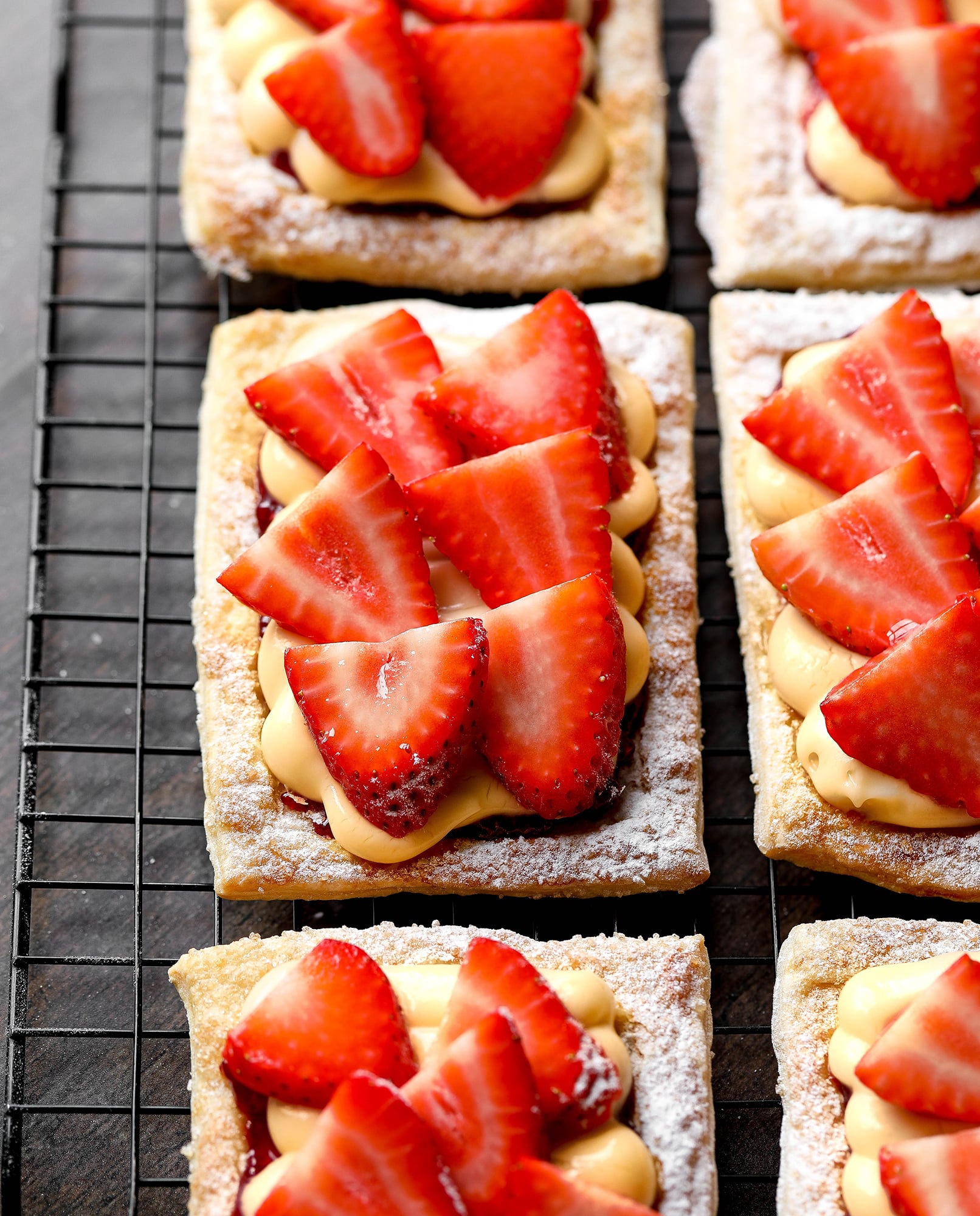 Mini puff pastry tarts topped with fruity jam, creamy custard and fresh strawberries. What's not to love? These vegan strawberry custard tarts are the perfect way to celebrate summer!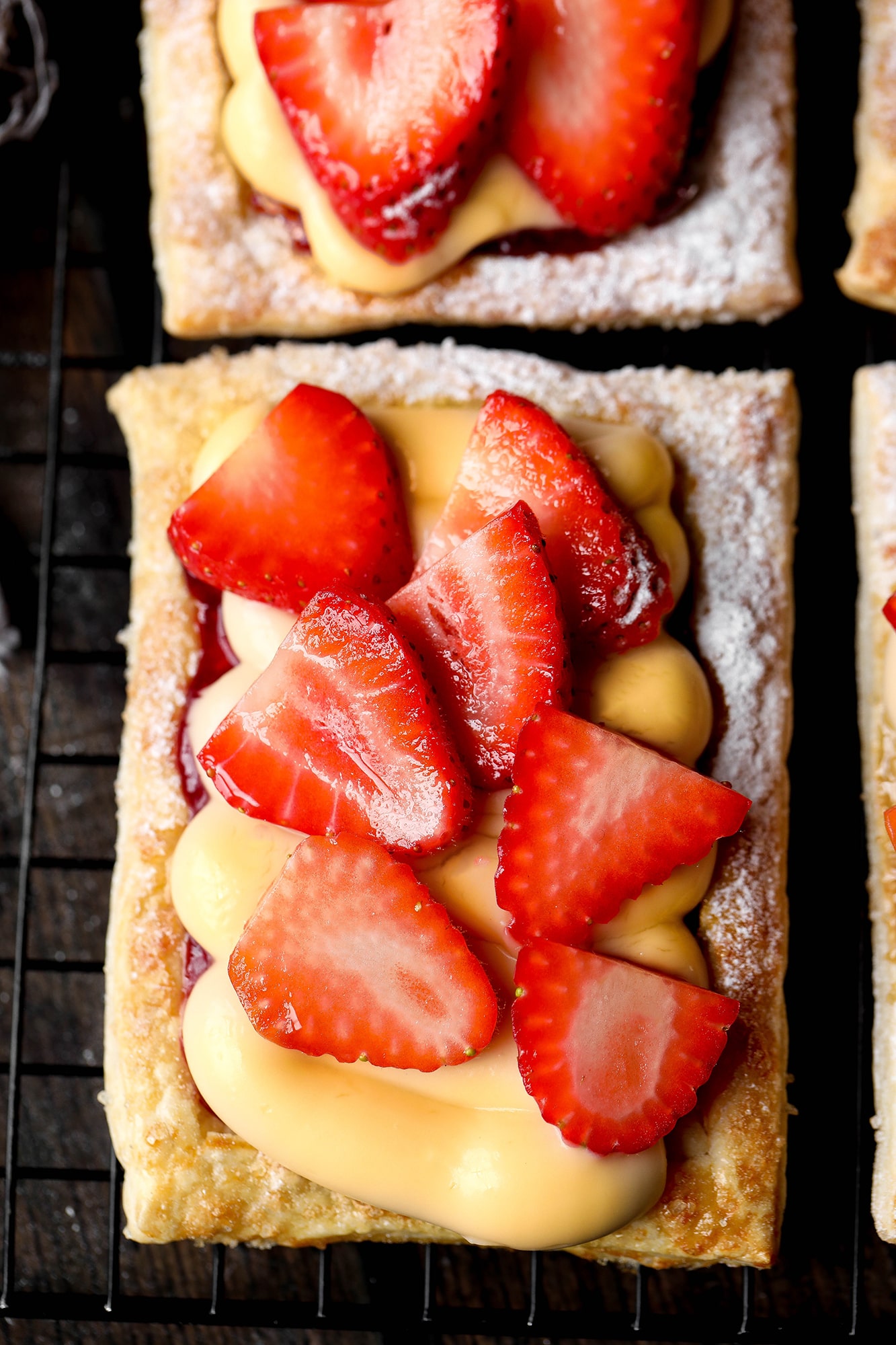 Custard is a classic English dessert, one that's used to accompany so many treats like a crumble, pudding or cake. It's also an essential part or the British trifle. Although it's usually used to drizzle over puddings, I honestly think custard is a strong enough contender to stand as a main dessert in its own right. I would happily curl up on the sofa with a bowl of (warm or cold, depending on the season) plain custard.
I would even go so far as to say I'd probably pick a bowl of custard (especially my homemade custard) over ice cream, because it's so much lighter and easier to digest. Add in fruit and nuts for some texture and crunch and you're good as gold.
Having said that, I also think custard goes so well with pastry and strawberries, that's why I put together these simple strawberry custard tarts made up of only 4 ingredients – puff pastry, jam, custard and strawberries…that's it!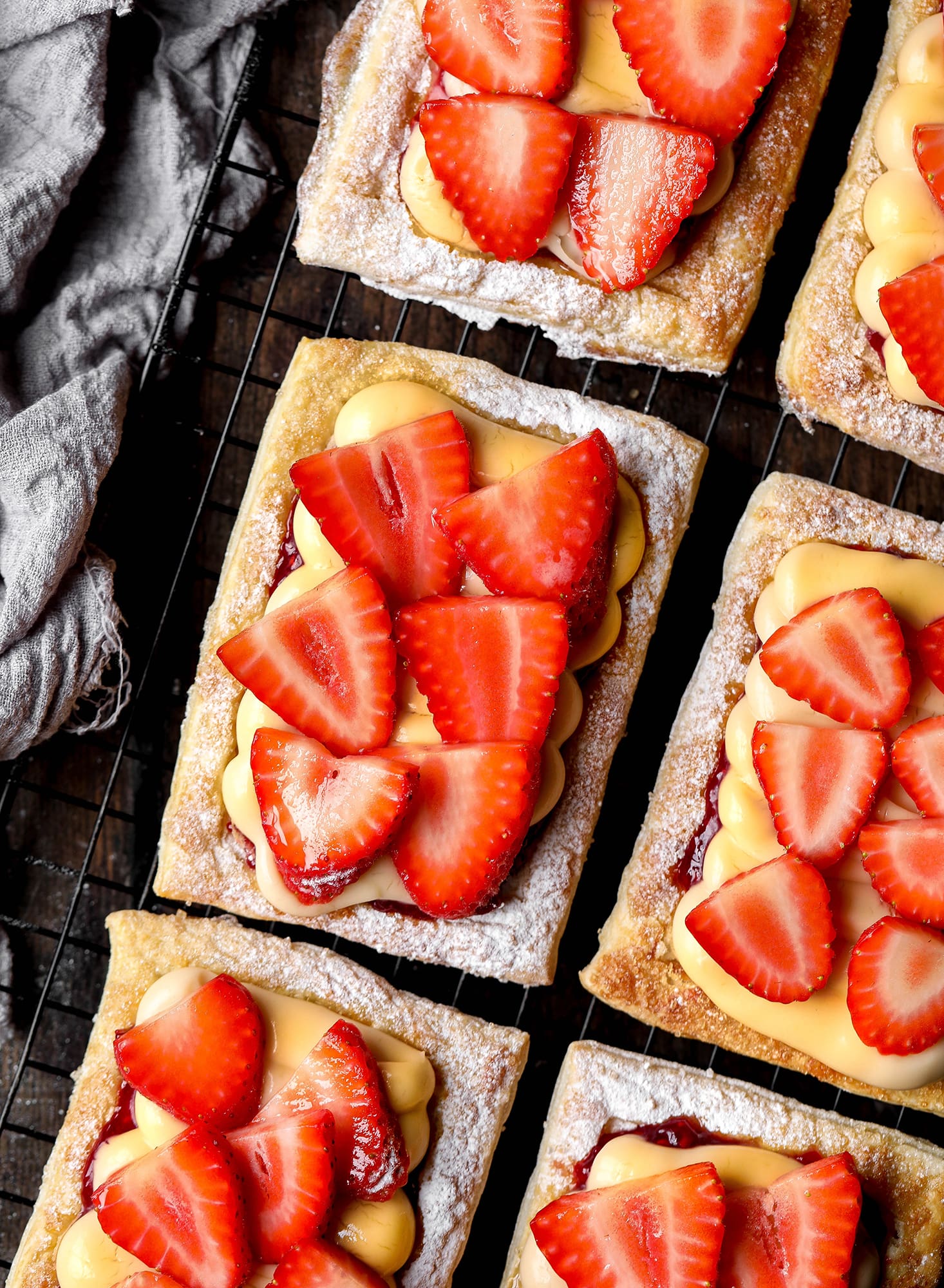 They would make a great treat for when you're having people around and want to make something homemade, but really easy and quick. They're pretty foolproof too, so you don't have to worry about the recipe going wrong like you would with say a cake, cookies, etc.
I used Nature's Charm custard for ease, but you can make your own custard before hand and leave it to cool and set in the fridge before using. The great thing about Nature's Charm custard is that it's plant-based, so the perfect option if you're making a treat for a vegan, or someone who has a dairy allergy/intolerance. Shop bought puff pastry tends to be dairy-free and vegan, but make sure you check the ingredients to make sure. You can also get gluten-free puff pastry now from most major supermarkets, so this recipe can easily be made gluten-free too!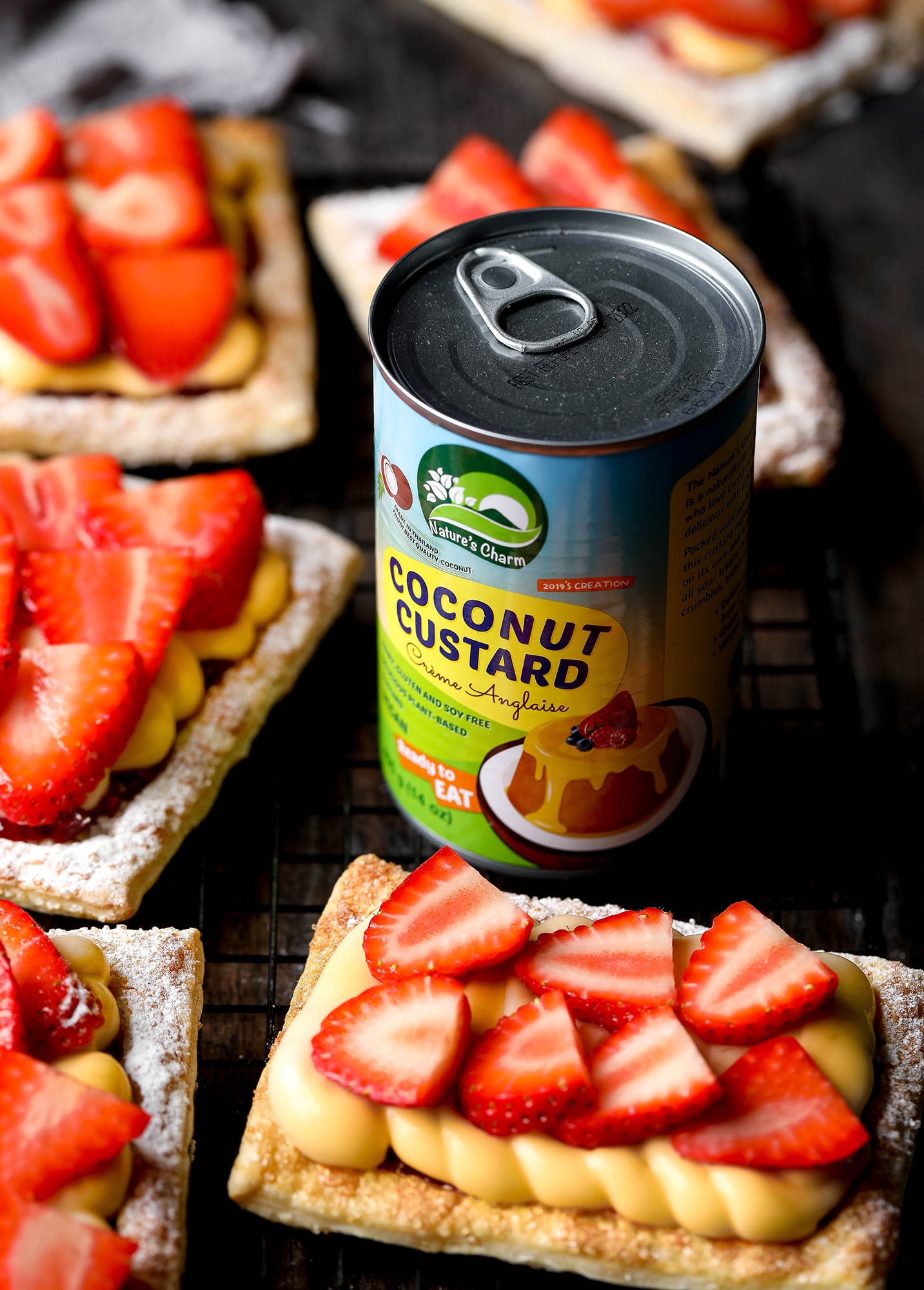 These vegan strawberry custard tarts are perfect for this Jubilee Bank Holiday weekend. They're also:
Quick & easy
Only call for 4 ingredients
Vegan
Can easily be made gluten-free
Egg-free
Nut-free
Foolproof
So delicious and super summery!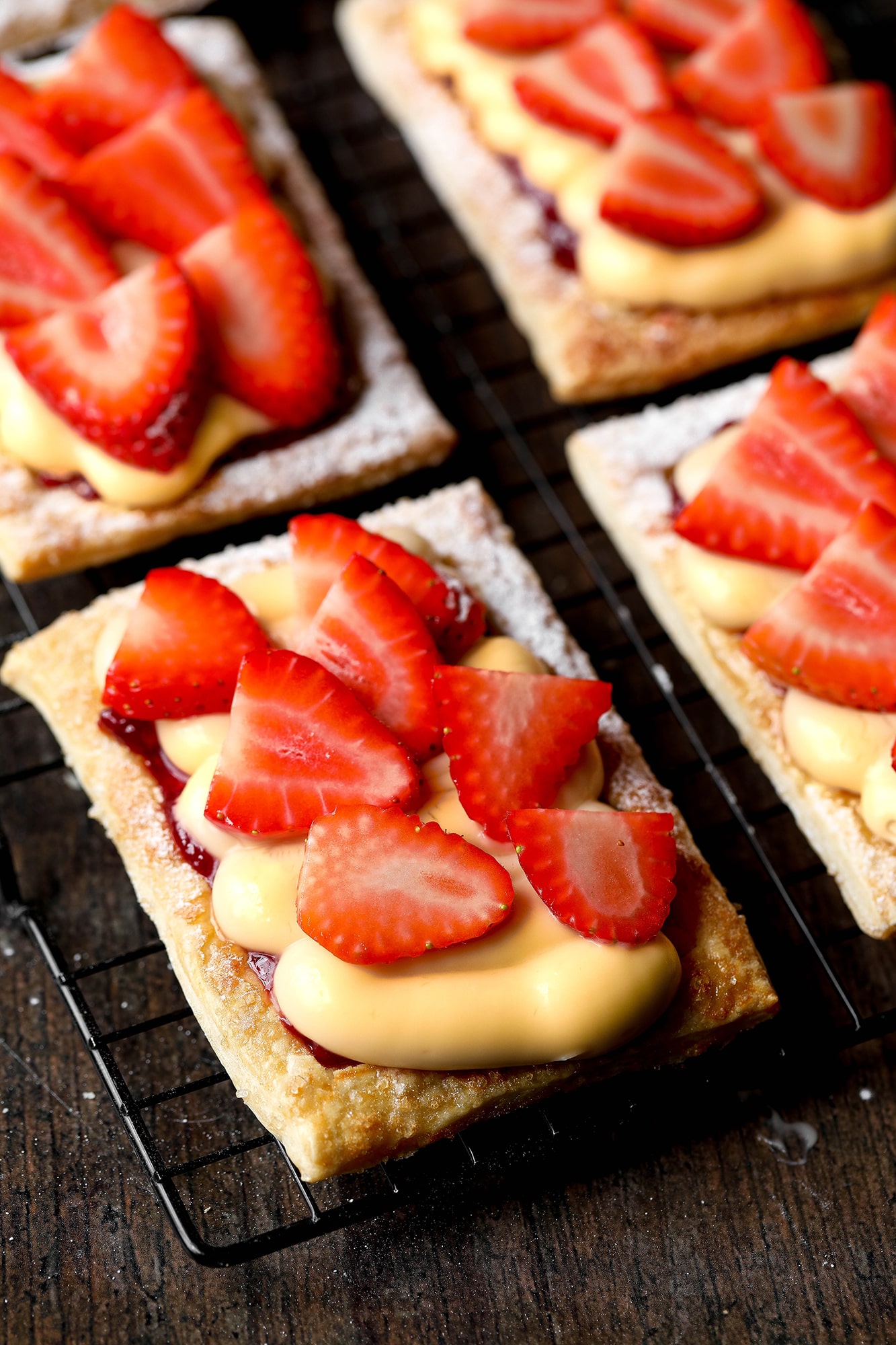 If you do make them and share a pic on Instagram, make sure you tag me so I can see it and give you a shoutout on my stories!
Vegan Strawberry Custard Tarts
Makes – 8 tarts
Ingredients
1x 375g (13.2 oz) ready to roll puff pastry sheet*
8 tbsp strawberry jam/preserve (or use my homemade chia jam)
1x 400g (14 oz) can Nature's Charm custard (or use my homemade custard)**
300g (10.5 oz) strawberries
Method
Preheat oven to 180C/160C fan/350F
Cut your puff pastry sheet into 8 equal rectangles, then arrange them on 2 baking trays lined with baking paper.
Use a sharp knife to score the edges to create a border approx 1 cm in from the edge (don't cut all the way through the pastry) and prick the centre with a fork.
Bake for 20 minutes, then leave to cool completely.
Spread a layer of jam in the centre, then spread a generous amount of the custard on top***.
Finally arrange the sliced strawberries on top and enjoy!
Notes:
* Most shop bought puff pastry tends to be dairy-free, but make sure you check the ingredient lists before hand.
* You can also now get hold of gluten-free puff pastry in most supermarkets, so this recipe can easily be made gluten-free too.
** You can use regular custard if you're not vegan. You also have the option of brushing the edges of the pastry with egg wash if you want the borders to have a lovely golden brown colour.
*** I used a piping bag to pipe the custard onto the tarts. I found it much easier and it resulted in a much prettier looking tart, but of course this is optional.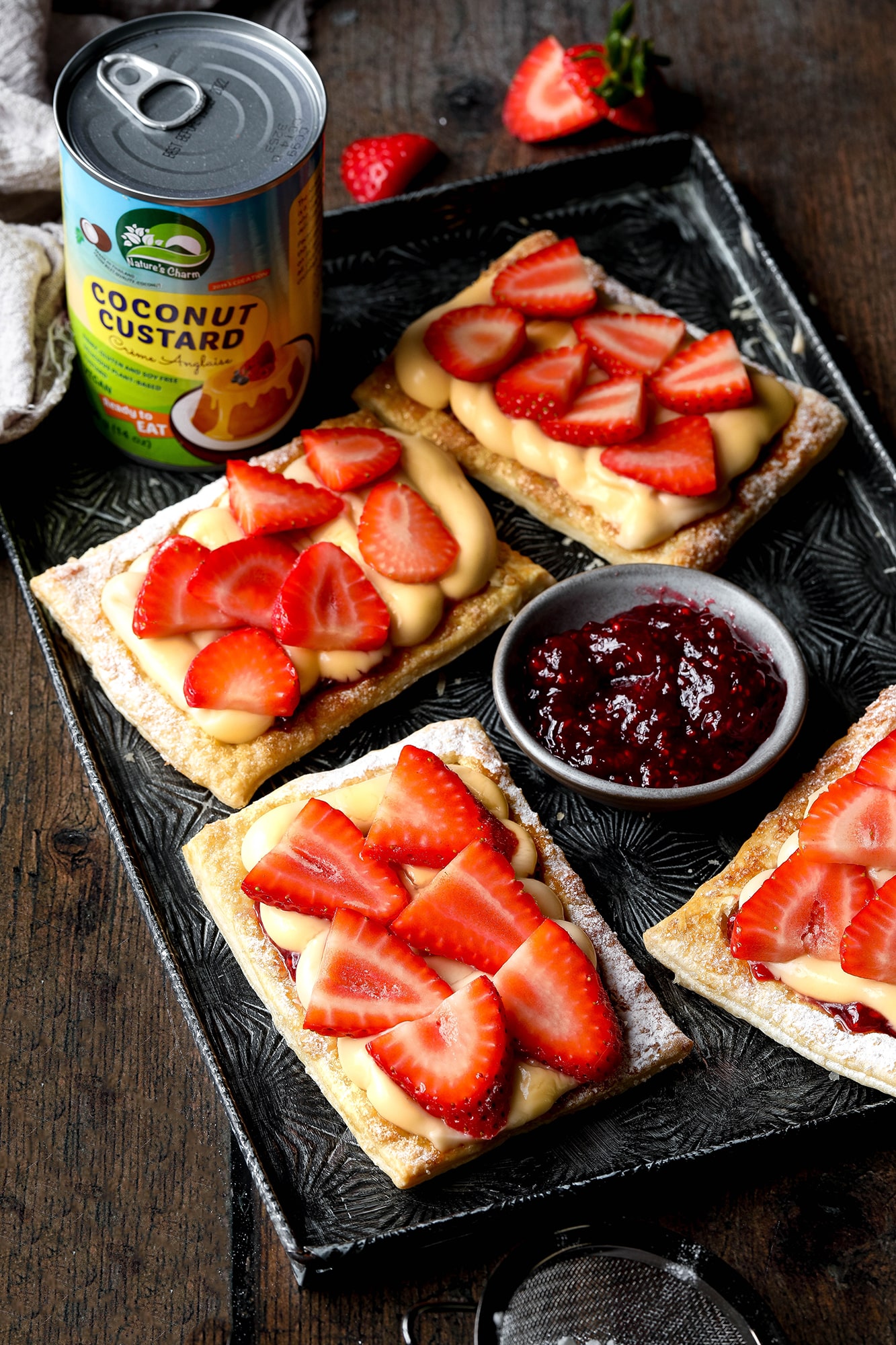 Share This Post