Rebecca Wallersteiner is blown away by the RHS Chelsea Flower Show 2022, which returns to its traditional May slot this week for the first time in three years, after the mayhem of the Covid pandemic – with several gardens exploring themes of mental and physical health
The Chelsea Flower show is back in its traditional May slot this year, for the first time in three years after the chaos of the Covid pandemic. Britain's leading garden designers unveiled 39 magical gardens, including 13 show gardens costing up to £500,000 each, many of which explore Covid related themes of mental wellbeing, sustainability and community, as well as the Queen's Jubilee, with her favourite lilies of the valley in the Great Pavilion. The Royal Horticultural Society director general Sue Biggs said, "I don't think there's been a more joyous Chelsea. For the past two years it's been a really stressful time for everyone. This year Chelsea is packed with inspirational horticulture everywhere you look. There are 39 remarkable Gardens to admire, from the grand gardens along the Main Avenue to the smaller Balcony Gardens on the Triangle. In the All About Plants category, four gardens focus specifically on plants encouraging each of us to look a little closer and appreciate the colours, textures and forms of flowers and foliage."
The pandemic has shown that our outdoor spaces and the opportunity to grow plants and spend time in a garden really matters to us. Being in a green space is a tonic for our senses, restoring and maintaining mental health, while being active outdoors helps improve physical health.
One of the highlights this year is the A Rewilding Britain Landscape Show Garden, which presents rewilding landscape in South West England after the introduction of a native species – the beaver. Meditating in this garden, after a stressful week working in a hospital job, it is easy to forget you are in the centre of grimy London. A brook flows beneath a glade of hawthorn, hazel and field maple and through a winding old stone wall. Below is a pool dammed by beavers and a beaver's lodge. Signs of the industrious wild animals are scattered around – tree sticks and wood chips. The relaxing sound of water gurgling through the dam and trickling into a wetland meadow planted with wildflowers and grasses. The garden designers Lulu Urquhart and Adam Hunt explain, "This opportunity to create a garden for Rewilding Britain Charity allowed us to celebrate nature in balance – something we feel passionate about. It is more pressing than ever for humans to reconnect with our own habitat, the Earth and work within the systems that hold us and give us clean air, water, nourishment and our home." The garden reflects the rich landscape that can flourish when nature's co-engineers such as beavers and bees are allowed to flourish.
A study in the Journal of Applied Ecology found that multiple habitats need to be protected to save Britain's bumblebees. Reversing the loss of semi-natural areas could be the best way. The BBC Studios: Our Green Planet and RHS Bee Garden aims to help and inspire people to grow bee-friendly plants in their outdoor spaces to help our precious pollinators. The garden incorporates everything bees need for survival from nectar – and pollen rich plants to water and simple habitats.
The design is based on a bee's with seating and paved areas determined by the natural shape of the insect's profile. With antibiotics increasingly becoming resistant scientists are looking at alternative ways of controlling infection. Honey, which contains antibacterial and anti-inflammatory properties has been used as a health remedy for centuries and is mentioned in the Bible and Koran and was also used by the Romans, ancient Greeks and Egyptians to help heal wounds and ulcers.
One unusual, meditative artisan garden to look forward to at this year's RHS Chelsea Flower show is Circle of Life by Hiro Gardening, sponsored by In-Lite Outdoor Lighting. Infused with Japanese spirituality, this beautiful garden has a large water-wheel as its central feature. The wheel marks time, while the garden provides sanctuary and respite from the digital world, with only the sounds of wind, wind-chimes and water. Mature trees shade younger plants, while edible herbs and vegetables demonstrate 'grow local'. Dead trees and decaying wood remind us of nature's circles as they provide homes for insects, fungi and bacteria which regenerate the soil. The timeless universality of the 'circle of life' is affirmed in many cultures from Zen to Charles Dickens. 1859 Charles Dickens concluded, "For as I draw closer and closer to the end, I travel in a circle, nearer and nearer to the beginning."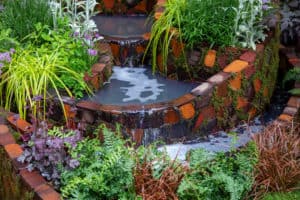 During the lockdown many individuals discovered the nurturing properties of plants, which can be grown in even the tiniest inner city flat. This spring's CFS features a brand new garden category in the Royal Pavilion, All About Plants, which celebrates the power and beauty of plants and looks at how they can positively influence mental health. Helena Pettit, RHS Director of Gardens and Shows said, "All About Plants is the first garden category to be hosted inside the Great Pavilion and is filled by four first time RHS Chelsea designers. They have each interpreted the positive powers of plants in such unique and interesting ways."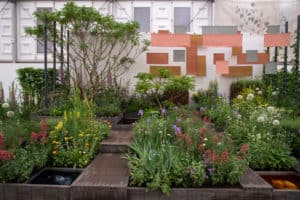 This year's Chelsea is packed with inspirational horticulture everywhere you look and provides plenty of ideas and inspiration for planting a garden (or window box) to lift your spirits after a stressful day in your hospital job. If you nurture a plant, you nurture yourself.