Research and Recovery update from UKRI: Since 2020, healthcare facilities and providers have made radical changes to accommodate the influx of COVID-19 patients, and robust healthcare systems, such as our NHS, have been tested like never before. Science-driven solutions funded by a multitude of research projects and initiatives have evolved to support the global health response to the SARS-CoV-2 virus.
Over two years on from the initial outbreak of the disease, UK Research and Innovation (UKRI) has produced a Research for Recovery Infographic highlighting societal solutions for post-pandemic recovery.
We explore some of the 3,600 UKRI-funded research projects tackling pandemic-related challenges, from mental health to life-saving treatments.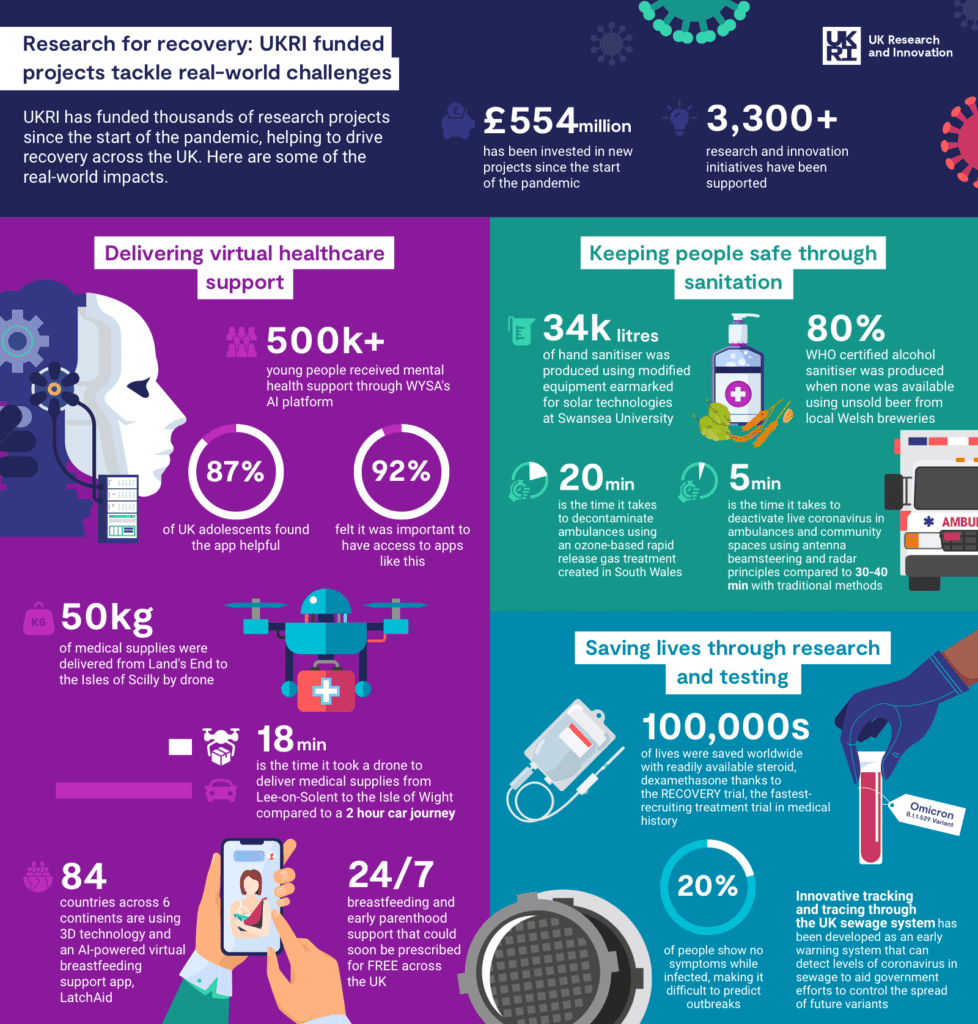 Key statistics illustrated by the infographic include;
£554 million has been invested in new projects since the start of the pandemic
500,000+ young people received mental health support through WYSA's AI platform
100,000s of lives were saved worldwide with readily available steroid dexamethasone thanks to the RECOVERY trial – the fastest-recruiting treatment trial in medical history
50kg of medical supplies were delivered from Land's End to the Isles of Scilly by drone
Keeping us connected through tech-powered healthcare
The pandemic has accelerated digital adoption in the healthcare industry, supporting health and wellbeing through AI innovation.
500,000+ young people received mental health support through UKRI-funded research. Artificial intelligence is being used to improve teenagers' emotional resilience and beat anxiety.
A COVID-19 Adolescent support pack has been developed by Wysa. This AI-guided mental health platform has been clinically assured and distributed through social channels, with over 50,000 young people engaging in the content. It maintains a near-perfect rating from approximately 100,000 reviews resulting from over 100 million conversations. 87% of UK adolescents found the app helpful, and young people's perceived wellness scores increased over just two weeks of usage.
With around 60% of the working population falling into the "missing middle" of mental health, Wysa is now trialling AI in adult mental health services nationwide to improve access to support and as a post-care support tool.
Discovering life-saving treatments
Two months after the initial detection of the COVID-19 virus in Wuhan in late 2019, the RECOVERY trial was launched. It was the fastest-growing trial in medical history, enrolling 1,000 patients at 132 hospitals within 15 days.
This groundbreaking trial discovered a life-saving treatment for COVID-19 within just three months. Dexamethasone is a cost-effective, readily available steroid which has saved an estimated 22,000 lives in the UK and one million lives worldwide by reducing deaths in COVID-19 patients by a third.
RECOVERY offers a new way of doing clinical research and is now testing other treatments internationally to continue to help clinicians around the world provide the best treatments for hospitalised patients. At the start of the pandemic, around one in four people who were admitted to hospital in the UK with COVID-19 were dying – a figure that has now halved thanks to improvements in treatment.
Risk identification: Saving lives with ICU triage
The world's largest study of COVID-19, comprising data from 516,689 people, has helped clinicians triage patients and save lives. Researchers used clinical information and tests carried out on arrival at hospital to predict COVID-19 patients' risk of death, ranging from low to very high.
The risk identification tool aids clinical staff to choose the best course of treatment for patients admitted to hospital. ISARIC Coronavirus Clinical Characterisation Consortium researchers used data from patients admitted to hospital between February and May 2020 that met the criteria for one of the four groups: low-risk, intermediate-risk, high-risk and very high-risk. Data included age, sex, the number of pre-existing conditions, respiratory rate on admission and the results of two blood tests.
ISARIC's data has continued to highlight who is worst affected by COVID-19. In early 2021, a study showed women under 50 and those who had experienced severe disease had adverse long-term outcomes.