Mosul to Manchester: The David Nott Foundation's war surgery training in practice: Dr Moez Zeiton is one of our surgical trainers. As a humanitarian surgeon, Moez has witnessed the realities of war, but never expected to see similar horrors on British ground. Here, Moez shares his journey to joining our teaching faculty and how he's used his surgical skills around the world.
Moez's first exposure to medicine was through his father training as a general surgeon and specialising in oncoplastic breast surgery.
"I sort of drifted into medicine myself. I loved biology at school, but my love for the sciences and in particular, my inspirational high school Biology teacher shaped my decision to study it. When I started the course at the University of Leeds, I remember loving the anatomy and dissection work and knew surgery and acute trauma were fields I was interested in," Moez shares.
A fork in the road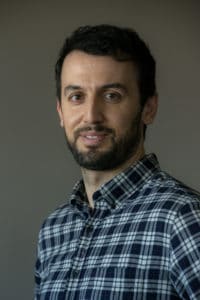 "My entry into humanitarian work started by accident. I always felt a connection to the Middle East through my family and having regularly travelled there as a child to visit extended family and friends.
So, when the Arab Spring uprisings in 2011 arose, I got involved with charitable initiatives sending medical aid and worked on advocacy, opinion pieces and articles. I knew I wanted to be there on the ground, so I negotiated a one-year sabbatical from my surgical training. At the age of 25, I left for Libya to do my part."
Moez worked with non-government organisations and local Libyan doctors, opening him up to the world of humanitarian health. This led to him taking on a voluntary role as National NGO Coordinator for six months. He also attended courses on analysing disrupted health systems with the World Health Organisation (WHO).
Taking part in our training
After his sabbatical, Moez continued his surgical training in the UK and fed his interest in humanitarian surgery with research. He was part of The Lancet's series on health in the Arab world and commission on global cancer surgery. He also attended the Scholars in Health and Research Programme at the American University of Beirut.
Working at a major trauma centre in the UK, Moez worked alongside some of our senior faculty and was introduced to our Surgical Training in Austere Environment (STAE) course. He was one of the first doctors to benefit from our scholarship programme, attending our STAE course in 2017.
"On the final day of the course at the Royal College of Surgeons, I met people from WHO and Aspen Medical International who were looking for doctors to help with trauma victims in Mosul, Iraq, following ISIS invasion. Two months later, I found myself there, with a group of expat and Iraqi doctors.
Immediately, I was able to put my new war surgery knowledge to practice – damage control and how to save lives and limbs."
War wounds in Manchester
Two weeks after returning from Mosul, Moez was unexpectedly faced with war injuries in Manchester – blast wounds following the Manchester Arena bombings.
"The injuries I saw were very similar to what I'd seen in Iraq and had been teaching on the Foundation's courses – blast injuries from shrapnel and metalwork. I was able to use what I'd learnt but now in my home country.
Although it was shocking and very stressful, things worked seamlessly in our hospital and the camaraderie, hard work and collaboration I saw across 7 or 8 local hospitals that received injured patients was unlike anything I had seen before. I truly saw the NHS at its best."
Becoming a trainer
"After my return from Mosul, I was invited to join the Foundation's orthopaedic faculty. Being part of the Foundation's faculty for the past 5 years, teaching the skills I learned on that STAE course in 2017, is incredibly special."
For the first time, Moez led the orthopaedic section of our recent course in Gaziantep.
Teaching on Gaziantep HEST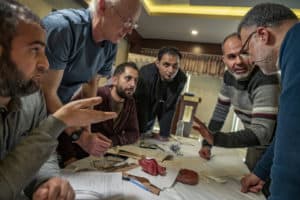 "Although I had been teaching on the STAE course in London for some time, the oversea HEST course required a slightly different approach. I needed to prepare and familiarise myself with the course material. Attending the Train the Trainers course which was put on by the Foundation really helped with this.
The 26 Syrian surgeons we trained shared incredible stories and the cases they faced during conflict with limited resources. Rather than teaching, I facilitated discussions around patient cases, learning from shared experiences and taking things back to fundamental principles. I learned just as much from the inspiring candidates as they learned from me!
This was also the first time that I had delivered an all-day comprehensive professional course in Arabic. It was extremely challenging considering I've only practiced medicine in English. However, the feedback and appreciation that I received from attendees is certainly one of the best achievements in my career."
Leaving a legacy
Looking to the future, Moez wants to continue serving those in need in the UK and around the globe.
"I feel passionately about my humanitarian work and want to continue this in tandem with my NHS role, ideally doing one or two missions a year.
The NHS is such a huge organisation and has a vast resource of skills, knowledge and cultural experiences that can be tapped into. The world is incredibly connected. No matter how far away they may seem, conflict and disasters that happen in other countries continue to affect us directly or indirectly through human migration, security and the economy. We should be using our training and unique cultural experiences to help others around the world."