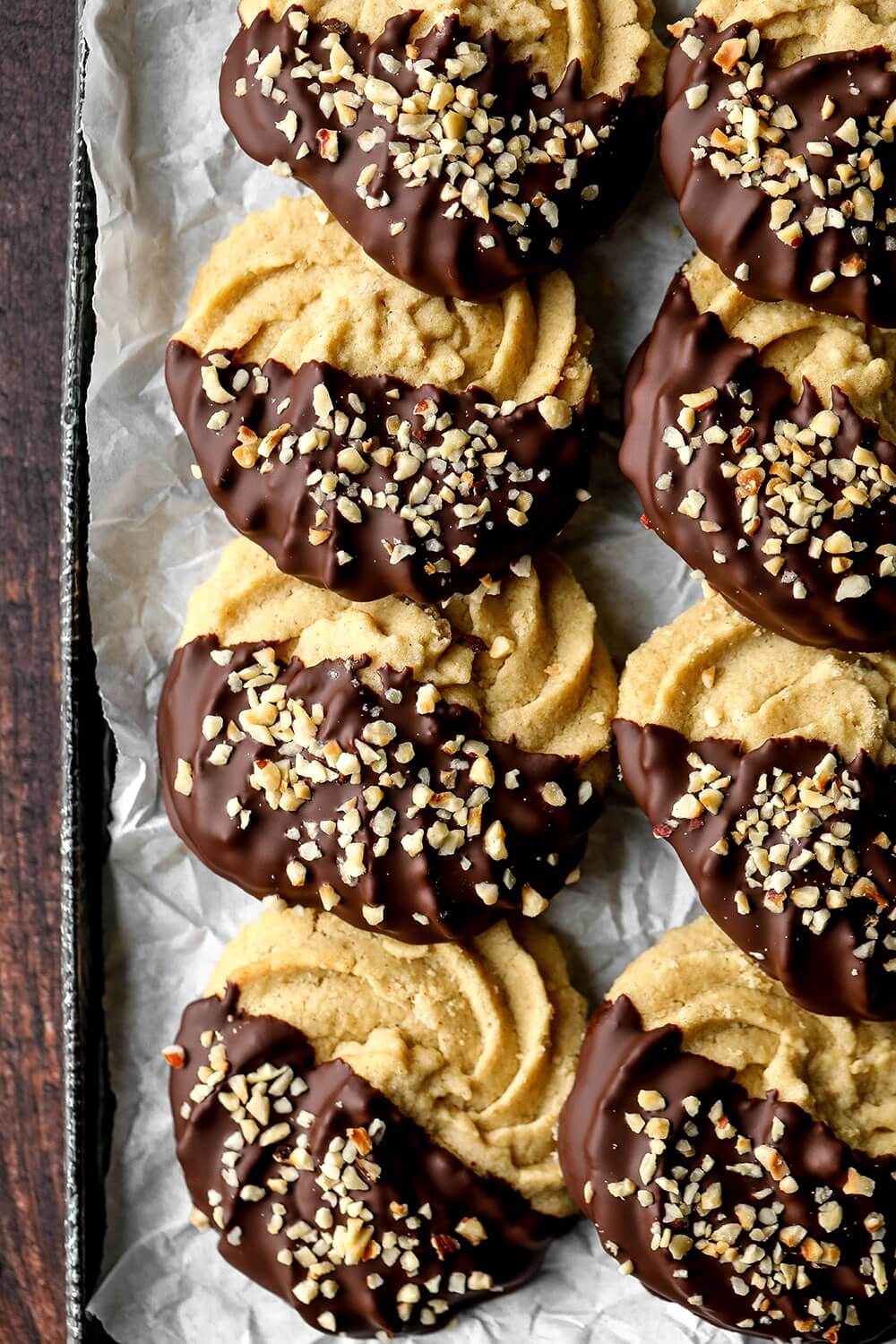 Light, buttery and crumbly cookies dipped in chocolate and decorated with chopped hazelnuts. These vegan gluten-free butter cookies are a must-try!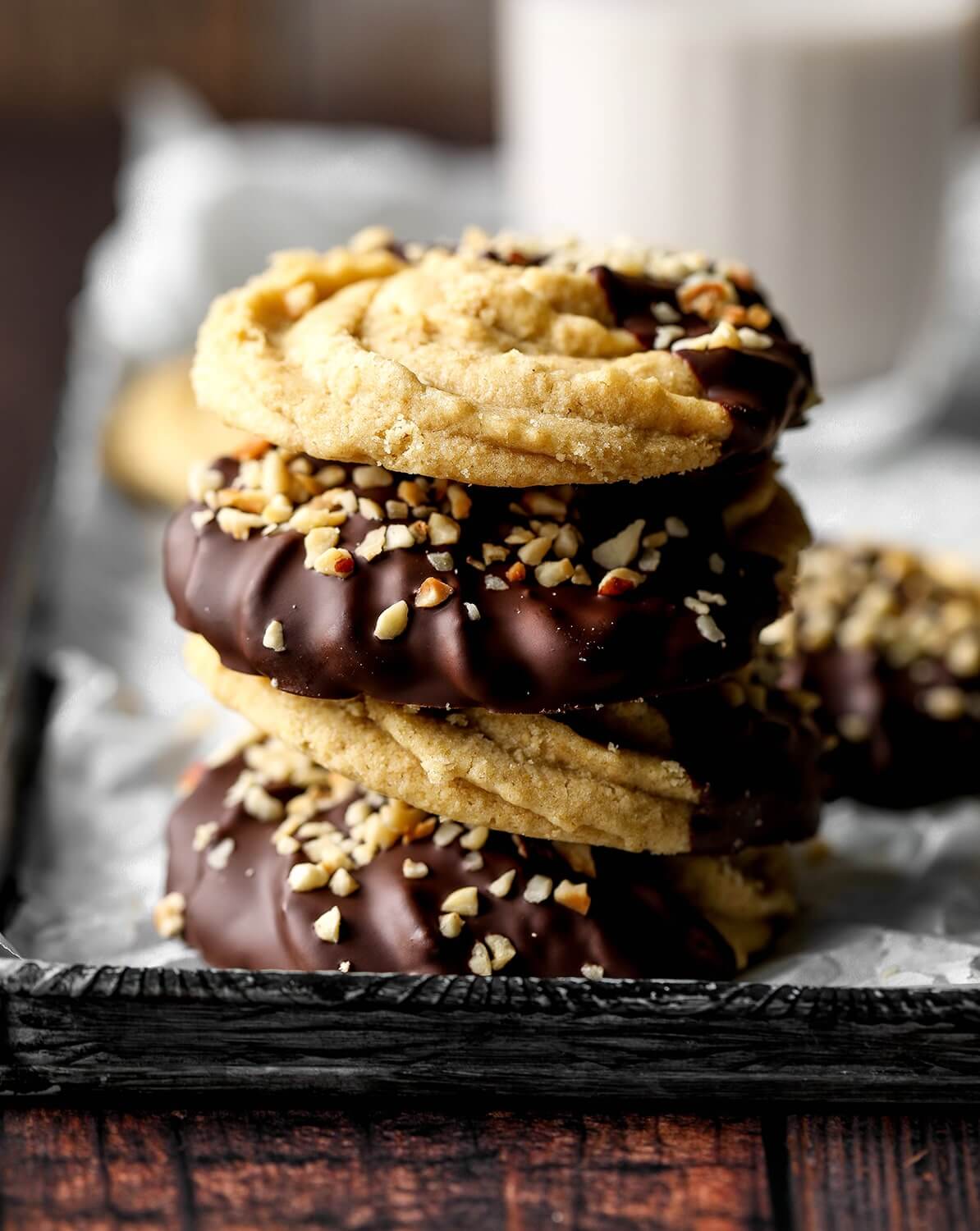 I made these vegan gluten-free butter cookies for Christmas and dipped them in matcha white chocolate and chopped pistachios. I just had to make a dark chocolate version, this time decorated with chopped hazelnuts. I think we can all agree that chocolate + hazelnuts is one of the most delicious flavour combos ever.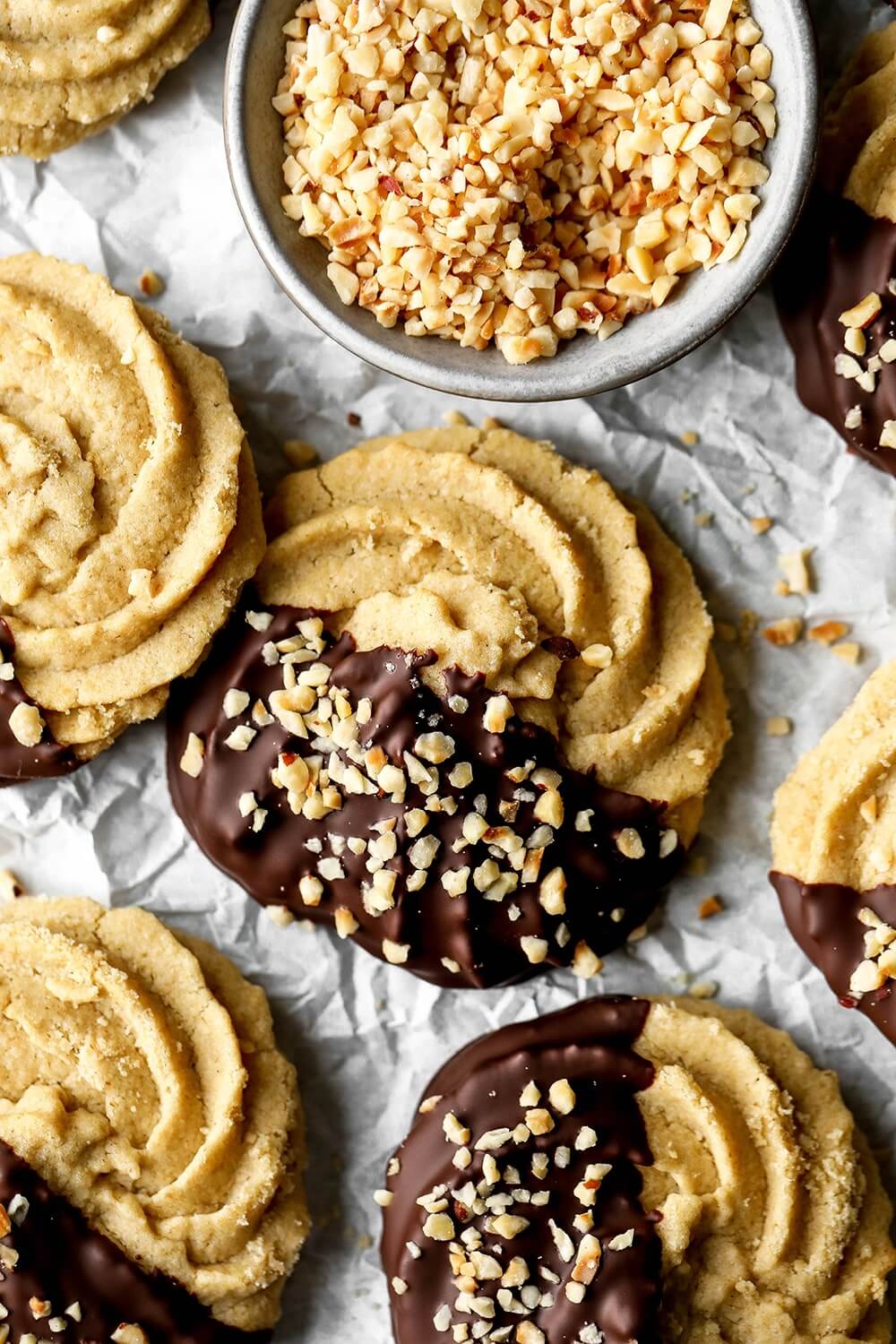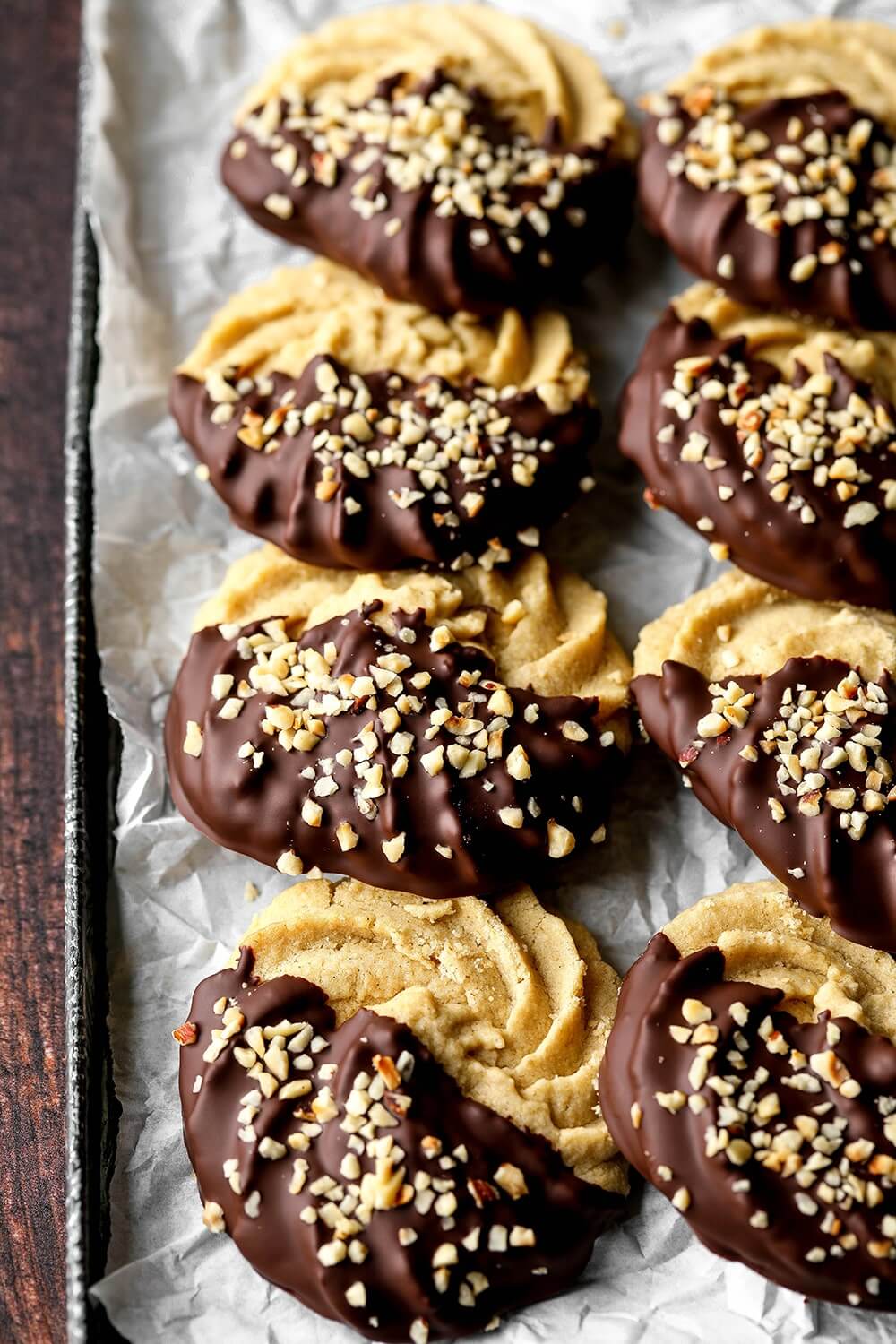 These cookies are definitely a lot more indulgent than my usual treats. With butter cookies, you really do need to use a lot of butter (hence the name!), and sugar too, so they're not healthy in any shape or form. However, they are gluten-free and vegan, so perfect for those of you with gluten or dairy allergies. They can also be made nut-free by omitting the hazelnuts. They're basically an indulgent treat to enjoy every once and a while for people who can't eat regular butter cookies.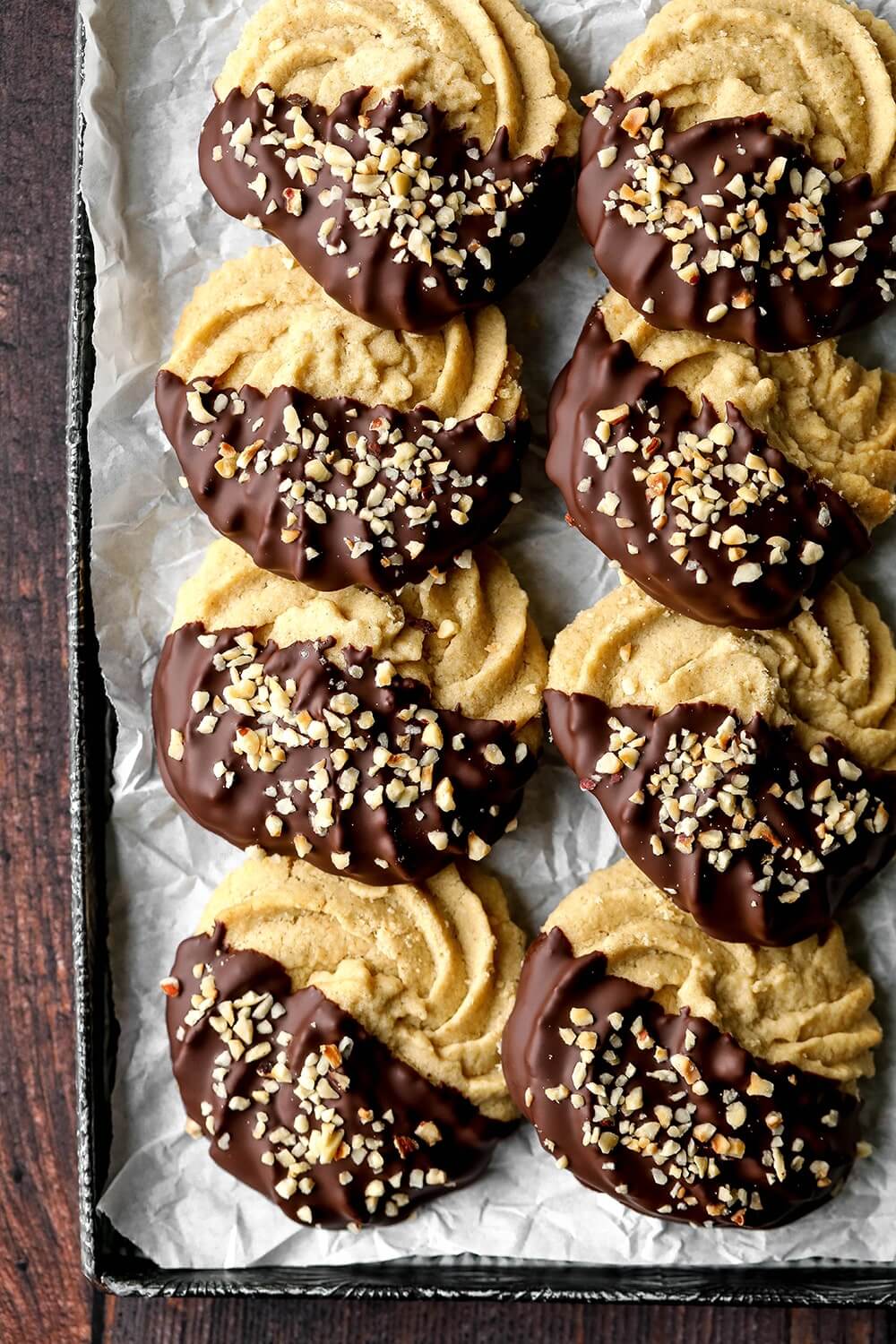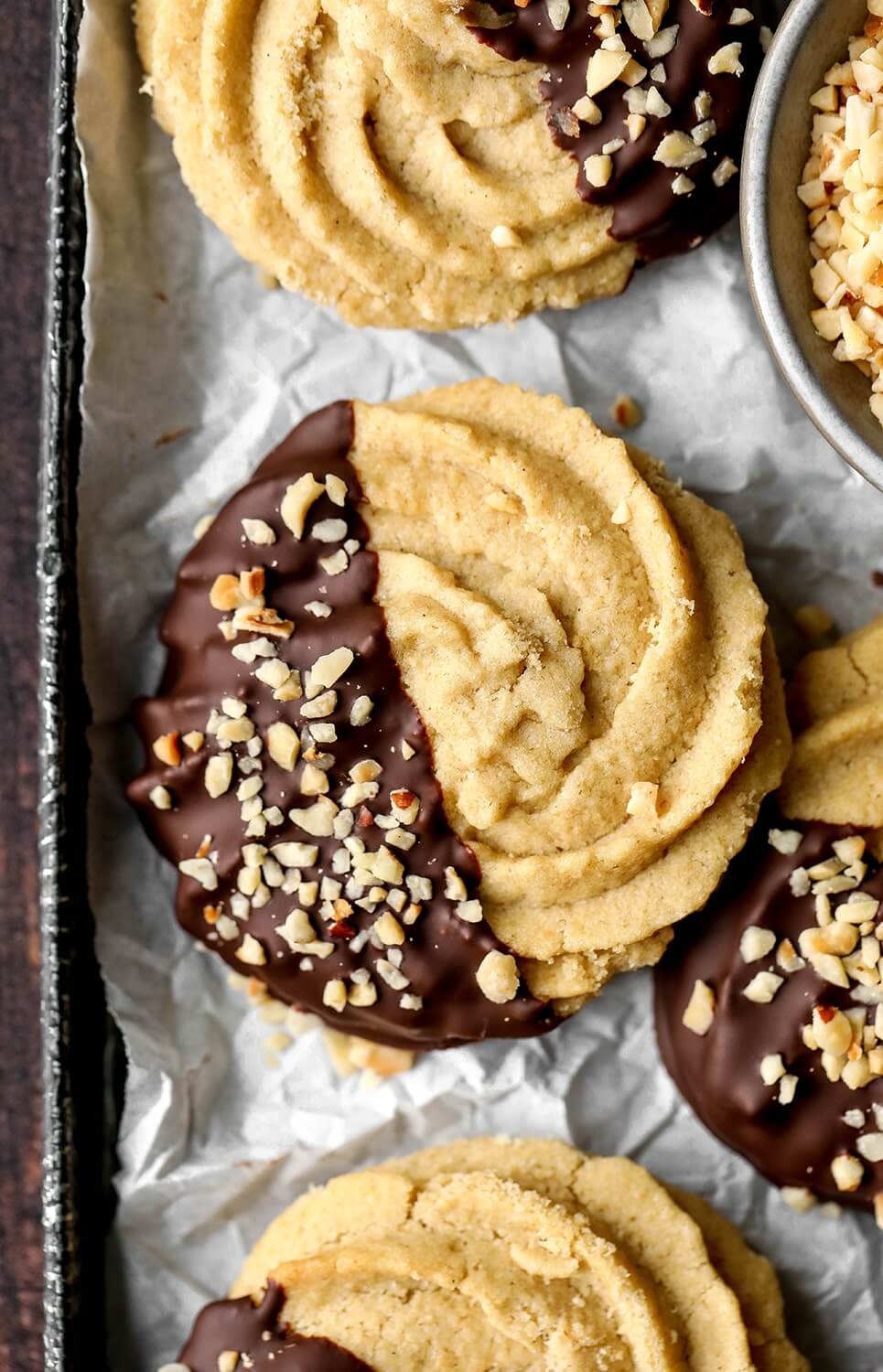 Vegan Gluten-free Butter Cookies
Makes: 10-14
Ingredients
220g (7.7 oz) oat flour – rolled oats ground into a fine flour in the food processor. Use gluten-free oats to make the recipe gluten-free.
70g (2.5 oz) icing sugar
1/4 tsp salt
200g (7 oz) dairy-free butter/spread
1 tsp vanilla
1 tbsp dairy-free milk of choice
To decorate
150g (5.2 oz) dark chocolate, melted
Chopped hazelnuts
Method
Preheat your oven to 180C/160C fan.
Sift the the flour, sugar and salt into the bowl of your stand mixer. Add the butter and mix until you have a creamy mixture, then add in the vanilla and milk.
Transfer into a piping bag with a large star nozzle and form the cookies on a baking sheet lined with baking paper.
Bake for 15 minutes then leave to cool completely.
Once cooled, dip each cookie half way in the melted chocolate, place on a baking sheet lined with baking paper and sprinkle chopped hazelnuts on top.
Transfer to the fridge for 15-30 minutes to allow the chocolate to set.
Enjoy!
Notes:
I used a large curved star piping nozzle, but you can use a smaller one to make smaller cookies. You'll need to reduce the bake time to 10-12 minutes depending on the size of the cookies.
I find that the cookies taste best stored in the fridge. The texture holds a lot better if you're not serving them all on the day of baking.
I also find that refrigerating the cookies for 15 minutes before dipping them in the melted chocolate helps the chocolate set a lot faster and prevents the cookies from crumbling.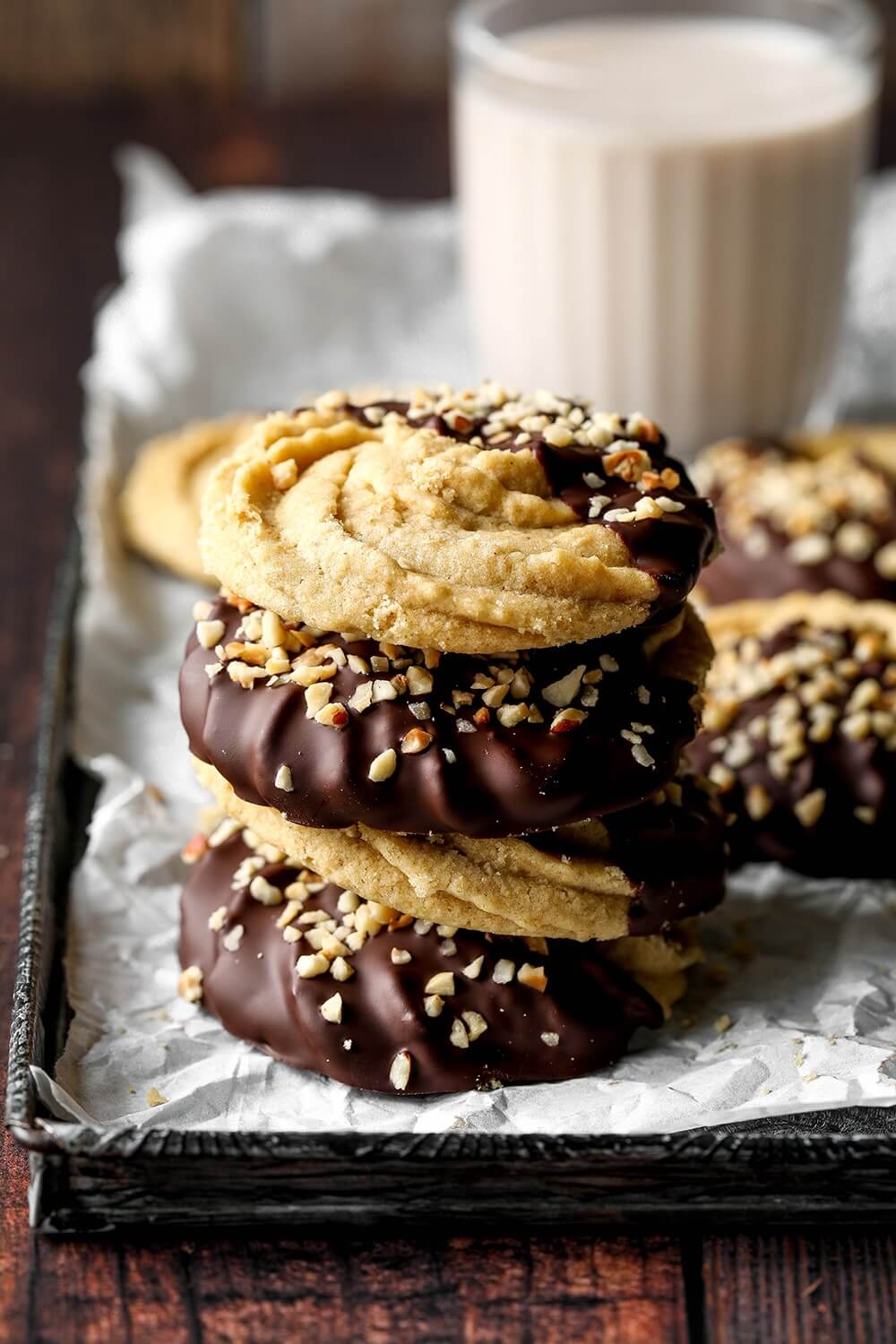 Share This Post