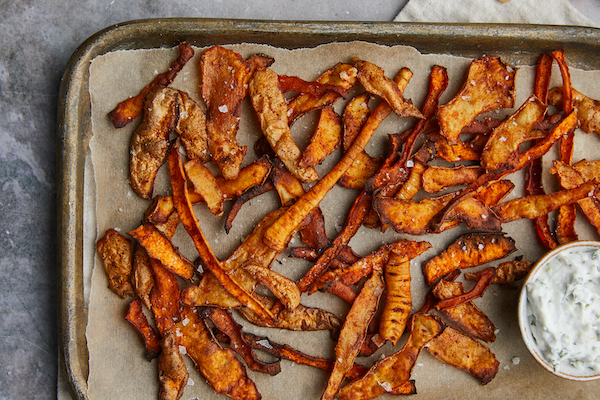 Grab your veggie peelings: Mindful Chef photographer Sarah has this leftover-loving-recipe for you. Perfect for Six Nations telly watching…
You'll need…
A handful of carrots, parsnips or potatoes
Smoked paprika
Salt
2 tbsp dairy-free yoghurt
2 tsp chopped parsley
1 clove garlic, grated
How to cook…
Wash and peel your veg
Add oil and smoked paprika to the peel and mix
Spread over a lined baking tray
Sprinkle with salt
Cook at 220C for 15 – 20 mins
Serve with a dip – we're dipping with dairy-free yoghurt stirred with chopped parsley and a grated garlic clove.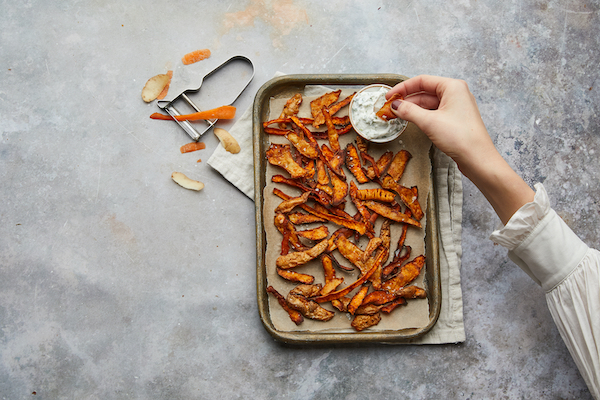 More waste-free ideas anyone? If you've got leftover chickpeas and love mayo then you need to try Chef James' zero-waste vegan mayo recipe.
---
Yet to try healthy eating made easy? Get £10 off your first two recipe boxes by entering code BLOG20 at checkout. Mindful Chef healthy recipe boxes provide you with the tools to cook delicious nutritious meals, in under 30 minutes. Each box contains recipe instructions, pre-portioned ingredients and fresh produce sourced from award-winning British farms.