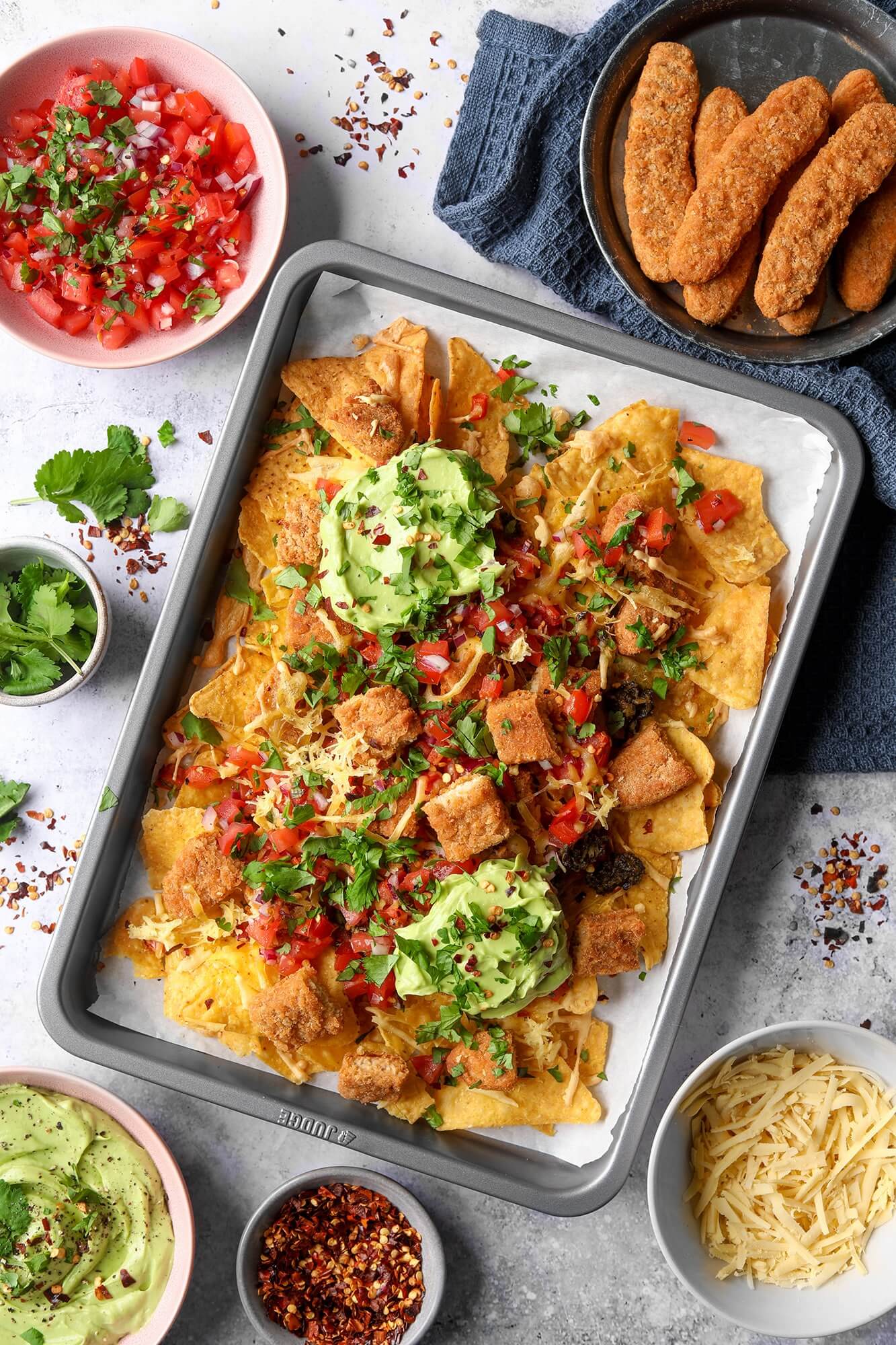 *This post is sponsored by Quorn*
Mouth-watering nachos layered with Quorn Crunchy Strips, salsa, guacamole and vegan cheese. Super easy to make and perfect for a speedy healthier 'fakeaway'.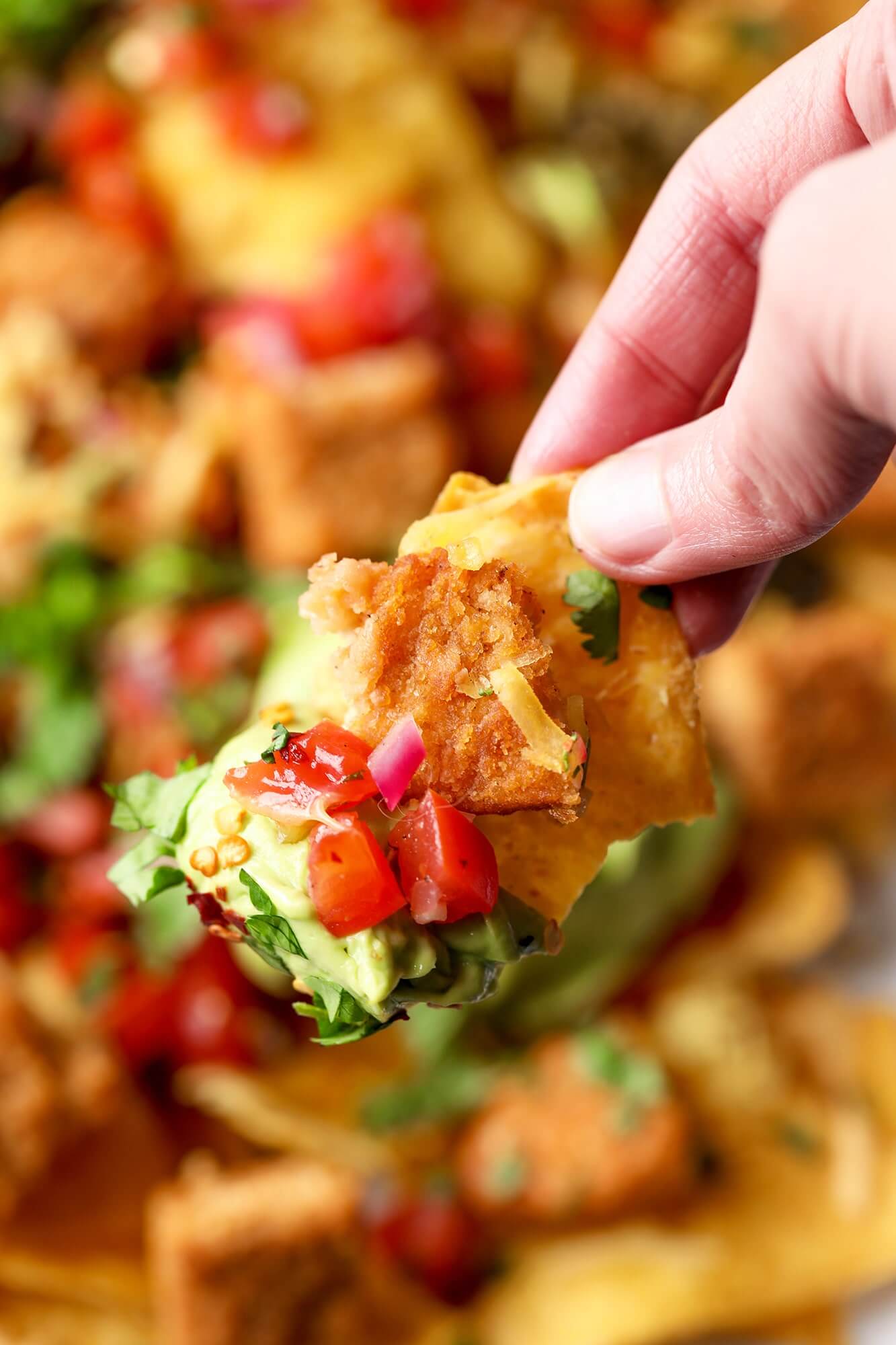 I'm not going to lie, I am partial to a
takeaway. My partner and I sometimes order in on a Friday evening and it's
something we both look forward to from time to time, particularly if it's been a
stressful week. I'm the one who usually prepares meals and as a food blogger
who spends most of my days thinking about recipes, testing recipes and creating
recipes for content, I like to give myself the day off cooking on Friday nights.
It's always nice to have someone cook for me for a change. Even trying to
decide what to eat can become a chore when you're doing it day in, day out. If
we don't order in, I'll opt for something that requires no thinking and minimal
prep so I can put my legs up and enjoy the start of the weekend!
I do try to limit how many times a month
we order in a) most takeaway aren't exactly cheap b) generally speaking
takeaways are unhealthy, even if they are only enjoyed once a week. That's why
recently I've started looking for ways to make my own takeaways or 'fakeaways'
at home that are cheaper and healthier.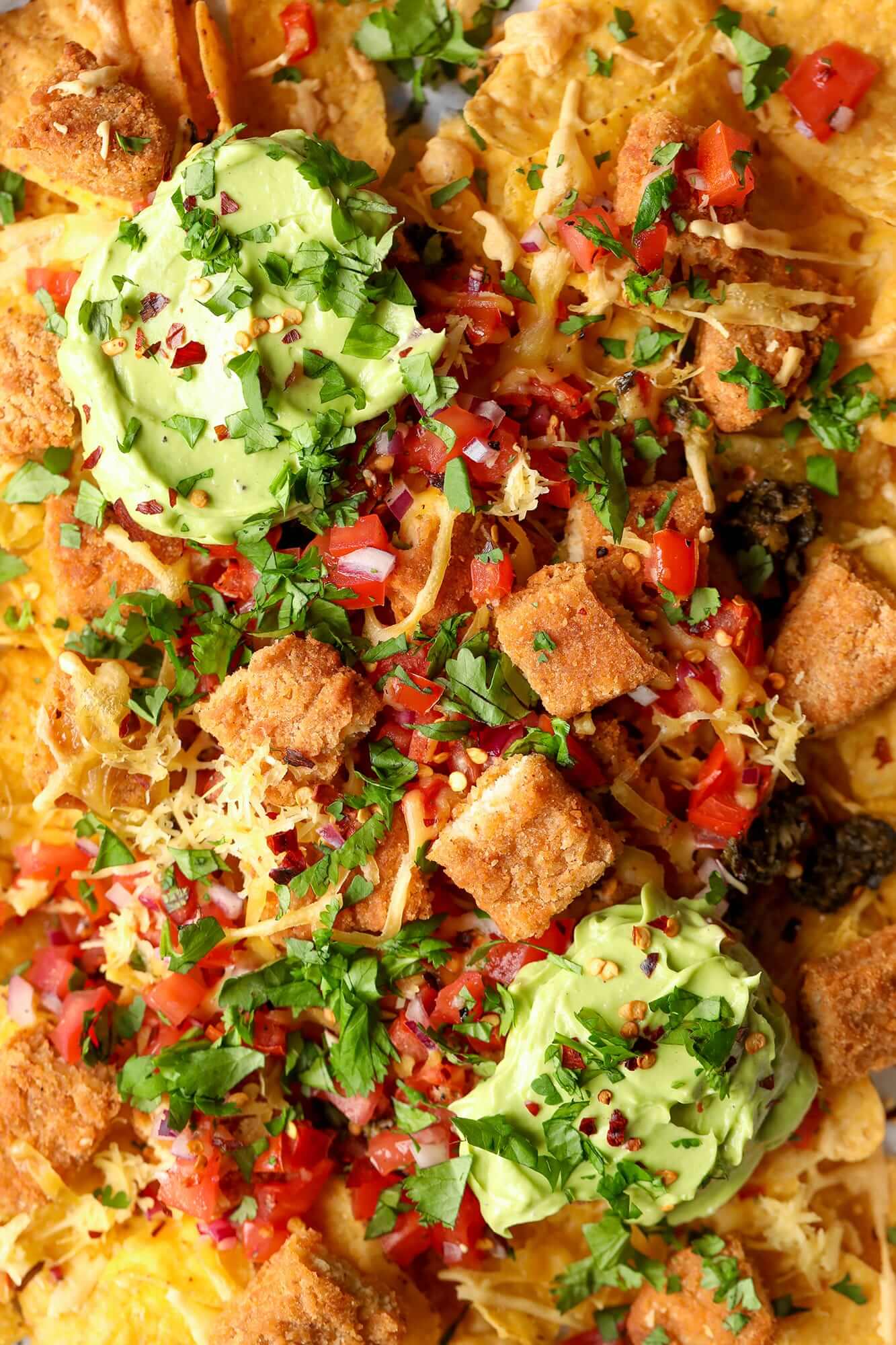 I'm teaming up with Quorn to show you how to make a delicious 'Fakeaway' recipe that's perfect as a healthier, meat-free Friday night meal. Whether you're vegan or not, we all know by now that we should be reducing our meat intake for health reasons, but also the environment. I know a lot of meat eaters are a little hesitant when it comes to trying meat-free products, but Quorn have got their takeaway range spot on – the texture and taste is so chicken like you won't believe it's not chicken! You can check out their takeaway range here!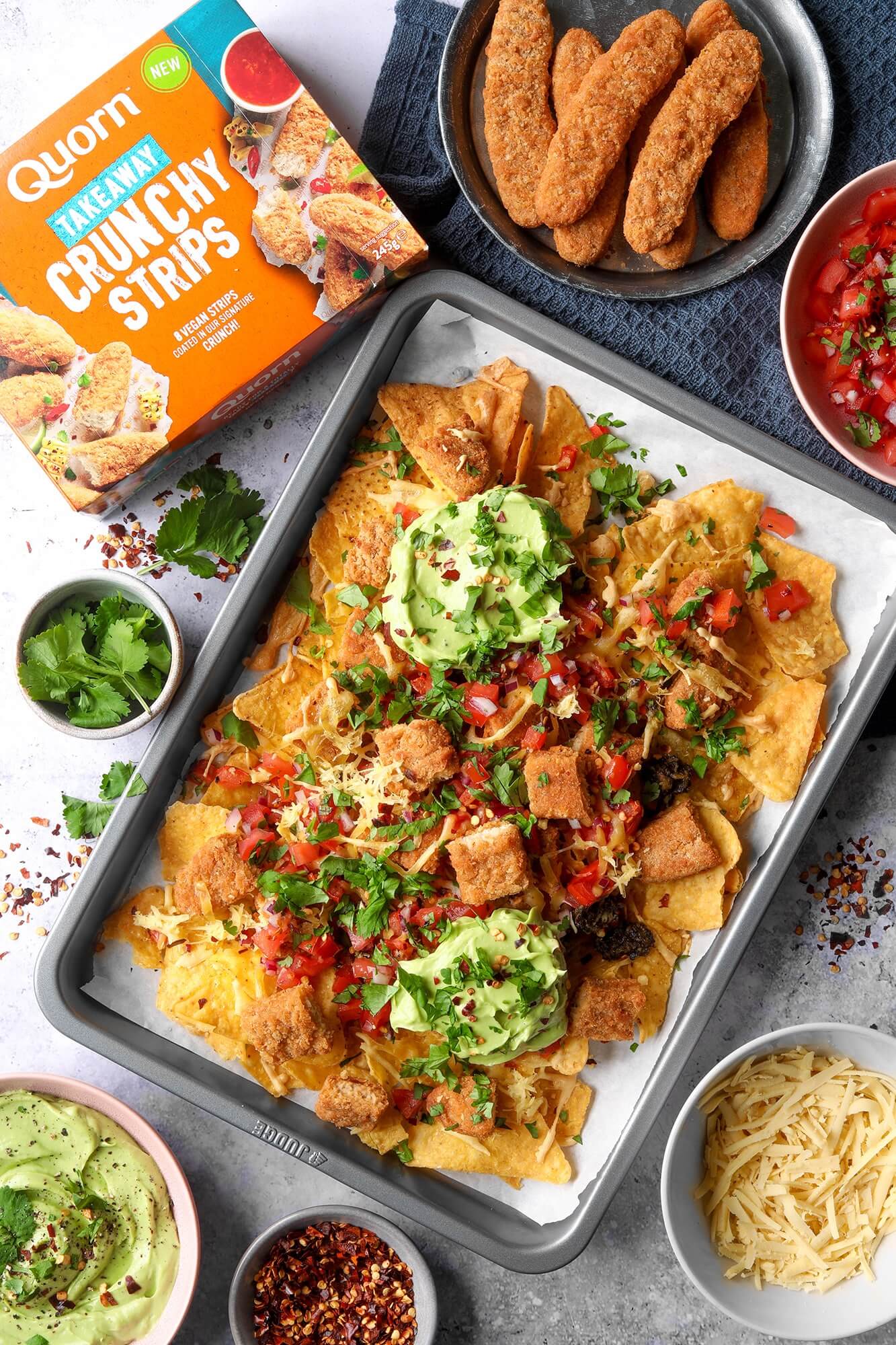 Something that my partner absolutely
LOVES is loaded nachos, so I had the idea to make my own version, but make it
plant-based using the Quorn Crunchy Strips. I chopped them up and layered them
on a baking tray with tortilla chips, homemade salsa and guacamole. It's so
easy to make, delicious and much better for you than your average takeaway! You
can always use shop bought salsa and guacamole to make the recipe even easier,
but I do think that homemade tastes so much better and is really easy to make
anyway.
You can enjoy these nachos as a side/starter or as a main. We usually enjoy it as a main with some vegetables or a salad on the side. It's so filling, tasty and satisfying!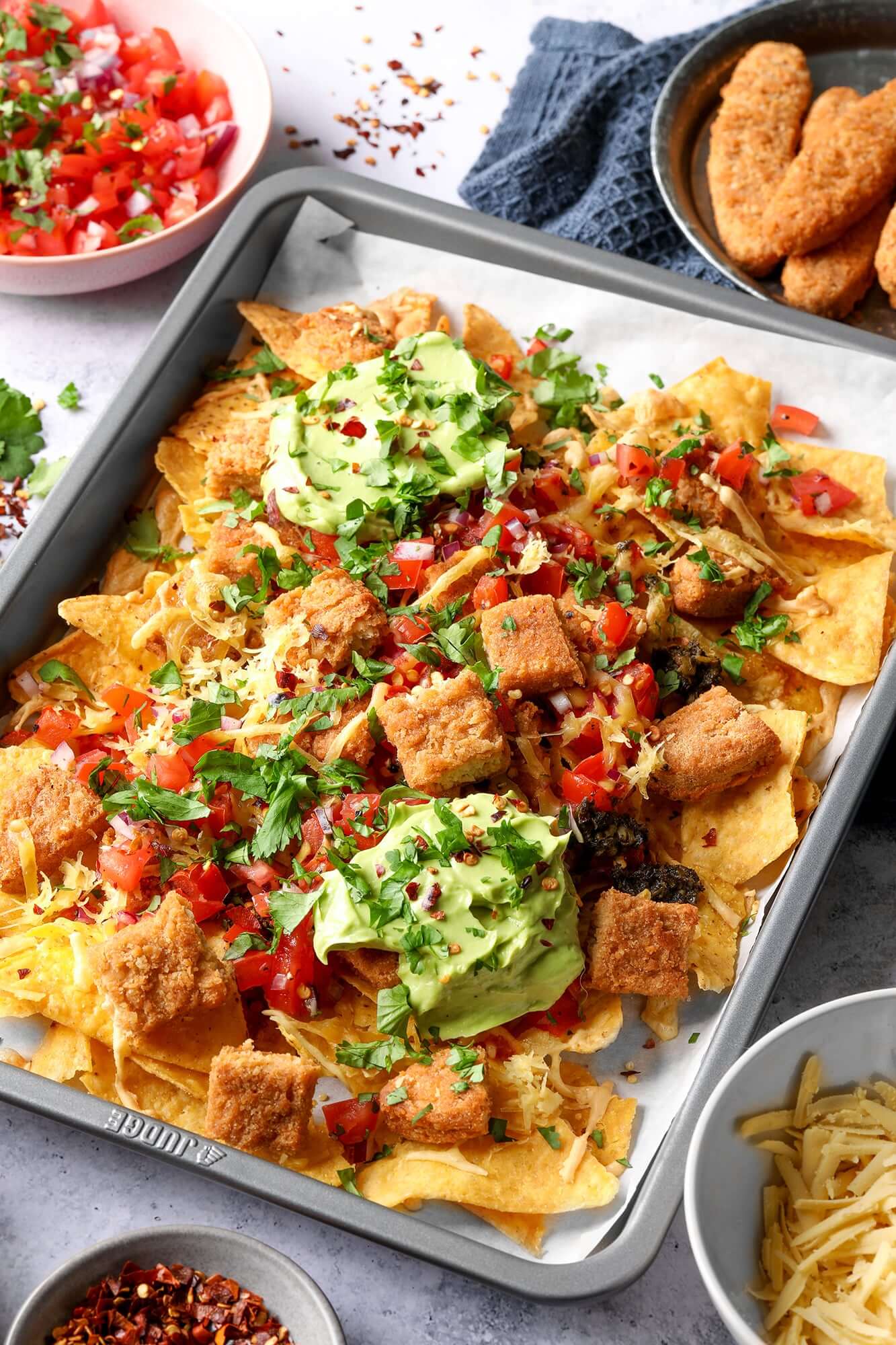 Vegan Quorn Crunchy Strips Nachos
Serves: 4-6
Ingredients
12 Quorn Crunchy Strips
180g bag Tortilla chips
50g vegan cheese, grated
Homemade Salsa
3 vine ripened tomatoes, finely chopped
¼ red onion, chopped
1 tbsp chopped Jalapenio
Juice of 1 lime
1 garlic clove, minced
Handful of fresh coriander, finely chopped
Salt & pepper to taste
Homemade guacamole
1 avocados
1 garlic clove
Juice of 1 lime
Salt & pepper to taste
Optional – chilli flakes
Method
Preheat your oven to 200C/180C fan.
Arrange the crunchy strips on a baking sheet lined with parchment paper and bake for 18-20 minutes.
In the meantime prepare the salsa and guacamole. Mix all the salsa ingredients in a bowl and set to the side.
Scoop out the avocado and place into a blender along with the rest of the ingredients and blend until smooth.
Arrange the tortilla strips on a baking tray. Chop each stirp into 4 chunks and scatter on top. Spoon over the salsa and sprinkle over the cheese.
Return back to the oven and bake for another 10-12 minutes.
Enjoy!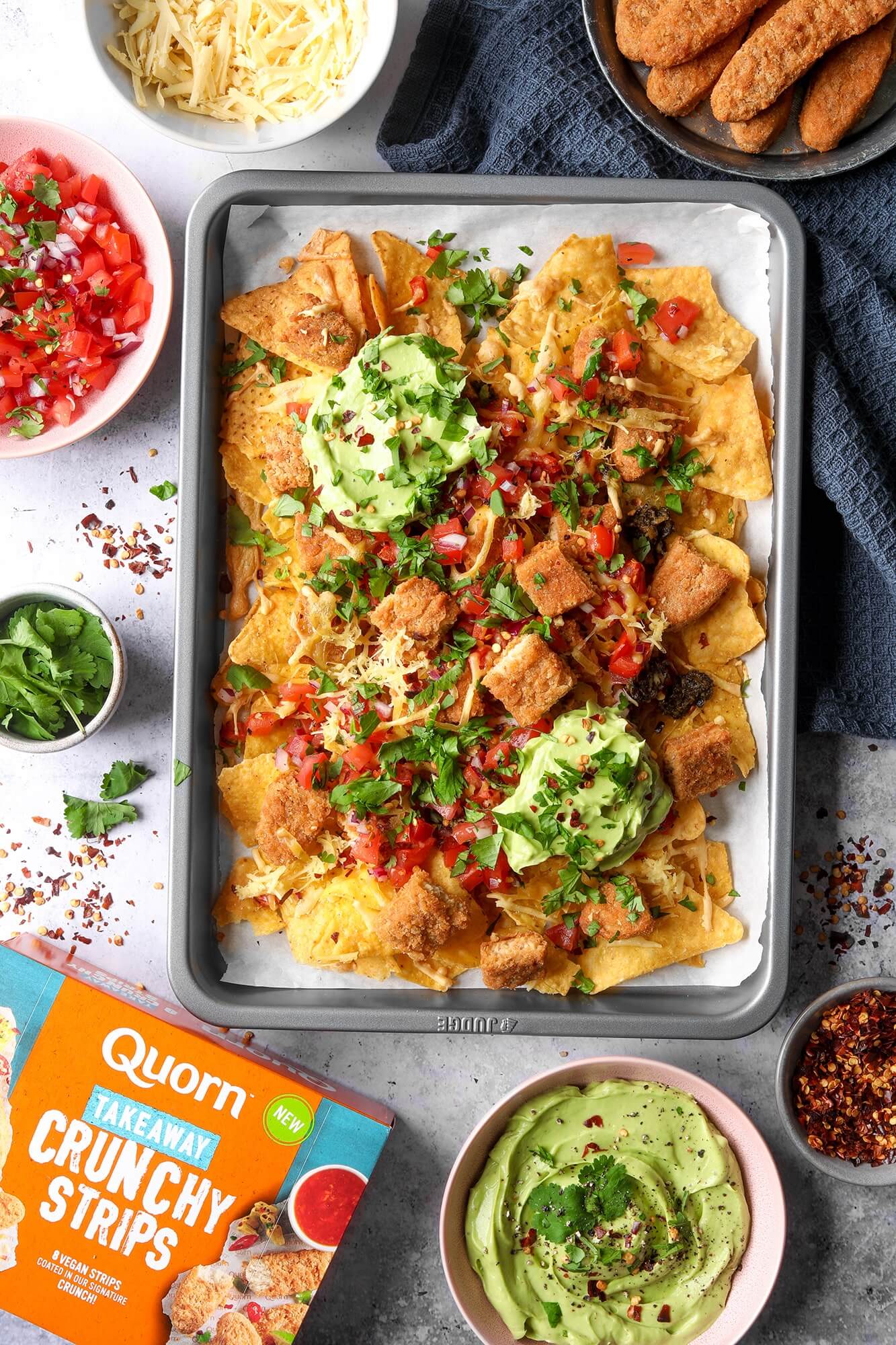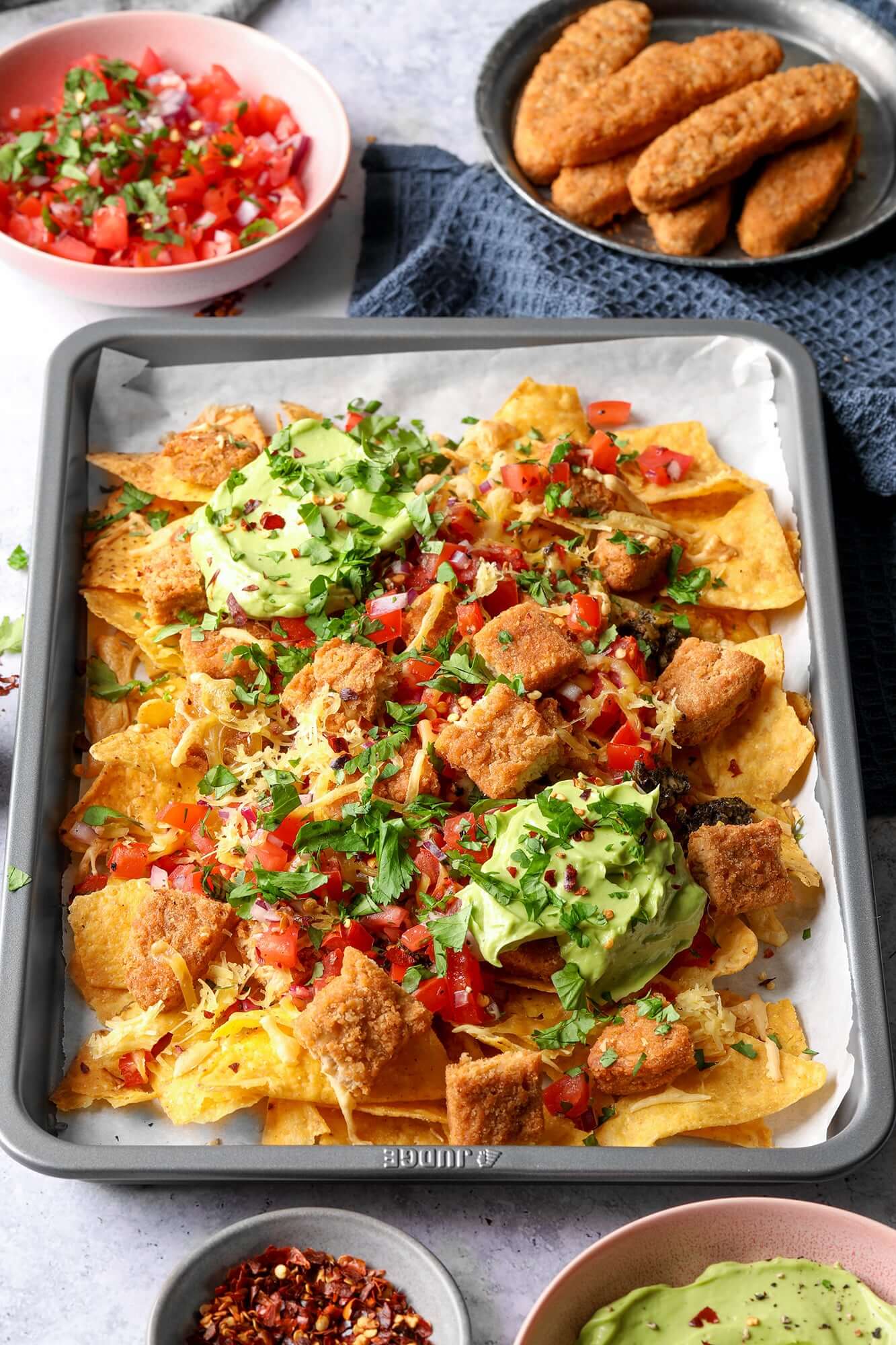 Share This Post