Green shoots are sprouting, blossom is on the trees and bright daffs are finally back. With all that lusciousness comes heaps of fresh, seasonal produce. This April, Dietician Clare is here to put a spring in your step as the days – and your plates – get brighter.
1. Enjoy all things Easter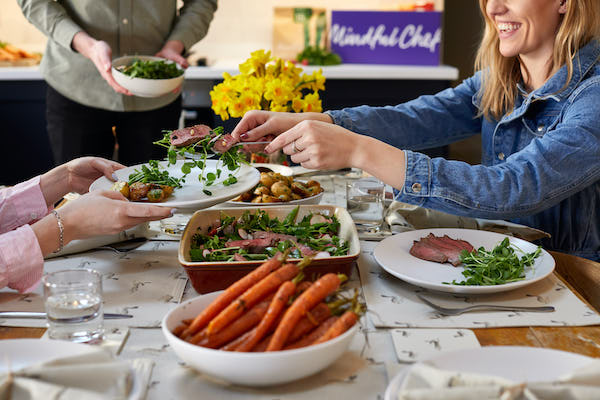 Hot Cross Buns. Chocolate Eggs. New Season lamb with all the sides. Easter isn't short of indulgent food. So how do we get the balance right when feasting with family and friends?
Here's Clare's guide to Easter eating, the Mindful Chef way
Eat regularly and at your usual mealtimes
When we're hungry, we tend to make poorer food choices, craving food higher in fat and sugar. Do aim for three balanced meals a day that are satisfying and give you energy. Don't skip meals to compensate for indulgences!
Don't use exercise to make up for what you're eating
Now is such a brilliant time to get outside and exercise, even with April showers! Do exercise, as it has huge benefits for our mental and physical well being. Don't use it to make up for bad food or drink choices. (Eating a few more high energy foods isn't likely to drastically change your health and fitness.)
Eat the foods you enjoy as part of a balanced diet
Labelling foods as 'good' or 'bad' can lead to feelings of guilt or shame around food. Do enjoy them in moderation as part of a balanced satisfying meal. Don't simply restrict 'bad' foods: think about how eating these foods makes you feel.
2. Load up with seasonal goodness
The change in season brings with it wonderful new produce. And after a long winter, nothing beats fresh British ingredients to put a spring in your step. You'll be cooking with vibrant British pea shoots, salty samphire, asparagus and so much more – here's why they're also good for you too:
Peas
High in fibre and plant-based protein, peas help keep you full. They're an excellent source of micronutrients: Vitamin C, folic acid and manganese. As well as being high in Thiamin (Vitamin B1) that's needed to keep your nervous system healthy. You'll enjoy this a-pea-ling powerhouse in our Easter Special, Lamb with Mint Chimichurri & Pea Salad (also featuring pea shoots – the delicate young leaves of pea plants).
Radish
Peppery, crunchy and crisp, there's a reason our chefs love popping radishes in your recipes. Whether they're yellow, pink, purple and white, radishes don't just add a pop of colour. They're high in fibre and protein, and are a source of Vitamin C and folic acid! Dice 'em up and pile 'em on the Spring Rump Medallion Salad (another Easter Special!).
Samphire
Salty, crunchy and like visiting the seaside, adding salty samphire to a dish doesn't just pack a taste punch, but a nutritional one, too. We think it's a match made in heaven for our Easter Special Cod, Pesto Quinoa & Warm Tomato Salad. As it's high in fibre and contains calcium, magnesium and copper.
New Potatoes
Jersey Royals are back! You'll find them in your box from late April to early July, often paired with fresh mint or roasted with garlic 'til golden with. Potates are often an underrated starchy food – they're a great source of potassium and their skin is rich in fibre (so there's no need to peel)! And did you know new potatoes have a lower glycaemic index and glycaemic load than other potato varieties? This is because they have a different ratio of starches, meaning they're digested and absorbed more slowly – causing less of a peak in blood glucose levels.
Spring greens
While many winter greens come to the end of their growing cycle in spring, varieties of cabbage are available all year round. Spring greens are a young tender variety of cabbage that are harvested in late February until early June. Nutritionally cabbages and spring greens are high in fibre, protein and vitamins A and C. They're also a source of B vitamins, calcium, potassium and iron!
Iron is important for the production of our red blood cells that carry oxygen around the body, not getting enough can leat to iron deficiency anaemia. The most easily absorbed forms of iron tend to come from animal sources (particularly liver and read meat). As while lots of plants, like leafy greens, contain iron, they also contain compounds that inhibit its absorption. However, adding sourced of cintamin C helps to enhance absorptions – so try drizzling with lemon or orange juice!
Cauliflower
Cauliflower tends to be a year-round veg, with winter varieties often available until May – making it ideal in your spring menus. We've included this high-fibre, high-protein brassica in our showstopping Easter Special Whole Roasted Cauli Cheez Roast & Trimmings. As well as being high in Vitamins C and K, cauliflower is also a source of B vitamins, particularly B5 (panthothenic acid) and Folic Acid.
Asparagus
Asparagus 'Soldiers' with Boiled Eggs anyone? UK Asparagus will be back in your MC recipes from May to July – and while we tend to stick to classic green varieties, asparagus also comes in white and purple! It's a great source of fibre, as well as being high in protein and folic acid.
Rhubarb
Often mistaken for a fruit, rhubarb is actually a vegetable that works brilliantly in desserts! It's high in fibre and protein, as well as being low in sugar. Forced rhubarb (recognisable by its bright pink stems) is grown in the dark and becomes available in January, while field grown varieties come into season by April. Try poaching or roasting it with vanilla, honey, ginger and orange juice.
3. Get outside for some vitamin D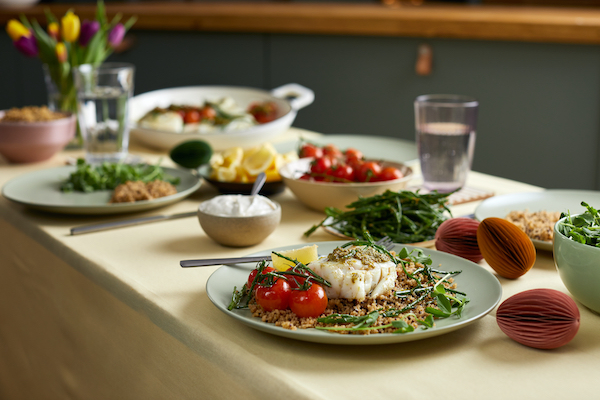 The days are getting longer and it's the perfect time to get outside to enjoy fresh air and nature. Lots of wild foods are in abundance, so why not try foraging with an expert? Woodlands, hedgerows and even your own back garden can be a treasure trove of edible wild plants. Here's everything you need to know about wild garlic, nettles and dandelions.
Wild garlic
Best foraged young, these long pointed bright green leaves with smooth edges are typically found in wooded areas and start appearing in early March. With a much milder flavour than bulb garlic, they're high in good-for-gut fibre and vitamin A (which helps maintain healthy vision and support our immune systems) and are a source of vitamin C.
Did you know? You can even eat the flowers!
Nettles
Another nutritious tasty green that's best in early spring. Nettles are high in fibre, protein, vitamin A and C, as well as calcium and magnesium (both important for bone health). Like spinach, nettles shrink a lot when cooked and are great added to curries, sauces, soups and pesto.
Don't forget! Wash them in hot water to remove their stinging barbs!
Dandelions
Dandelion greens are another high fibre leaf, rich in Vitamins A, C and K. The bitter green leaves are best in spring (found growing in your gardens, parks and meadows) and taste great in a salad or sauteed with garlic for a tasty side, as they can be enjoyed hot and cold. Did you know… This common weed is entirely edible?
TITLE: Wild Garlic Pesto
You will need
100g wild garlic, washed well and roughly chopped
50g parsley
75g shelled walnuts, toasted and roughly chopped
½ tsp white miso
Juice and zest of half a lemon
150ml good quality extra virgin olive oil
To make
1. Place the wild garlic, parsley, walnuts, miso, lemon juice and zest in a food processor. Season with salt and pepper.
2. Grind slowly in the food processor until you get a chunky paste.
3. Slowly drizzle in extra virgin olive oil. Taste and add more seasoning as needed.
4. Place in a clean jar and store in the fridge. Allow to come up to room temperature before eating. Enjoy!
---
Yet to try healthy eating made easy? Get £10 off your first two recipe boxes by entering code BLOG20 at checkout. Mindful Chef healthy recipe boxes provide you with the tools to cook delicious nutritious meals, in under 30 minutes. Each box contains recipe instructions, pre-portioned ingredients and fresh produce sourced from award-winning British farms.