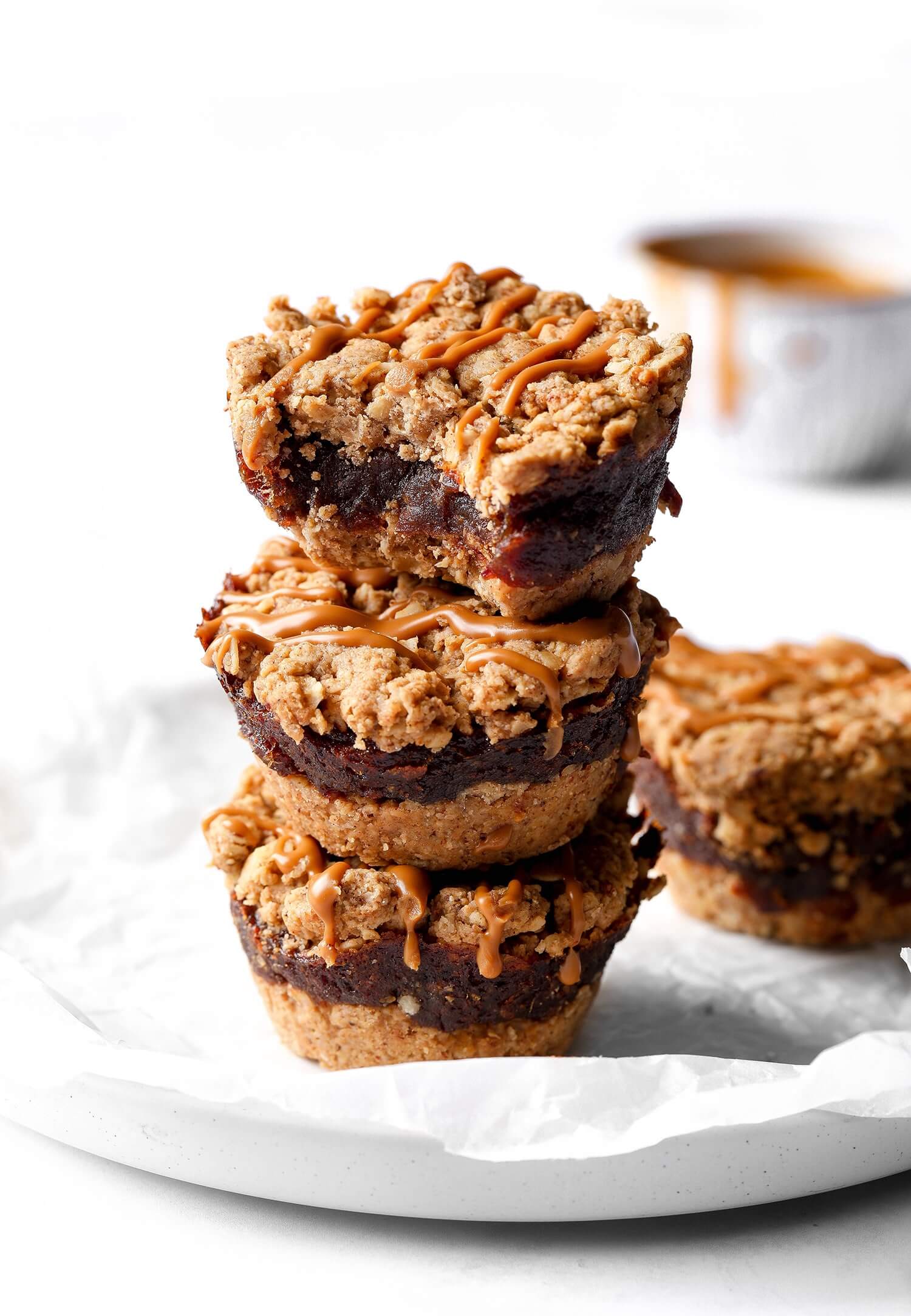 A healthier dessert made with oats and sweetened only with whole dates! These vegan oat date cups are so delicious and easy to make.
I grew up eating and loving dates. It's such a big part of Middle Eastern cuisine and culture. It's especially important during the holy month of Ramadan as it's usually how most muslims break their fast.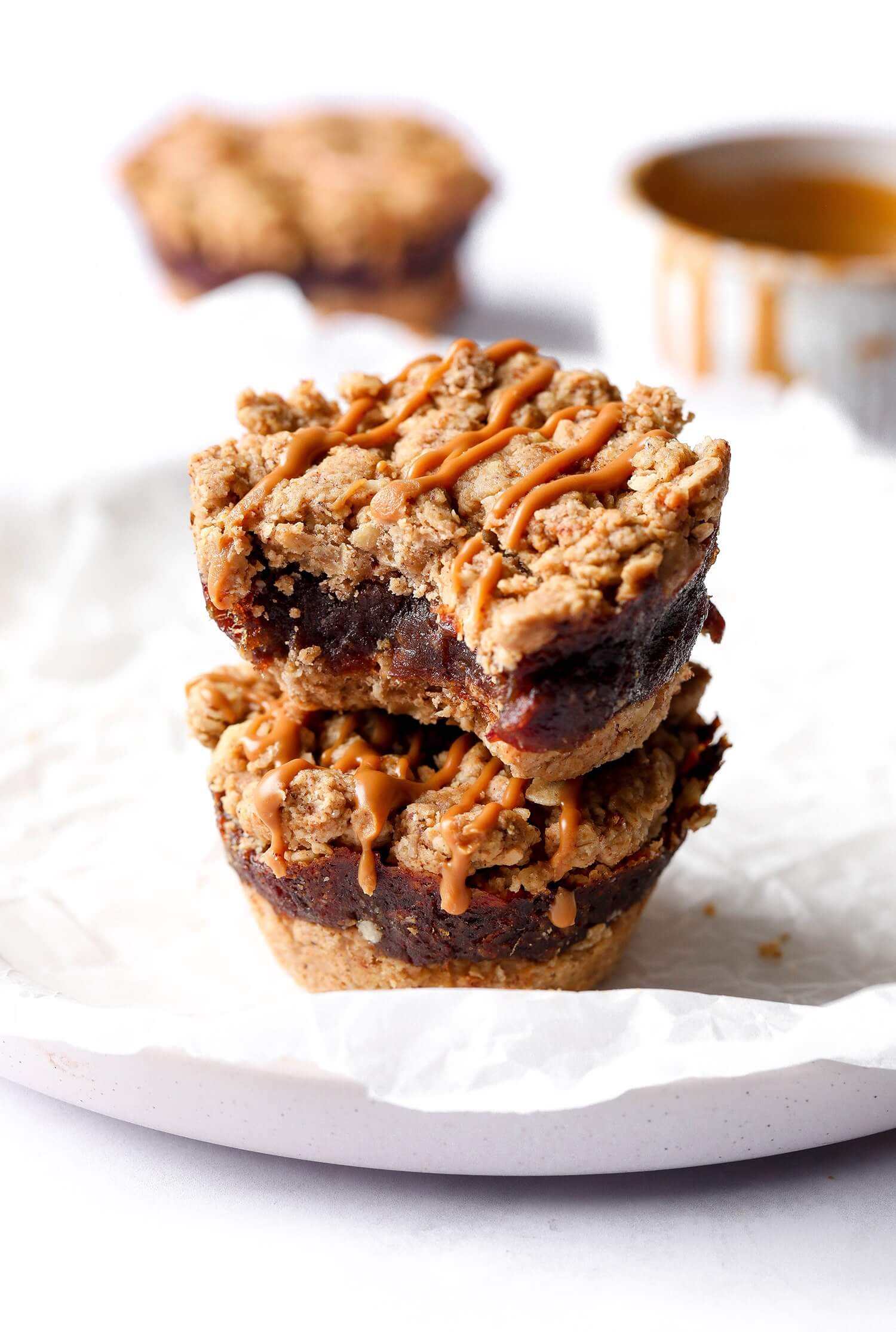 Growing up in Iraq wasn't easy to say the least, and for many reasons I won't go into in this post. We didn't have the luxury of enjoying treats, especially sweet treats as they were seen as non essential. When we did, it would be something my mum would make. She'd bake a cake or cookies every now and then, and whatever it was would be gone within 30 minutes of it coming out of the oven. We would hover around the kitchen eagerly waiting. It was like a big event! There was 5 of us (I have 4 brothers), so whoever was there first got to pick the biggest/best piece. Not having much definitely made us appreciate everything, especially when it came to food. I think that's one of the reasons I'm not picky and can eat anything and everything!
A sweet treat that my mum would regularly make was date paste (mainly because it was cheap and easy to access dates in Iraq). All she would do is add dates to a pan with a little bit of oil and water and mash it until smooth, then spread it onto a plate and sprinkle sesame seeds on top. It was such a simple thing to make, but to me it tasted like heaven. I couldn't stop eating it!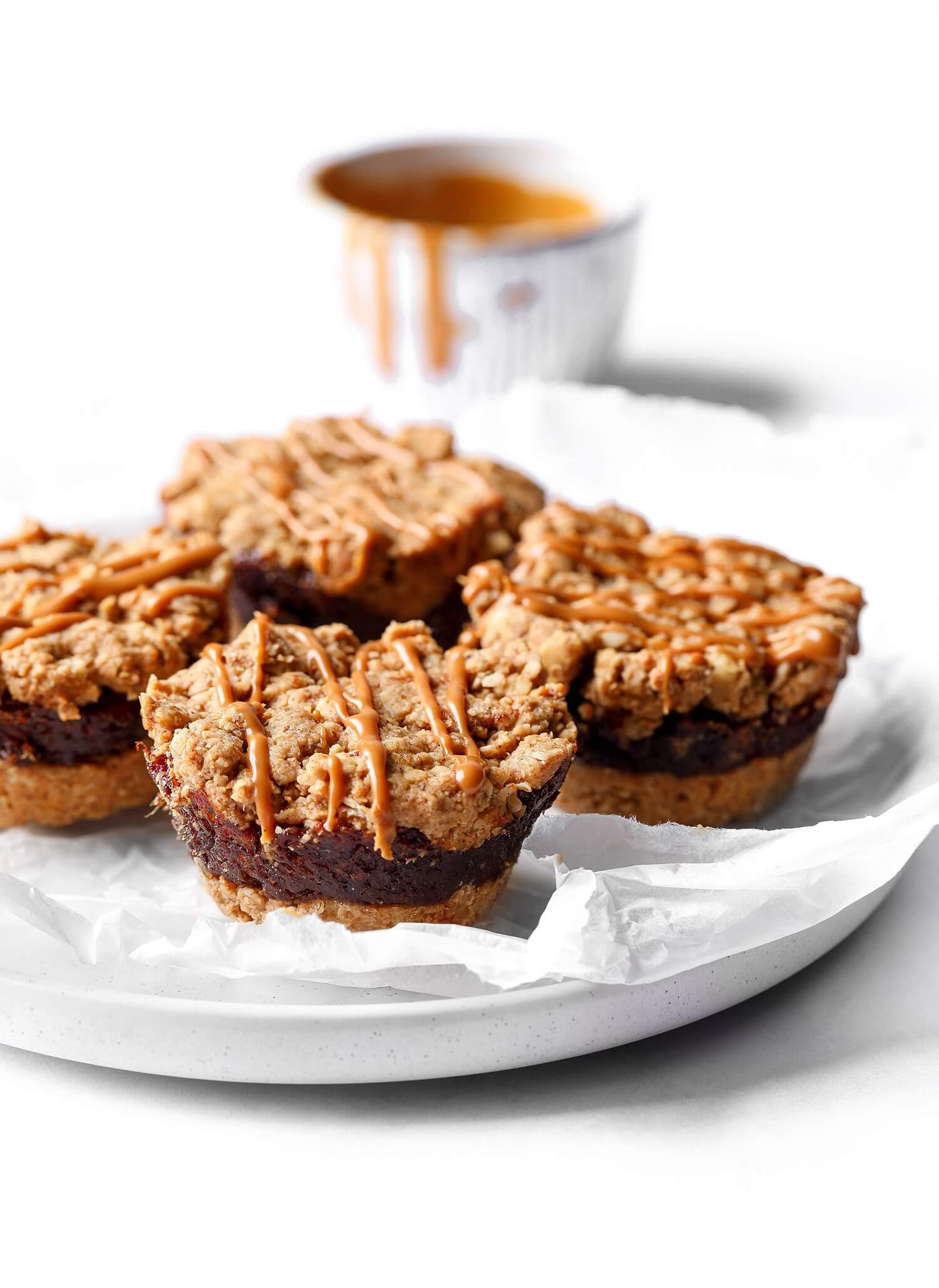 I love baking with and using dates in my desserts for many reasons, their health benefits being one of them. It's such a great natural sweetener to use and I find when I use it in recipes like these vegan oat date cups I don't need to add any other sweetener. The dates along with the oats in this recipe make it a good source of fibre. I also used almond butter to add in some healthy fats.
These vegan oat date cups are lightly spiced with cinnamon and cardamon, both of which go so well with dates. You can leave out the spices if you prefer, but I would definitely recommend using them as they add so much depth to the flavour.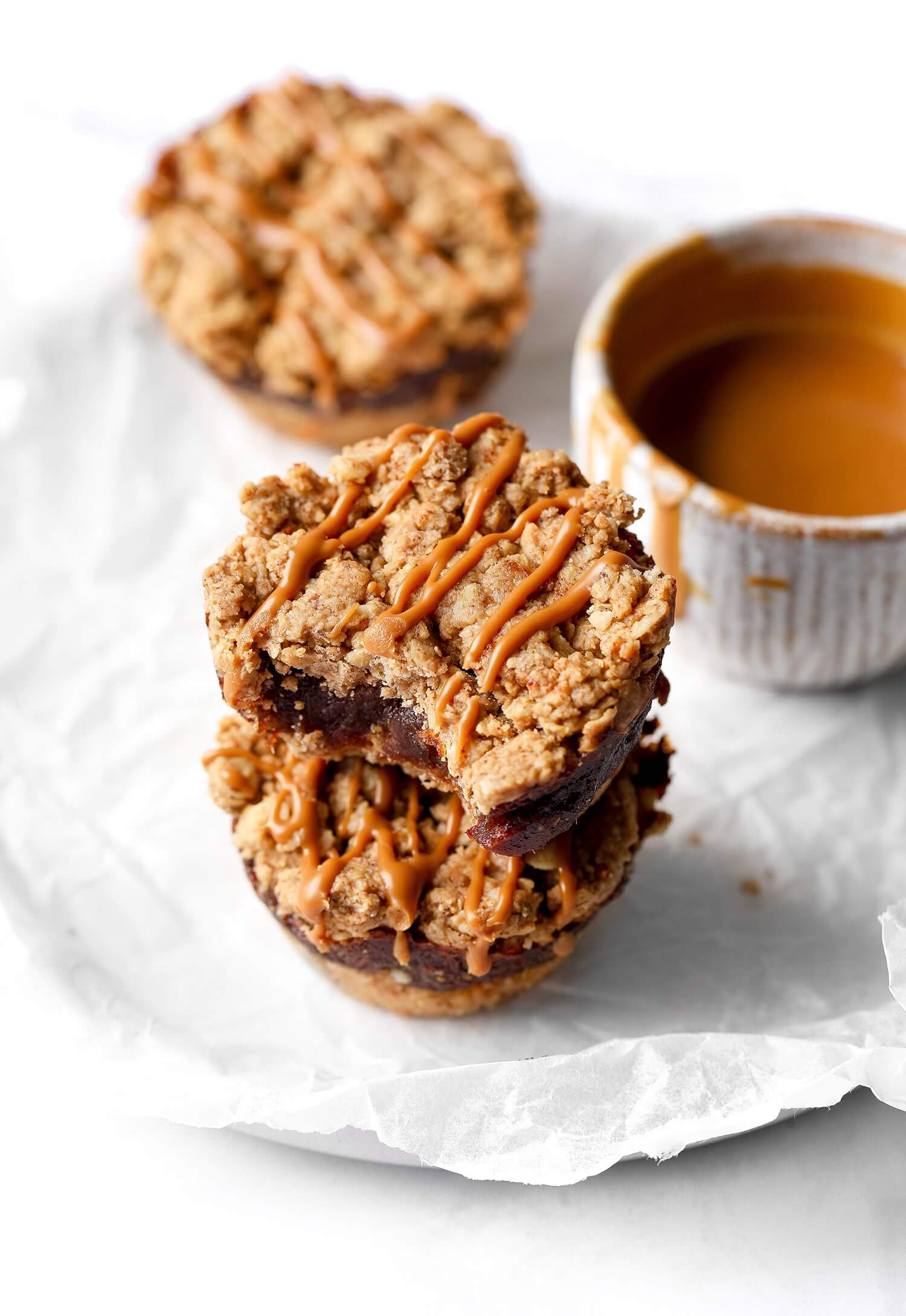 Vegan Oat Date Cups
Makes – 4 large cups*
For the date centre
120g (4 oz) dates
60ml (1/4 cup) water
Pinch of salt
For the crumble
55g (2 oz) ground oats
45g (1.5 oz) rolled oats
1/2 tsp baking powder
Pinch of salt
1/2 tsp cinnamon
1/4 tsp cardamom
2 tbsp coconut oil, melted
2 tbsp almond butter
Method
Preheat your oven to 180C/160C fan assisted/ 350*F
Add the dates and water to a pan and cook over a low-medium heat mashing the the dates with the back of a wooden spoon. You should end up with a smooth, thick, but spreadable date paste. Leave to cool.
Mix together all the crumble ingredients in a bowl, then press 1/2 the mixture into silicon cupcake/muffin moulds.
Spread the date mixture, then crumble the remaining oat mixture on top.
Bake for 20-25 minutes, then leave to cool completely.
They're best served chilled. Store in an air-tight container in the fridge for 3-4 days.
Enjoy!
*You can use a loaf tin and slice them into squares, or double the recipe and use an 8" square tin.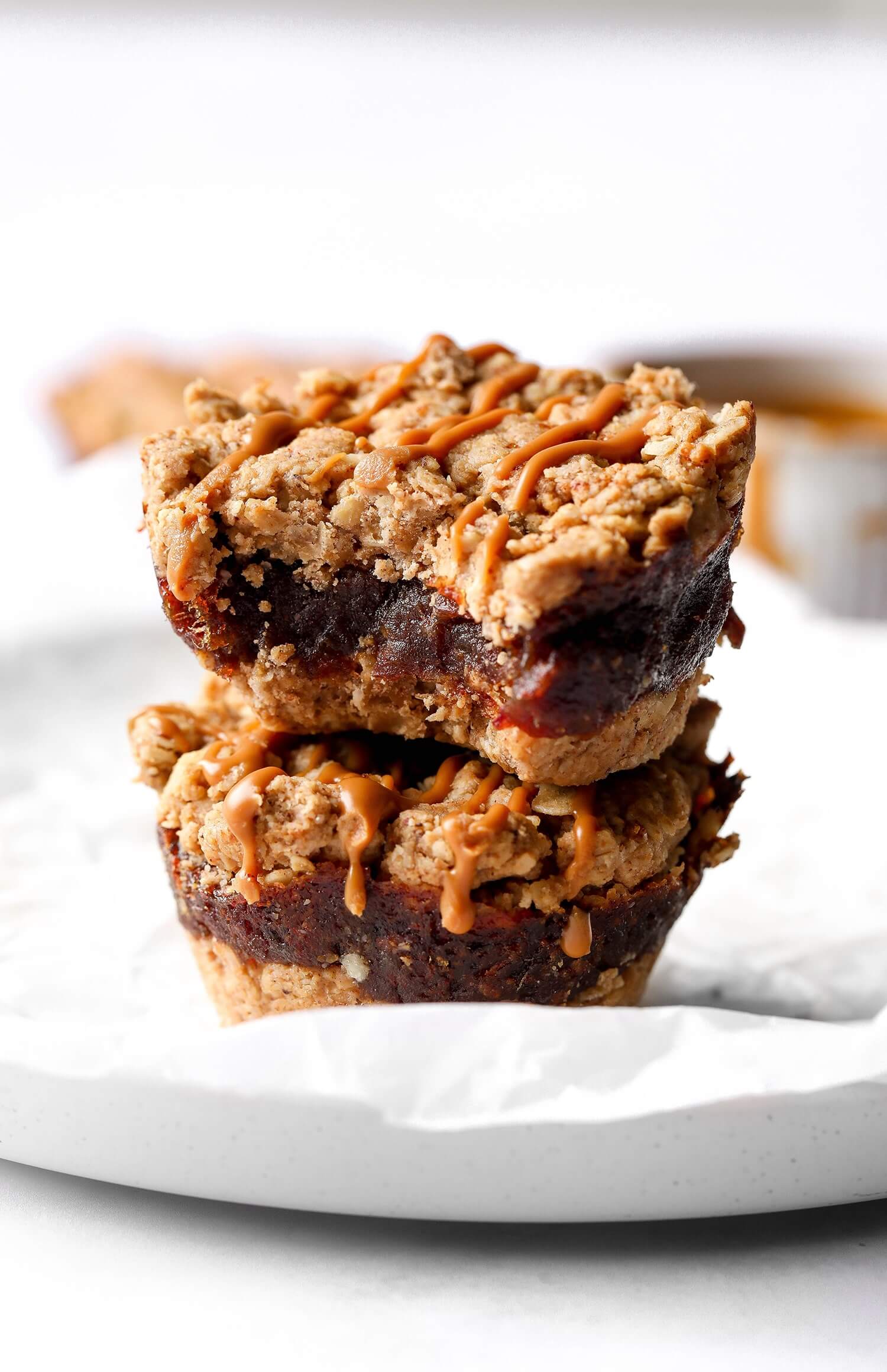 Share This Post