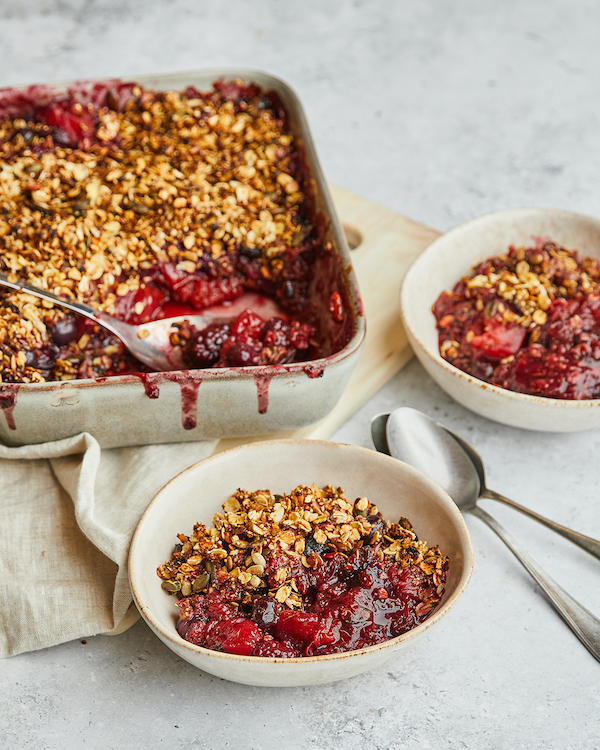 FlavorKing plums are now in season and in your Mindful Chef Fruit Box. Make the most of their bubblegum sweetness with this seriously good Easter treat.
You will need…
12 FlavorKing plums from your Mindful Chef Fruit Box
250g coconut sugar
200g blueberries
200g blackberries
2 tbsp coconut oil
Method…
Preheat the oven to 220C/200 fan.
De-stone the plums and dice, add to a pan with 150g coconut sugar, a splash of water, and cook for 15 mins on a medium heat.
Add the blueberries and blackberries, and cook until slightly thickened. Transfer to an oven proof dish.
Add the oats to a large pan on a medium to high heat, and toast for 5 mins. Add the remaining coconut sugar and coconut oil, and cook for 2 minutes, mixing well.
Sprinkle the crumble mix on top of the cooked fruit and bake for 10-15 mins.
Serve with your choice of dairy-free yoghurt, ice cream or custard.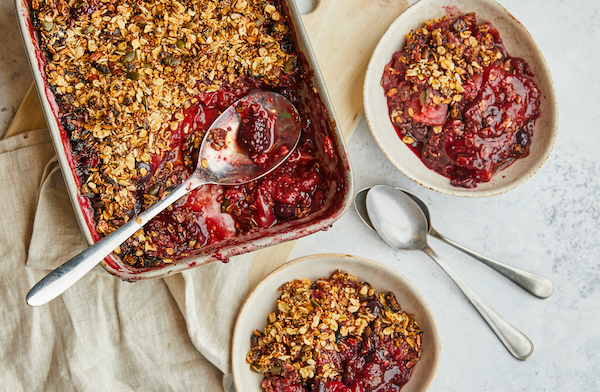 ---
Yet to try healthy eating made easy? Get £10 off your first two healthy recipe boxes by entering code BLOG20 at checkout. Mindful Chef healthy recipe boxes provide you with the tools to cook delicious nutritious meals, in under 30 minutes. Each box contains recipe instructions, pre-portioned ingredients and fresh produce sourced from award-winning British farms.