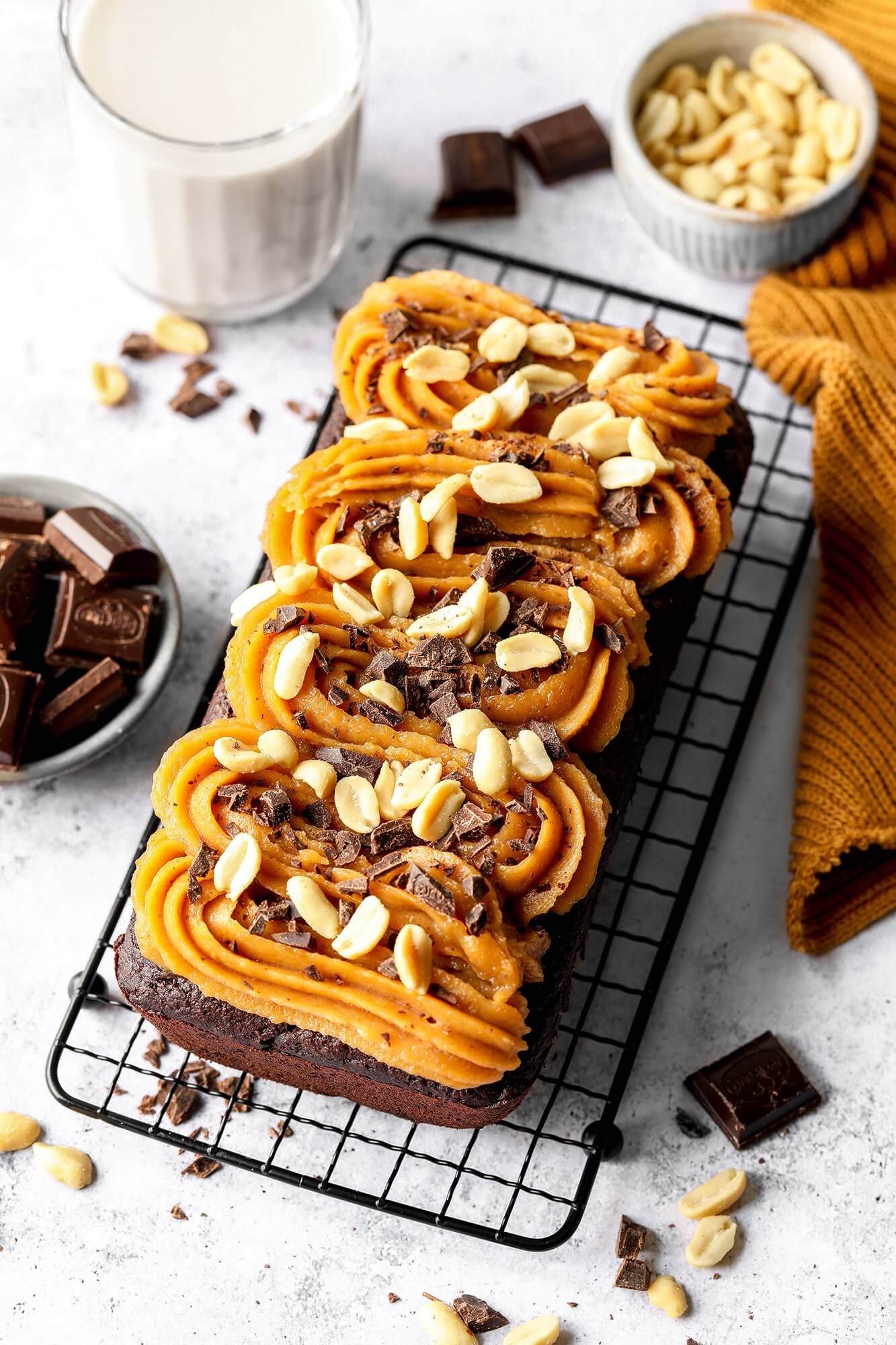 *This post is sponsored by Califia Farms*
A decadent chocolate peanut butter banana bread – dense, rich and topped with a lush frosting. Dessert heaven right here!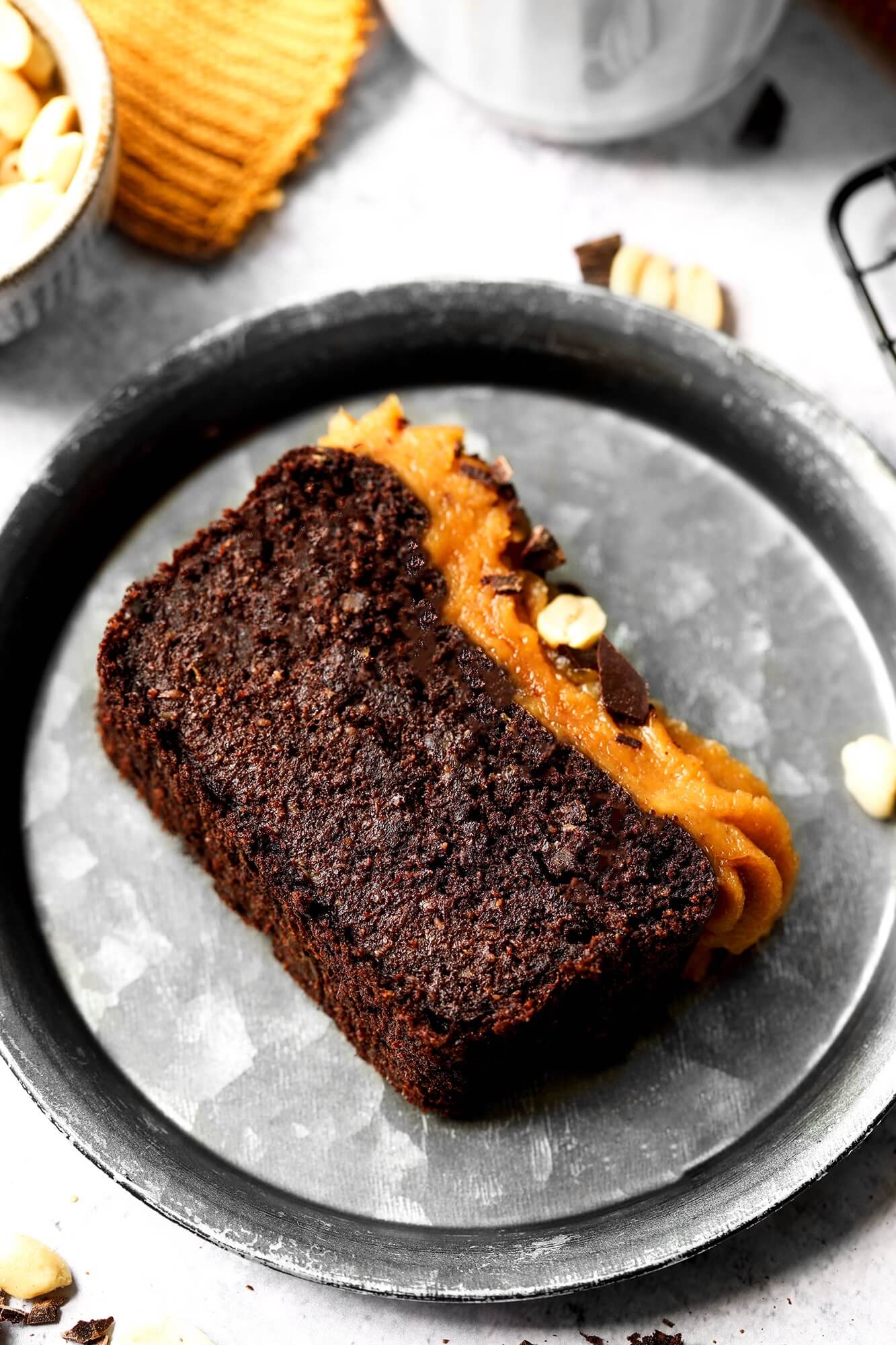 Who doesn't love banana bread? I have never come across someone who doesn't like to indulge in a moist, dense slice of banana bread. However, this is no ordinary banana bread. For one, it's a chocolate banana bread, AND it's topped with a decadent peanut butter frosting. It's impossible to say no to a slice with your afternoon cuppa.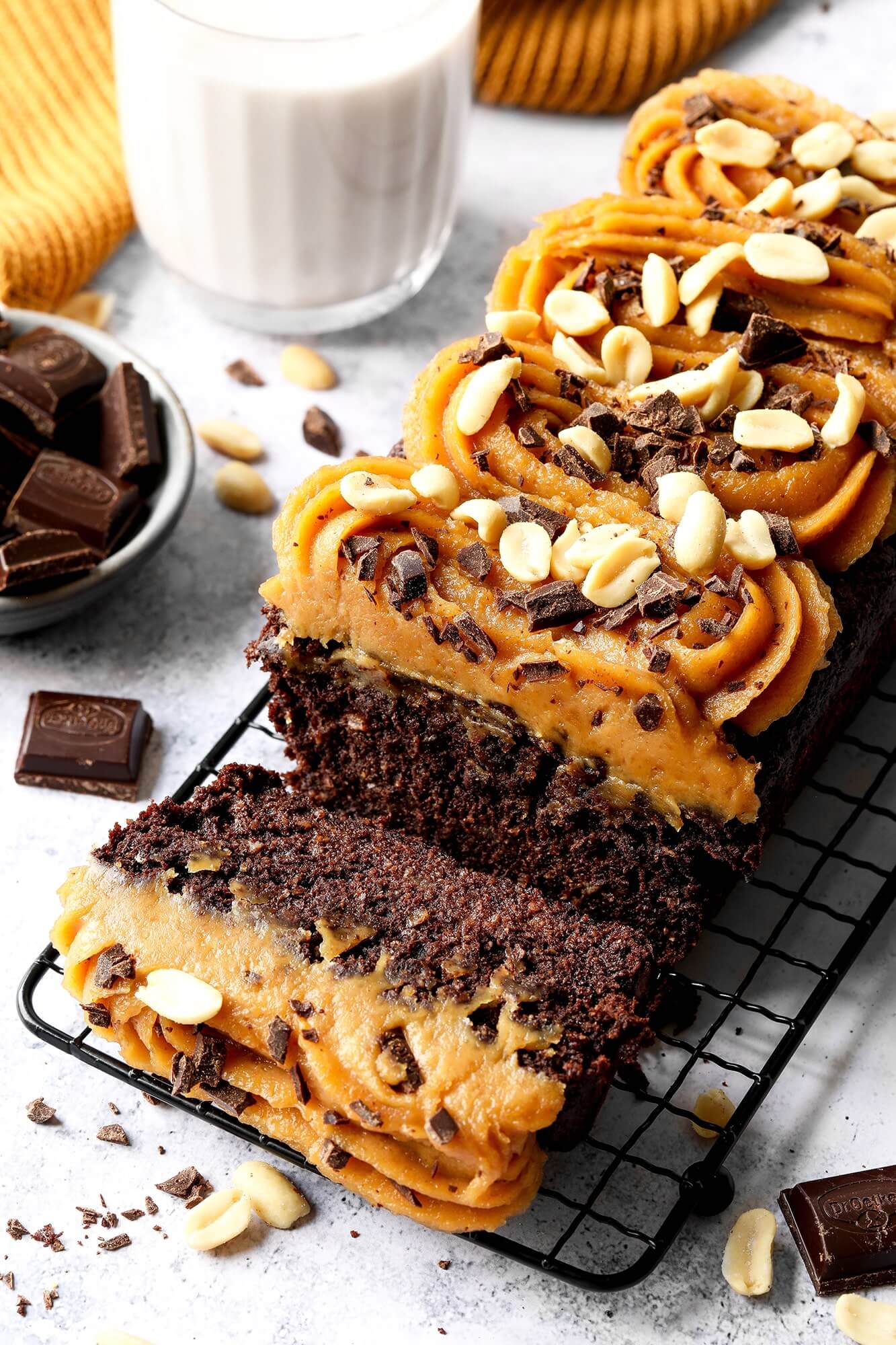 Banana bread had a serious moment during lockdown. Everyone seemed to be making it apart from me, which is strange seeing as banana bread is my favourite kind of cake. On reflection, I know exactly why I didn't make any. I was isolating with my partner during lockdown, and no socialising meant I had no one to share my desserts and treats with. That made it difficult for me to make big bakes that I couldn't share with anyone. Also my partner doesn't have much of a sweet tooth, so anything I made I had to eat myself.
Now that lockdown is a distant memory and it actually feels normal to socialise and see family and friends again, big batch desserts are back on the menu. It was about time banana bread made another appearance in my kitchen!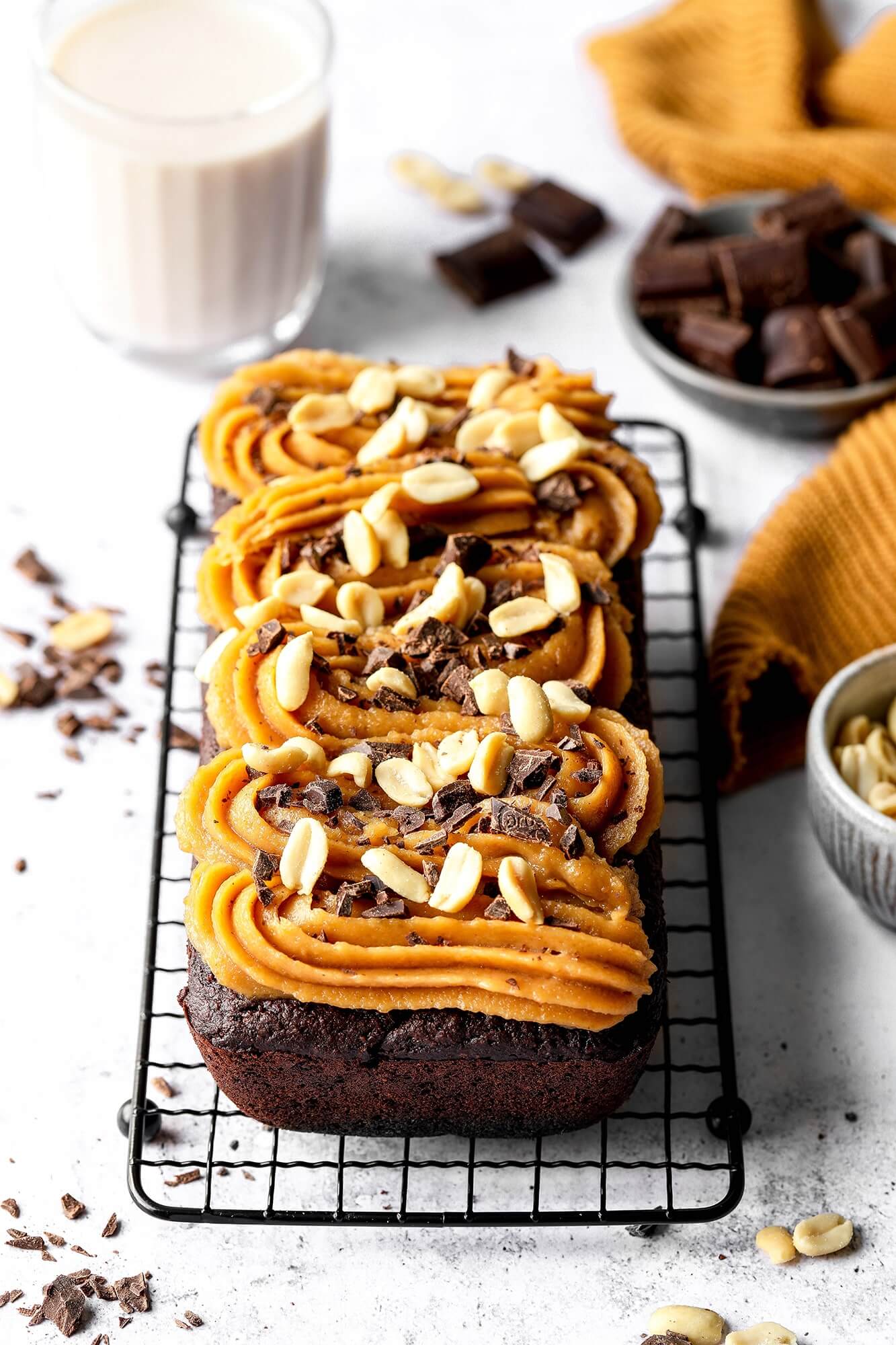 As well as banana bread, I have a big fondness for chocolate, which you've probably gathered when seeing the many chocolate recipes I have on my blog and share regularly on my socials. Adding chocolate makes an already decadent cake so much more so, which can only be a bonus. To make this banana bread even more special and moreish, I decided to top it with a smooth peanut butter frosting.
This chocolate peanut butter banana bread is:
Vegan
Gluten-free (if using gluten-free oats)
Soy-free
Dairy-free
Egg-free
Made using healthier ingredients
To make the cake lighter, I substituted some of the oil for milk. Most cakes use so much oil, which I don't feel is necessary in a banana bread. The bananas add so much moisture that you don't need to add too much fat to make it dense and rich.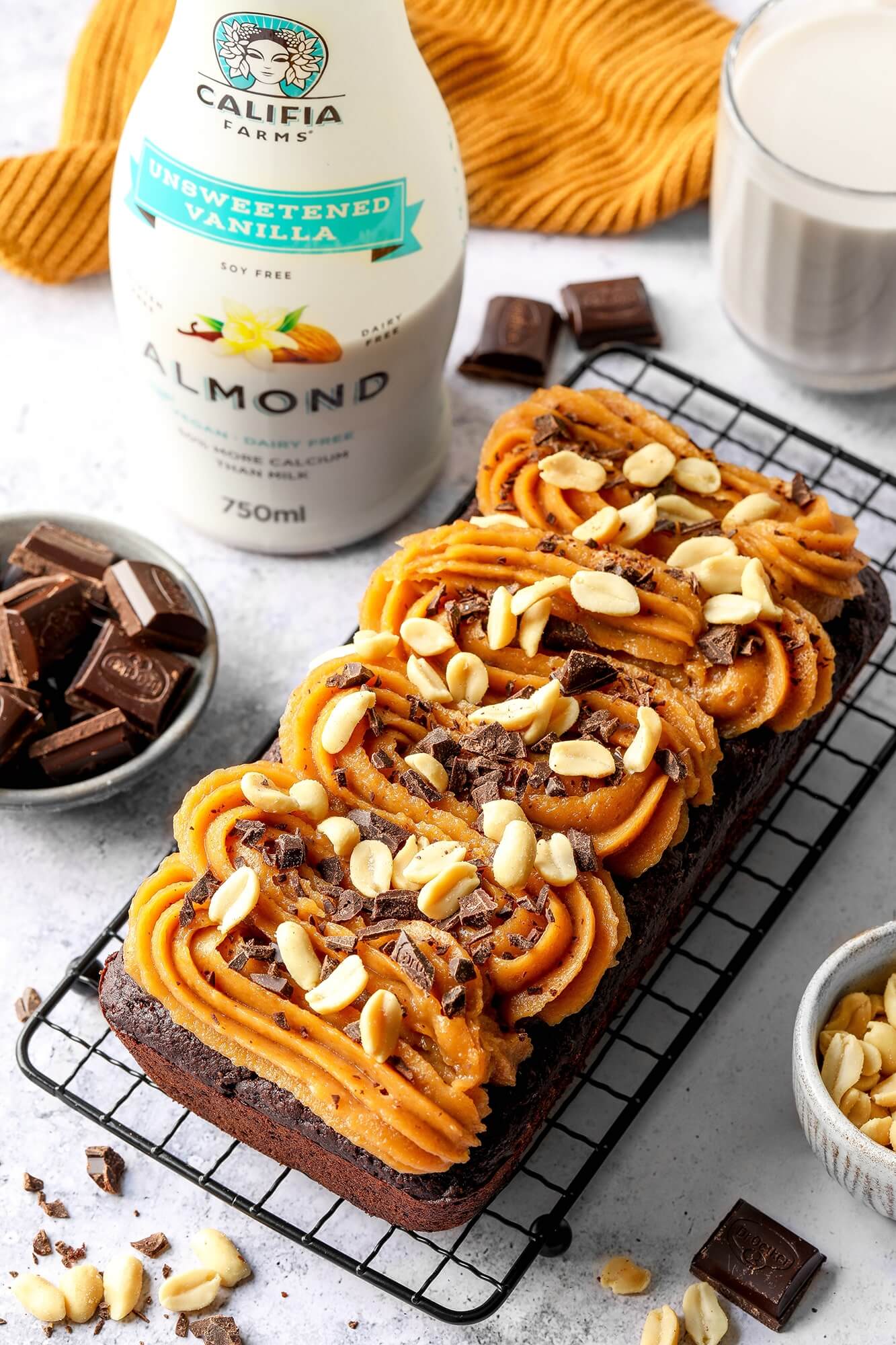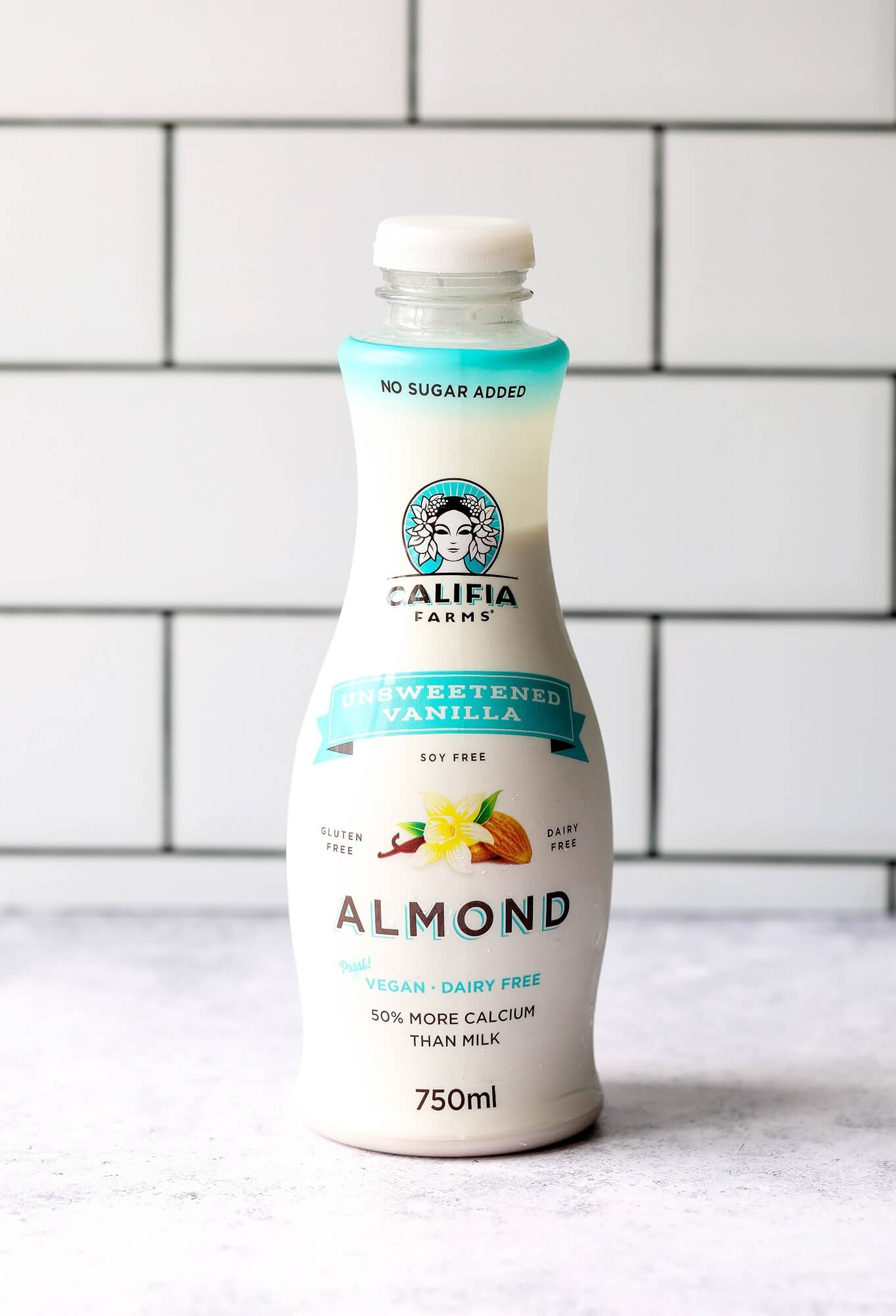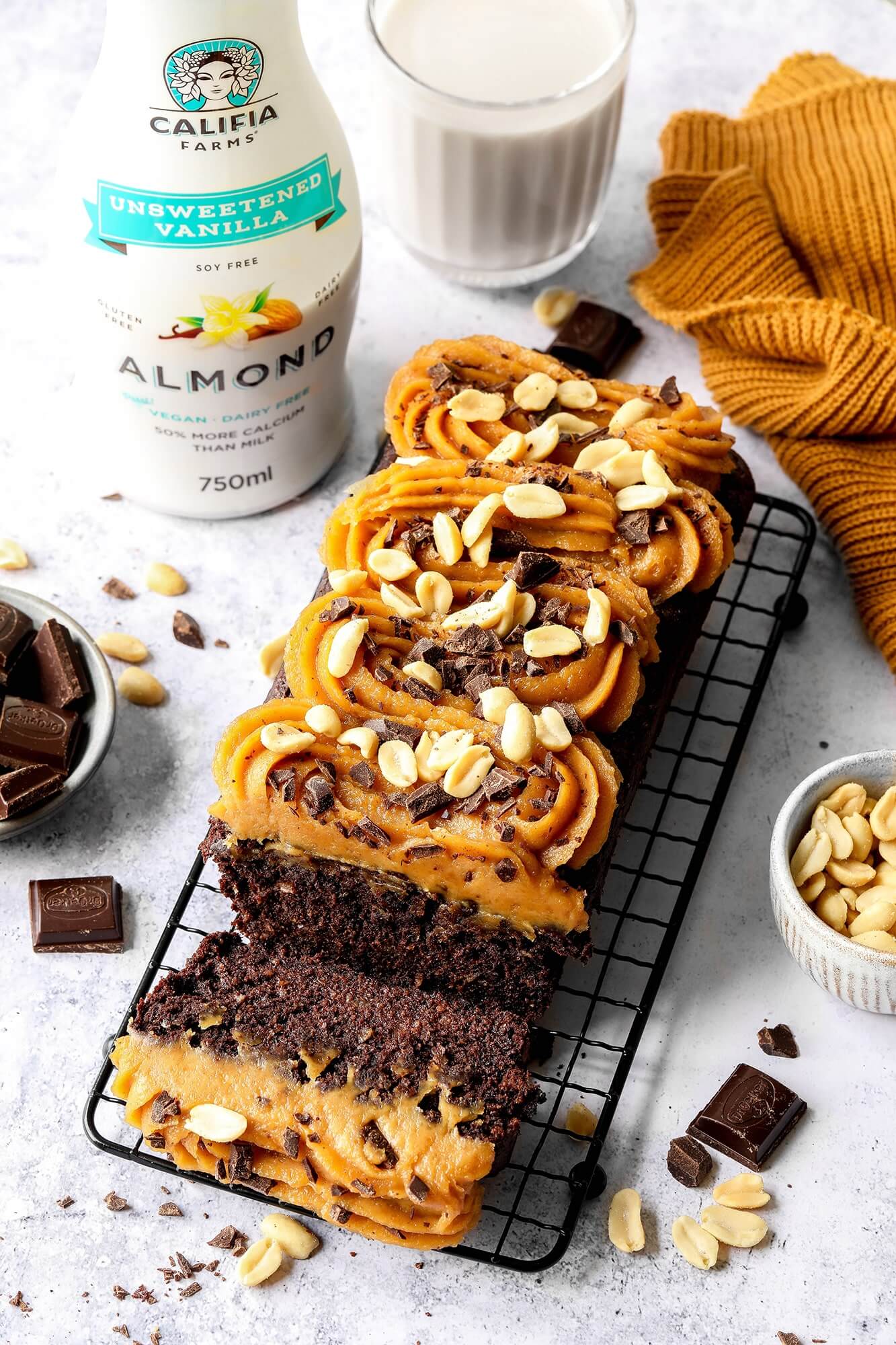 I've teamed up with Califia Farms to show you the many different ways their almond drinks can be enjoyed. In this recipe I used their Unsweetened Vanilla Drink to showcase that their drinks can be enjoyed in many more ways than in your cup of coffee or morning bowl of cereal. It can be enjoyed in so many recipes, sweet and savoury, and it's perfect for baking. I also love using it to make lighter custards and puddings.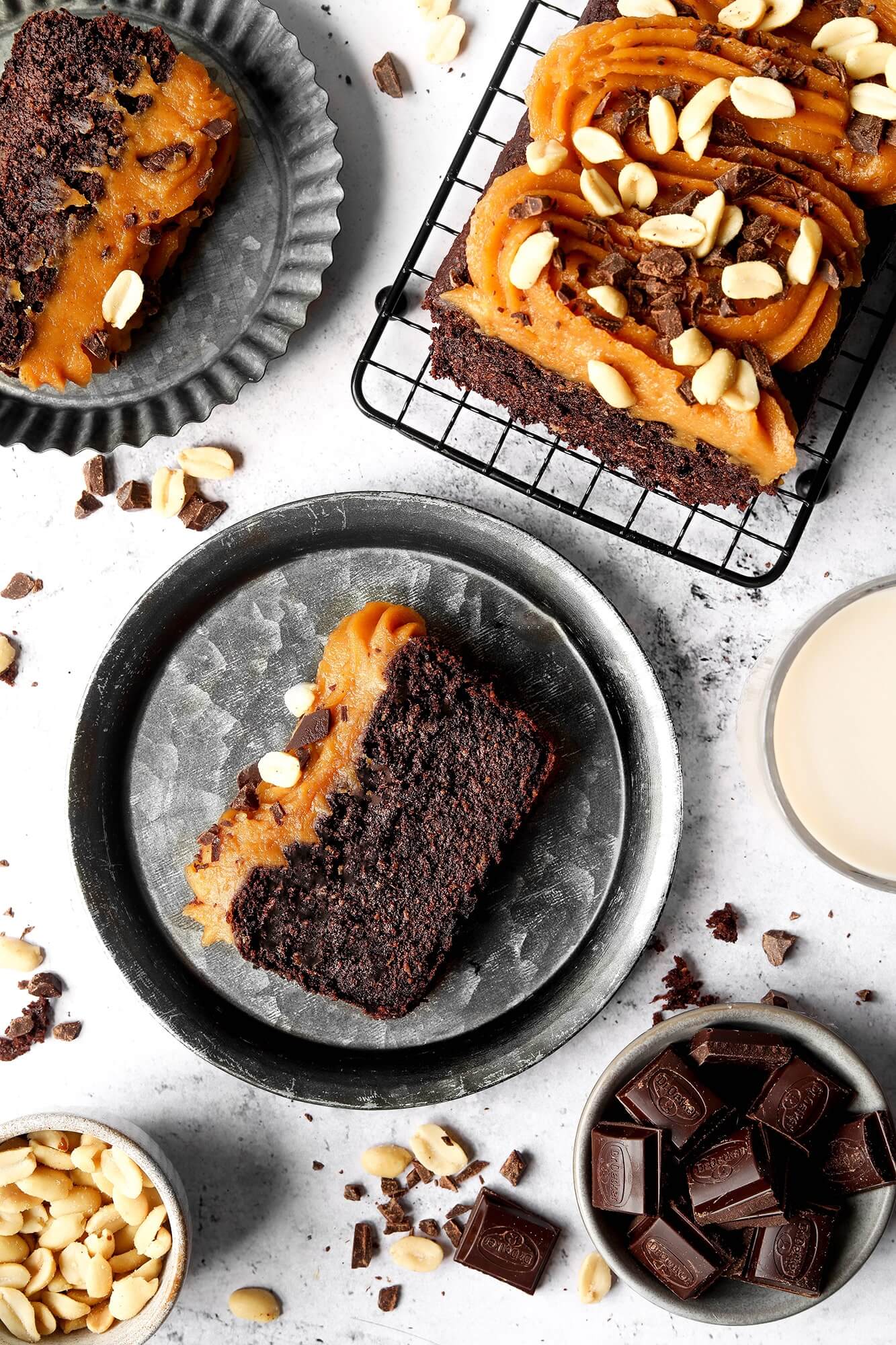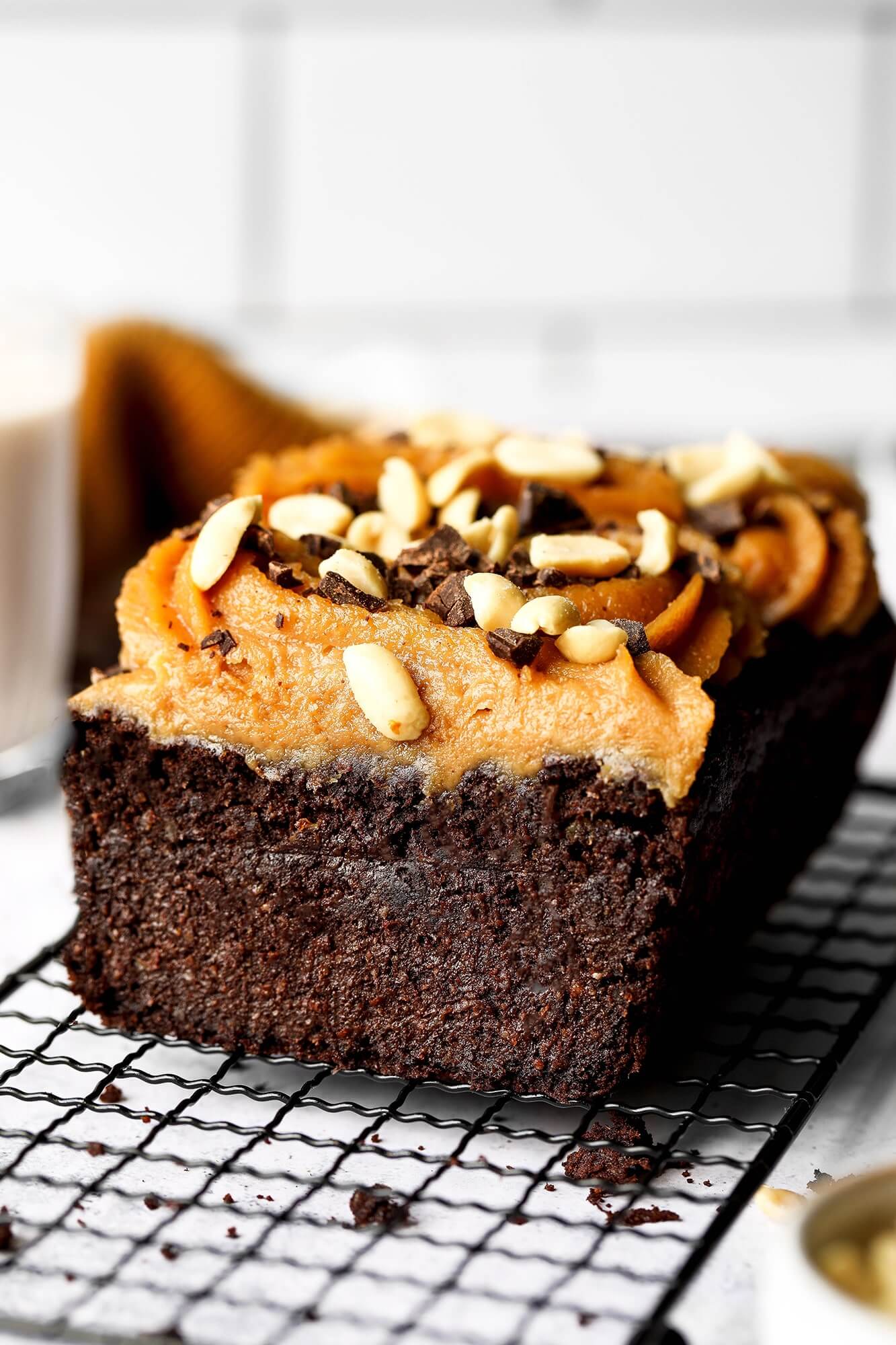 Chocolate Peanut Butter Banana Bread
Serves – 10
Ingredients
340g (about 3 medium) ripe bananas
110g (1 cup) oat flour – plain rolled oats blended into a flour in the food processor. Use gluten-free oats if allergic/intolerant.
50g (1/2 cup) ground almonds
55g (1/2 cup) cocoa
75g (1/2 cup) brown sugar*
2 tsp baking powder
1/2 tsp salt
5 tbsp (1/3 cup) oil
5 tbsp (1/3 cup) Califia Farms unsweetened vanilla almond drink
1 flax egg – 1 tbsp milled flaxseed + 3 tbsp water
For the peanut butter frosting
195g (6.8 oz) smooth peanut butter
5 tbsp (1/3 cup) Califia Farms unsweetened vanilla almond drink
2 tbsp maple syrup
Method
Preheat your oven to 180C/160C fan assisted/350F.
Add the milled flaxseed to a small bowl along with 3 tbsp water. Leave to set for 10 minutes.
Add the oat flour, ground almonds, cocoa, sugar, baking powder and salt to a bowl and mix to combine.
Mash the bananas well with a fork, then add to the bowl along with the oil, almond drink and flax egg.
Transfer the cake batter into a loaf tin (I used a 22×12 cm loaf tin).
Bake in for 60-65 minutes. Leave to cool completely before frosting.
To make the frosting simply mix the frosting ingredients in a bowl. You can either use a piping bag to frost the cooled banana bread or use a spatula to evenly spread on top.
Enjoy!
*I preferred it when I used 55g (1/3 cup) brown sugar, but taste testers said it wasn't sweet enough for their liking, so you have the option of adding less sugar if you prefer less sweet desserts.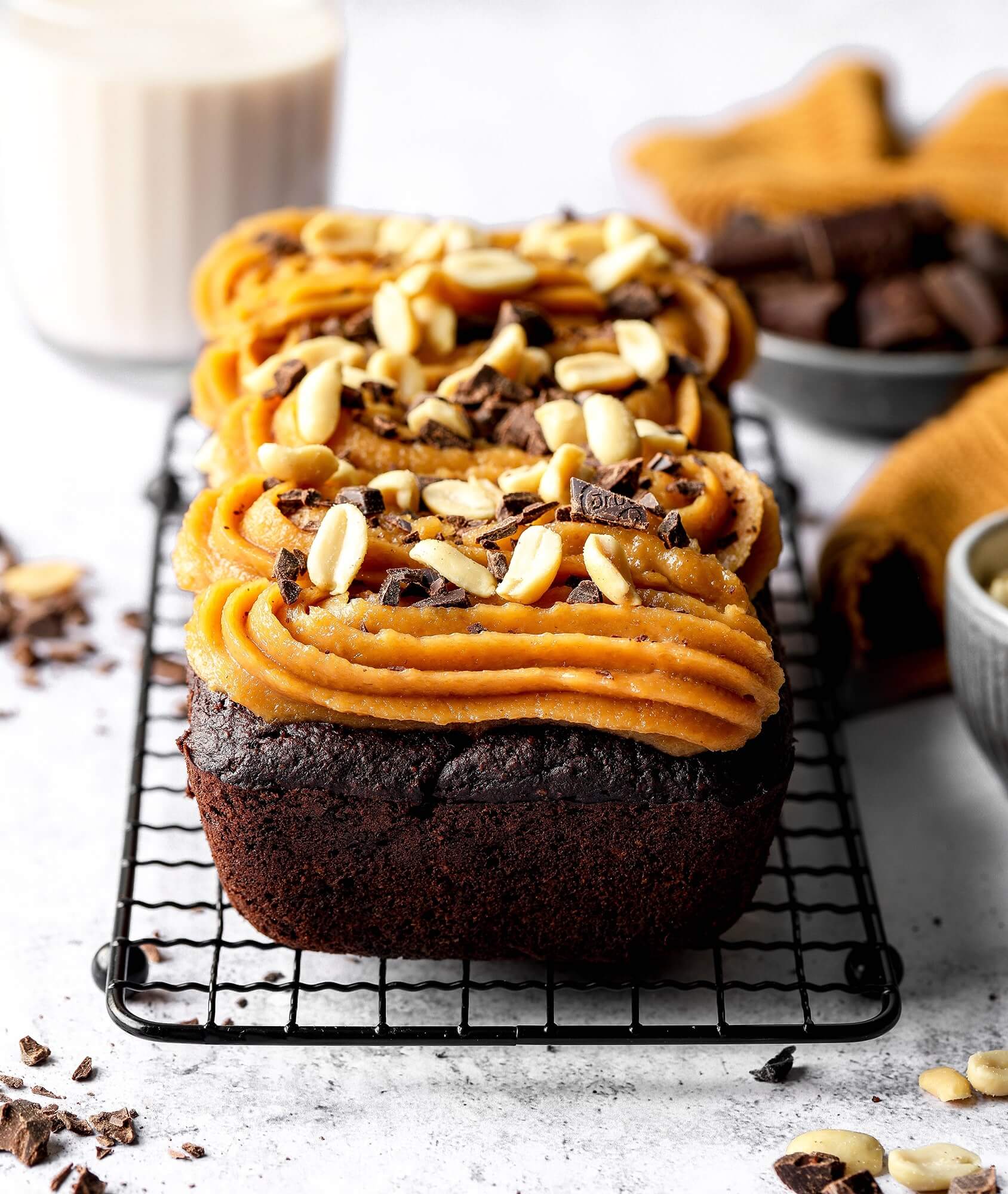 Share This Post