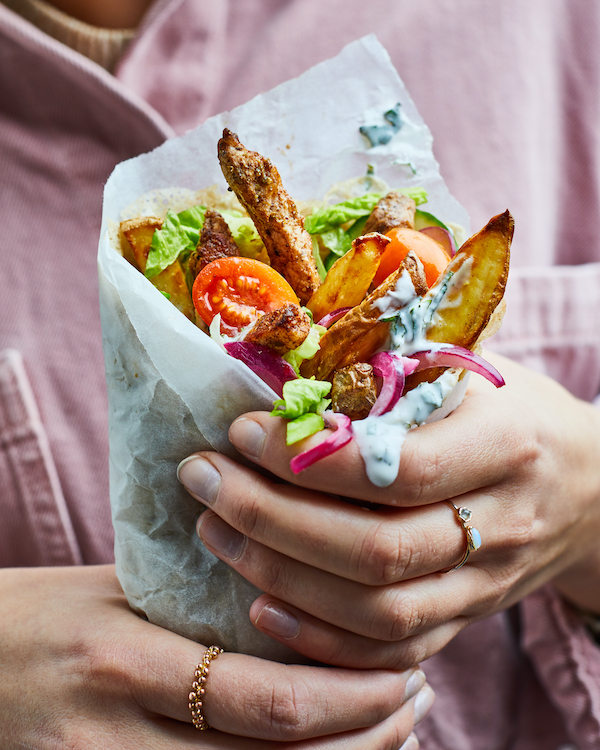 What do we love about Street Food? It's casual. It's quick. And most of all it's delicious. Healthy? Not so much. Until now. 
We're putting it centre stage for the whole of May to bring you the sort of healthy street food recipes you deserve. Because you can be right up there cooking with the food trends and enjoy food that's clean, healthy, and fun.
We're talking Mexico via Mongolia. Past the cafes of Ethiopia to the tropical sands of Indonesia. And taking inspo from Japan's bustling izakaya scene. Join Chefs Jesse and Charlie as they take on the brightest and best world street food stars. Before adding a bit of Mindful Chef healthy magic. 
"Who doesn't love rolling up their sleeves and digging into a basket of sticky wings, or a wrap-it-all-up gyros? It's fun, messy and always tasty. But traditional street food is often seen as unhealthy, and we really wanted to change that perception. So Charlie and I have taken recognisable dishes like Japanese chicken karaage, American loaded fries and Indian fish pakora, then given them the Mindful Chef treatment adding tons of fresh veg and full on flavour."

Chef Jesse
Yee-ha for Gyros
"My favourite out of the lot is my take on Greek pork gyros (if you want to say it like the locals, it's yee-ros). Most people assume it's really unhealthy with oily meat and deep-fried chips rolled up in a heavy wrap. But I've taken a really lean cut of pork and marinated it in tangy sumac, then loaded it up in a buckwheat wrap with oven-baked fries, cucumber, tomatoes, pickled onions and a fresh mint yoghurt."  

Chef Jesse
Move over moussaka, because we've got a new contender in town: gyros. In our street food version you'll be cooking up free-range British pork.
You can call it Gyros or Gyro
It's pronounced yee-ros
It comes from the Greek word "gheereezo," which means to turn
It's made of thinly sliced layers of pork or chicken cooked on a slowly turning vertical spit or rotisserie, flavoured with garlic, lemon and oregano
It's been one of the most popular Greek street food dishes since the 70's
According to Diane Kochilas from My Greek Table, "The gyro is the scion of a long and old family of skewered meat feasts, one with roots that stretch back to the time of Alexander the Great and his returning armies, whose soldiers were known to skewer and roast various cuts of meat on long, swordlike blades over an open fire."
It's not just the Greeks who are gyro heroes. There are Levantine versions (shawarma) and Turkish doner kebabs.
They even named a day after this special sandwich. National Gyro Day is on September 1st, every year.
Healthy hacks, incoming:
You'll be swapping the white pita for a homemade buckwheat flour pancake for more slow-release good carb energy. Swapping deep fried chips for oven-baked ones. Making your tzatziki from almond yoghurt, and using free-range British pork from ethical suppliers!
Ready to get messy? Here's your recipe.
No-snore Pakora
These little stuffed and deep-fried pockets of flavour have been cooked over India and South Asia since forever. In our version, you'll be cooking up sustainably sourced hake.
You can call them pakora or pakodi, fakkura, bhajiya, bhajji or ponako
Derived from the ancient language of Sanskrit 
Originated from the Indian sub-continent and cooked all over the world
Comes from 'pakvavata' which roughly means a small cooked lump
Traditionally made from a dollop of chickpea (gram) flour batter stuffed with veggies, meat or fish, and deep fried until golden brown
Fish pakora are a popular staple of South Indian cooking
In Pakistan, India and Bangladesh, pakora are a popular snack during monsoon season. 
Healthy hacks, incoming:
You won't be deep-frying anything, this is Mindful Chef! You'll be adding fiery, warming fresh ginger to your pakora mix. Mixing it up with oven-baked fries and a fresh tomato salsa, and serving the lot with a fresh green salad.
Ready to get messy? Here's your recipe.
Mee Bakso love
From noodles to nasi goreng, Indonesian street food is jam-packed with flavour. In our version of this knock-your-socks-off soup you'll be cooking with British grass-fed heritage breed mince.
What is it? It's Indonesian Mee Bakso meatball and ginger soup
It's pronounced 'bahk-soh' with an almost silent 'k'
Bakso means meatball in Indonesian
You'll find it being served from street stalls, at food markets, and from mobile street carts attached to a bike
To spice it up, locals add generous helpings of kecap manis and sambal 
Traditionally served with rice vermicelli AND noodles
Super speedy to make at home
President Obama's fave (don't you know).
Healthy hacks, incoming:
It's already pretty healthy, but to make this soup fast we use a beef stock cube (feel free to swap in for one of our Beef Pho's!). Then there's brown rice noodles for good carb energy. Mushrooms are full of vitamin K and you'll be topping with fresh radish rather than deep-fried shallots!
Ready to get messy? Here's your recipe. 
Tell us what inspired you
"I took inspiration from Maltby Street Market and Mercato Metropolitano to bring you healthy versions of my street food stars. Like Ethiopian Doro Wat, Vietnamese Banh Xeo and Indonesian Mee Bakso. "Most people have never even heard of these, let alone tried to cook them! I can't wait for you to recreate them at home." 

Chef Charlie
Chef Charlie's favourite: Banh Xeo
The most exciting dish has to be the Vietnamese pancakes, or Banh Xeo (pronounced 'barn sayo'). Xeo means sizzle, which is the sound of the batter as it's poured into a hot skillet. 
What's so amazing is you can take whatever seasonal veg you have and bind it with a simple egg and chickpea mixture, a great way of using up any leftovers or past-their-best veg from the back of your fridge. 
Chef Charlie's healthy Banh Xeo hack:
The dipping sauce traditionally includes fish sauce but I've achieved that umami flavour by using pomegranate molasses, rice wine vinegar, honey, lime juice and diced fresh chilli. It really is delicious.
Street Food x Mindful Chef. It's happening.
Join our street food fiesta from 1st – 29th May. Head over to your Mindful Chef account to order your feast.
---
Yet to try healthy eating made easy? Get £10 off your first two healthy recipe boxes by entering code BLOG20 at checkout. Mindful Chef healthy recipe boxes provide you with the tools to cook delicious nutritious meals, in under 30 minutes. Each box contains recipe instructions, pre-portioned ingredients and fresh produce sourced from award-winning British farms.